Pandemic has changed how businesses operate, employees work, customers purchase and goods/services get delivered. This has also changed how small and midmarket firms are evaluating their core, cloud and edge technology needs to address their accelerated digital transformation objectives of cost efficiencies, operational excellence, innovation, business growth, organizational empowerment and customer intimacy. Clearly, core infrastructure has evolved to meet future digital transformation demands, but the question is how are small businesses and midmarket firms planning to adopt forward-facing solutions, like Artificial Intelligence, 5G, AR/VR, IoT, analytics and several others. There is a general sense within the SMBs that these advanced solutions will increase insight into and control over key aspects of their business operations and deliver benefits in different ways and to different ends.
Remaining true to the core belief of tracking the future of SMBs and channel partners, Techaisle studied global SMBs to determine future, planned and likely adoption patterns of several technology areas. The study of SMB and Midmarket digital transformation trends identified top 15 technology categories where the adoption growth rates will likely be highest in the next six months to a year. There are some surprises, for example, chatbots (for customer responsiveness), 5G (for enhanced mobility), open source (for cloud management, modernization and lower TCO), AI (for customer experience, security, operations) and several expected, for example, SD-WAN, HCI, WVD/VDI/DaaS and UCaaS.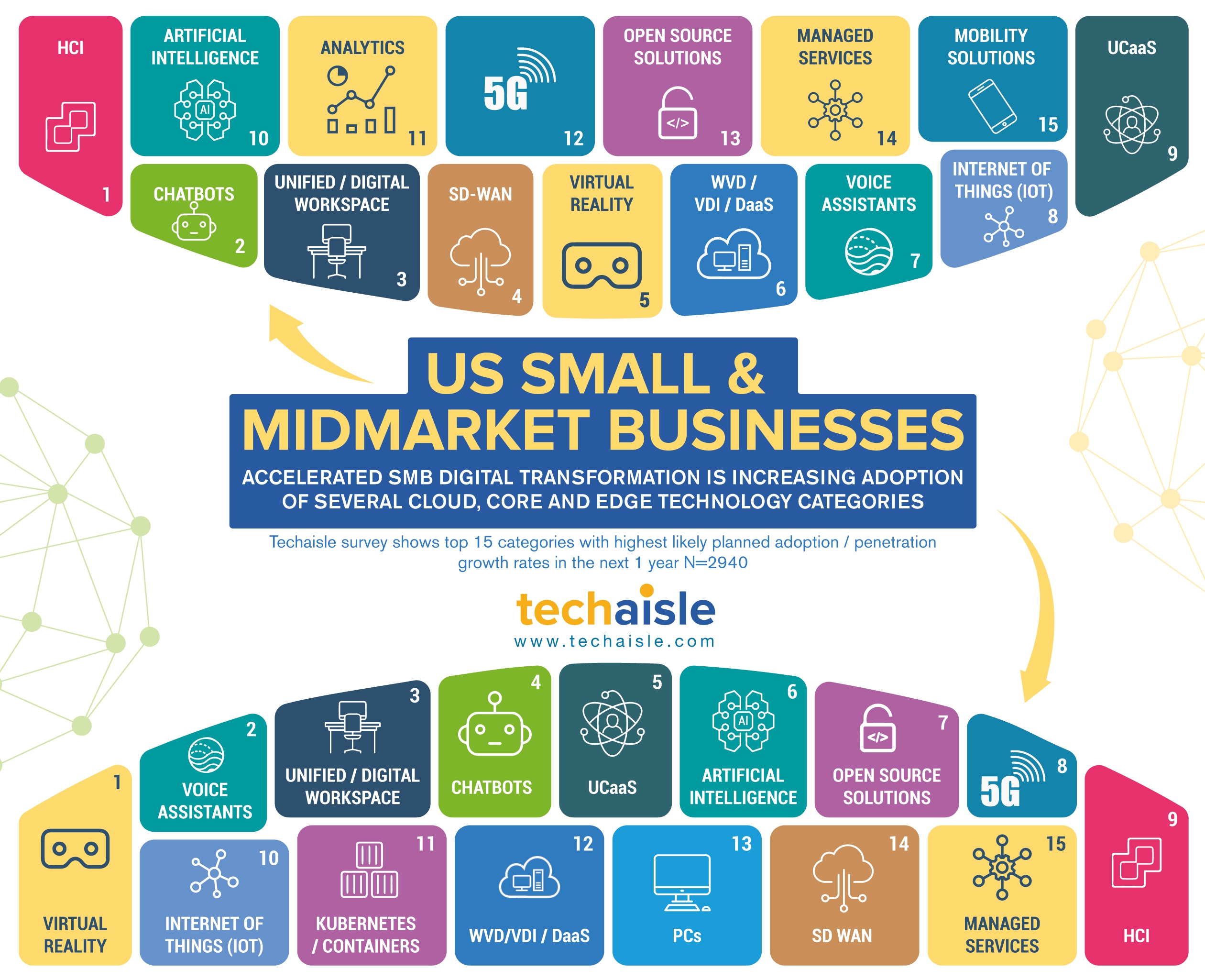 The key message from the survey research analysis is that there are various and potentially complementary paths to objectives of building a capable and responsive IT delivery platform and to have a highly productive, digital future SMBs are creating roadmaps that align current investments in core, cloud and edge component technologies with both mid- and long-term visions for digital transformation. Once a scalable, secure and cost-effective infrastructure platform is in place, technology will be expected to support a range of digital transformation objectives through deployment of different, solutions that extend from the core to the cloud to the edge.
Digital transformation promises to reshape the SMB business environment by ushering in new digital capabilities. The digitally connected business is expected to bring information from everywhere and allow the system to push information and actions out to a vast constellation of endpoints. As compelling as these technologies are, it is important to understand that these new options will seep in rather than arrive. SMBs will rely on a capable foundation and advanced solutions that are in lockstep with each other, with user and customer demands and in response to competitive pressures.

Detailed survey research reports are available for individual purchase or are delivered as part of yearly retainership contract.
US SMB and Midmarket Digital Adoption trends research
Europe SMB and Midmarket Digital Adoption trends research
Asia/Pacific SMB and Midmarket Digital Adoption trends research
Latin America SMB and Midmarket Digital Adoption trends research