Distributed, remote, mobile – these are the realities of today's workforce. The workspace isn't defined by windows and walls and common area couches. For millions of SMB employees, the workspace isn't a physical location – it's a virtual space defined by access from multiple screens which are used from multiple locations. Consider these data points from Techaisle's SMB survey research. Pre-pandemic, 24% of SMB global workforce was mobile. Today, the number has jumped to 51% within small businesses and 47% in midmarket firms. These numbers are down from a high of 78% during country lockdowns. The category, "mobile workers", is increasingly indistinguishable from "workers." This means new ways of working, taking advantage of new technologies and capabilities to build an agile, mobile, secure work-style enabled by cloud, remote work, security and collaboration. When working remotely, 47% of SMB mobile workforce are using notebook to access corporate data, 9% tablets and 44% smartphones. If the office of an SMB is defined by devices, workplace is defined by the ability to work from wherever those devices and their users are located. As a result, 64% of SMBs are increasing investments in remote work solutions, and survey data shows there will likely be a whopping 380% increase in digital workplace adoption in the next one year within small businesses and 48% increase within midmarket firms.
The key focus is about the 'future of work': workflow, workspaces, workforce and the ways that an increasingly-connected world can support pursuit of previously-unattainable objectives for the SMBs and midmarket firms. Their most important technology-related effort is on connectedness – connected cloud, edge, applications, security, collaboration, workspaces and insights. Cloud and mobility are navigation routes but the always-on, everywhere-connected unified platform is the destination. These SMBs are looking for benefits arising from the interconnection of all types of resources: platforms/environments, information, devices and applications. Depth discussions and quantitative survey research with SMBs and midmarket firms points to a trend that is playing out across seven key areas as shown in the chart below: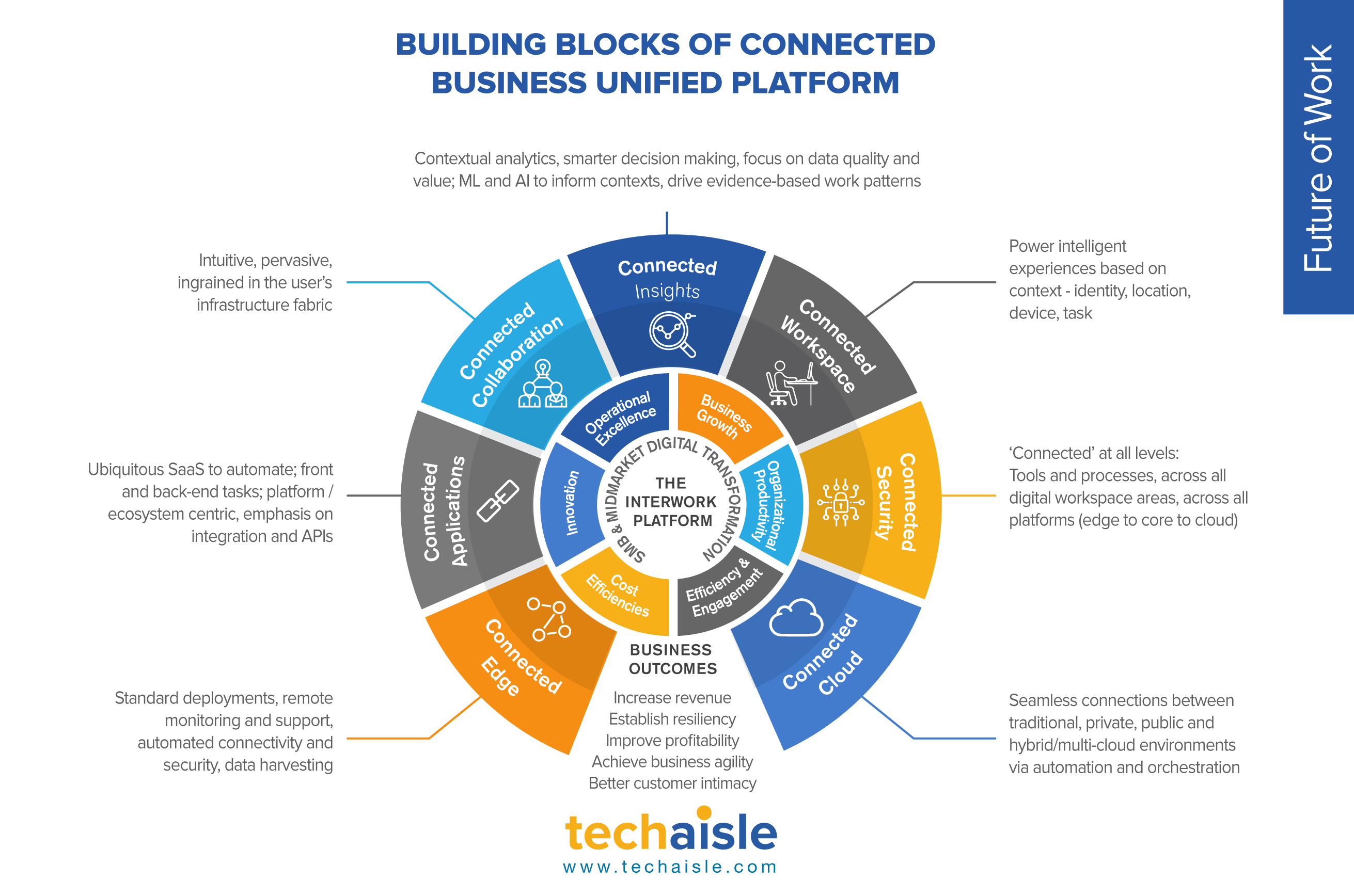 There are many powerful rationales for investing in each of the seven components of a unified digital workplace platform and each component in turn delivers greater value when it is connected with the other links in the chain.
SMB business and IT executives who are able to grasp the benefits associated with these seven key areas – and who are able to profit from the points at which multiple connected business resources combine to utilize a broader unified platform – are emerging as leaders. Their organizations are participating in shaping rapidly-evolving business and consumer expectations for responsiveness and agility. Mainstream businesses that are capitalizing on these capabilities are capturing preferred positions within their markets, and within the millennial labor pool that defines a key area of competition.
With the connective fabric rapidly becoming ubiquitous, SMBs are concentrating on using technologies to drive progress across the five pillars of digital transformation: operational excellence, innovation, cost efficiencies, growth and organizational empowerment.