Global SMB SaaS survey adoption data shows that 68% are already using more than 5 SaaS categories with numerous SaaS applications in each category. SMBs' immediate and long-term plans (spanning 6 months – 1 year) shows that 80% are planning to expand their scope of SaaS adoption and may likely add applications in 5 to 10 SaaS categories.
The increase in SaaS adoption will result in US$76B in global SMB SaaS spend in 2021. Despite the pandemic, due to more reasons than one can imagine, global survey data of 4700 SMBs shows that the year 2020 will see SaaS spend growth of 19% over 2019. Asia/Pacific and Western Europe regions will see the largest adoption and spend growth rates as compared to the US.
The increase in SaaS spend and adoption is fueled by acceleration in customer-focused, vertical/line-of-business applications, productivity and collaboration applications. By far, the biggest adoption jump is and will be in the vertical-focused apps - a reason why Microsoft in its latest Inspire event made a case for partners to increase their marketing and deployment initiatives for vertical/line-of-business SaaS applications.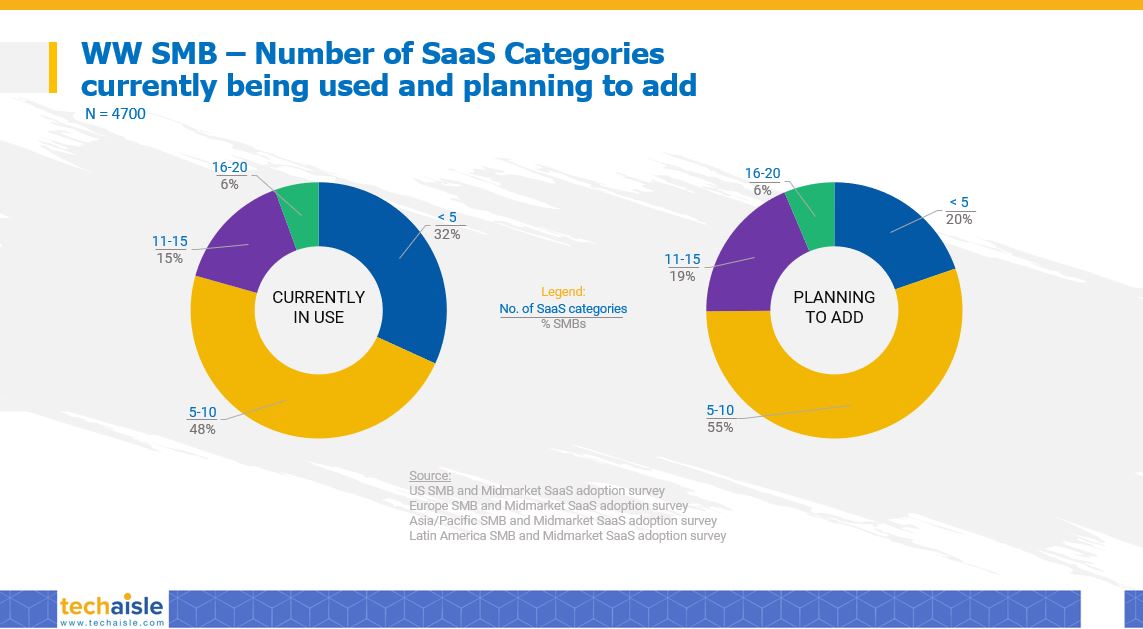 The deepening force of SaaS within the global SMB market cannot be taken lightly. The scope of SaaS impact mirrors the scope of activity in the SMB business itself. SaaS is being meaningfully applied to IT operations, to core business functions and to customer-facing tasks. Data collected by the Techaisle survey supports the argument that SaaS adoption follows a pattern, moving from automation of individual tasks to automation of tasks connected within a process to automation of all functions within a particular department/activity area. Initial adoption is usually scattered across tasks that are individually important to business operations. As SaaS becomes more firmly entrenched as a means of delivering business functionality, adoption patterns support the notion that SMBs look to automate related tasks, and ultimately, to improve overall automation levels within a department.
Data illuminates a fascinating insight which indicates that there is merit in continuing to accelerate SaaS adoption or risk being left behind. SMBs in the 16-20 SaaS category segment are truly using SaaS for business agility by weaving SaaS solutions across most of their core processes and application areas. At the same time, they are also using SaaS to support development of new business initiatives which includes – entering new markets, improving business growth, creating innovative products and services and driving customer intimacy. On the flip-side are the SMBs which have been slow adopters of SaaS solutions are also using SaaS for some of their core processes but are shying away from using SaaS for new business activities. It can also be said that a large percent of these < 5 SaaS solution segment SMBs have very few processes. The link between increasing experience with/use of SaaS and accelerating strategic impact is supported – powerfully – by data demonstrating that increased use of SaaS leads directly to increased positioning of SaaS as a means of supporting core business processes and launch of new business activities.
Quoted research
Techaisle 2020 US SMB & Midmarket SaaS Adoption trends survey report
Techaisle 2020 Europe SMB & Midmarket SaaS Adoption trends survey report
Techaisle 2020 Asia/Pacific SMB & Midmarket SaaS Adoption trends survey report