Techaisle SMB and Midmarket Mobility Adoption Trends data shows that BYOD is not a factor in every SMB's mobility strategy: more than half of small business (1-99 employees) respondents to the Techaisle SMB survey report that all or essentially all of the mobile devices in use are owned by the business, and nearly 25% of midmarket enterprises own 90%+ of their mobile device portfolios. However, BYOD is widespread within this group: 36% of the devices used by small businesses and 43% of those in use within midmarket firms are owned by employees.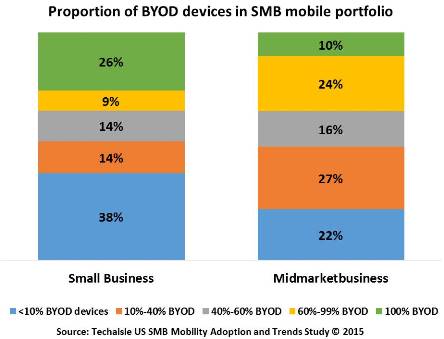 The term BYOD has only been around since 2009, when it is said to have originated at Intel – but it has since become ubiquitous. A web search on the term will return nearly 10 million hits, and IT managers at organizations of all sizes and from nearly all industry sectors are very familiar with demands for connecting employee-owned mobile devices to corporate IT networks, applications and data resources.
Techaisle survey data shows that BYOD within SMBs comes in several 'flavors.' One of them is where employee both selects and pays for a new device, delighting the SMB finance, but causing problems for IT. Another flavor is CYOD, where employee pays for the device but selects it based on guidelines or an approved list. It appeals to both the SMB and IT but is not completely satisfactory for the employee. Third flavor is where it is a mix of two with some level of reimbursement for the purchase from the company and/or technical support for the devices. This has an upside because the employee selects technology that he/she is comfortable with but the downside is that the cost burden rests, at least to some extent, with the company rather than the employee.
Techaisle SMB and Midmarket mobility adoption survey data also shows that BYOD has implications on desktop and notebook purchases.