Techaisle has released its annual research infographics on top 10 IT priorities, business issues and IT challenges of SMBs (1-999 employees), midmarket firms (100-999 employees) and small businesses (1-99 employees) for 2020. In its detailed SMB survey Techaisle investigated 27 different technology areas and several technology sub-categories, 25 different IT challenges and 24 different business issues. This is the 10th year of Techaisle's annual survey research initiative that probes for top business issues, IT priorities and IT challenges. Tracking history provides a fascinating evolution in which new business goals drive new IT priorities and uncover challenges that must be addressed to enable progress on business objectives. Primary research was conducted among senior IT and business decision makers from Techaisle network of 1.8M B2B IT professionals spread across 30+ countries.
WW SMBs are expected to spend US$1 trillion on IT in 2028, growing at a faster rate than the enterprise segment. Innovation is increasingly becoming a line-item of IT budgets. 40% of midmarket firms and 15% of small businesses are carving out budgets specifically for technology-driven innovation. But there is a flip-side as well. Within 47% of small businesses and 22% of midmarket firms, IT is not expected to actively drive innovation. As data suggest, nearly half of the SMBs assert that either they do not have the right IT skills or not enough IT staff. However, data does show that move to pay-as-you-use/consumption-based financing is likely to reach an irreversible trend with 14% of SMBs either currently using or planning for it. But a mass-move to only OPEX-based technology acquisitions is still in distant future with 30% of SMBs still preferring a mix of CAPEX and OPEX.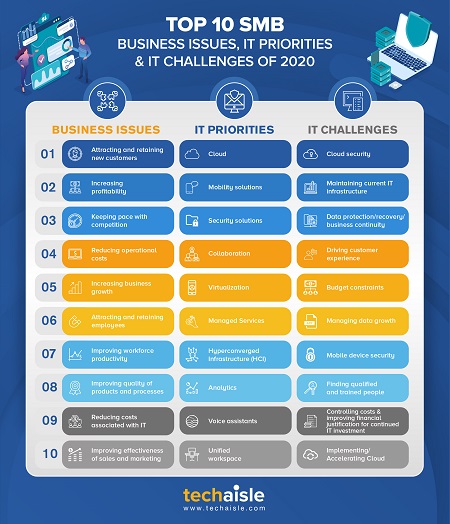 Download 2020 SMB infographic here
For 2020, data shows that for the first-time customer experience has appeared within the top 5 challenges being faced by IT within SMBs which has a direct correlation to the top business issue of attracting and retaining customers. A direct result of the new challenge and focus is in the increase in plans for adopting integrated CRM and customer service solutions (in some cases replacing one brand of CRM with another), acceleration in use of artificial intelligence and analytics. A small business CEO of a manufacturing firm told Techaisle, "we are planning to purchase more cloud-based applications to save time and effort. See being a start-up, currently we do not use many cloud applications and we know that there are requests from our sales and HR department to purchase additional cloud applications. Right now, we are not using any cloud application for customer service and for evaluating our progress, growth and tackle pain point of our business, we need to be more connected to our consumers. So, we are trying to purchase a cloud application like Salesforce or Zoho that can enable us connect with our consumers for feedback and registering customer support / complaints".
For small businesses, upgrading to digital marketing and utilizing social media is among the top 10 IT challenges. These small businesses are not only experimenting themselves but seeking external assistance in how best to use major digital platforms like Google and LinkedIn to make their customers aware of the services and products that they have to offer. They are also hoping that such initiatives may help them get valuable feedback from their customers.
Security is not only the biggest IT challenge but it is also a key top priority in every region and across all employee size segments. As one SMB CIO told Techaisle, "security has been our biggest concern. The more we try to deploy latest technologies and software hackers always find new ways to breach. So, we are hiring more experts in our cyber security team and we are evaluating more vendors to have the best software and tools for security". In fact, US survey data shows that 3% of small businesses and 94% of midmarket firms have employed IT security specialists within their organizations. If data from 1-19 employee size segment is excluded, then the percent of small businesses with full-time cybersecurity staff increases to 25% within 20-49 segment and 57% with 50-99 employee segment. The data is no different in Europe and Asia/Pacific, in fact, the percentages are higher in Europe. A small business IT director in Germany told Techaisle "as our company grows and evolves, security concerns are increasing. There are increasing number of cyber risks and we have plans to implement new security solutions, amending policies and hiring additional security professionals for protecting our organization from any cyber breaches or threats".
Controlling IT costs, although number nine on the top 10 list is a challenge for SMBs. IT is known to be kinetic, complex and risky and costs can spiral out of control rapidly or SMBs are unable to realize the ROI of the investment in the shortest time. Most SMBs find controlling cost to be a major challenged because there have been situations where their spend was higher than budget allocation resulted in losses. Therefore, SMBs are becoming better on their budget forecasts and moving towards cloud eliminating Capex.
Accelerating cloud adoption is a given but there is a new initiative to consolidate IT workloads. A Vice President of IT in Asia/Pacific elaborated on this topic, "we have a lot of IT workloads that is spread over public and private cloud. It is very important for us to have our data consolidated at a single place that would be a private cloud so that only our internal team has access to it and no one else could access the data without our permission. We have plans to work on private cloud provided by Microsoft Azure and AWS". There are many other SMBs and midmarket firms who have tasked their IT departments to research and add new cloud technologies based on business requirements.
Hyperconverged Infrastructure (HCI) has moved up in its list of IT priorities driven by the promise of agility, reduced costs, scalability and centralized management. SMBs and midmarket firms are showing their preference for VMware, Cisco and Nutanix HCI offerings.
Cloud-managed SD-WAN service is a new top 10 IT priority for midmarket firms because of faster deployment, optimization of WAN bandwidth and improved operational efficiency due to automation and self-provisioning.
Scroll down or click read more for infographics
Infographic - 2020 Top 10 SMB business issues, IT priorities, IT challenges
Download 2020 SMB infographic here
Infographic - 2020 Top 10 Midmarket business issues, IT priorities, IT challenges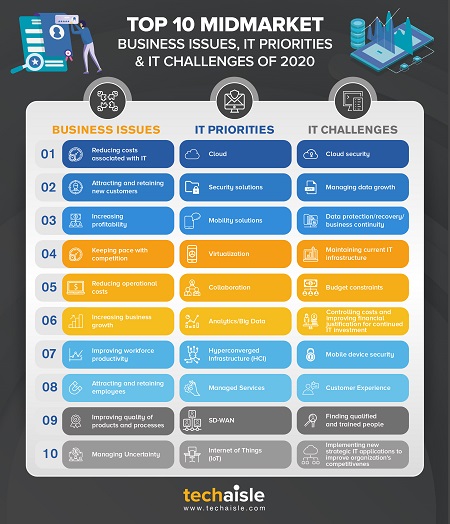 Download 2020 Midmarket infographic here
Infographic - 2020 Top 10 Small business business issues, IT priorities, IT challenges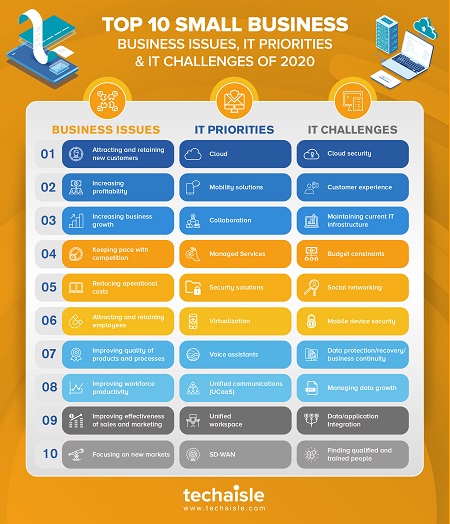 Download 2020 Small Business infographic here