Where is the SMB mobility channel today, as we enter 2016? Results from three Techaisle SMB channel surveys and compiled in report The Channel and Mobility: SMB Supply Options show that there has been substantial retreat from mobility as a core offering in the SMB and midmarket channel. In two years, the proportion of partners stating that they are unsuccessful at selling mobility has increased from 5% to 17%. There are likely two main reasons for this, a "push" and a "pull," both related to the increased need for specialization in 1-2 of four main market areas (mobility, cloud, managed services, converged infrastructure/virtualization).
On the "push" side, Techaisle believes that many channel partners are struggling to find a profitable entry point to mobility. Supply of the devices themselves is not sufficient: buyers are deploying a wide range of client technology (PCs, smartphones, tablets) which has the effect of diffusing investments in PCs, diverting investment from the channel (since some technologies, especially smartphones, are generally acquired from telcos or other non-traditional-channel sources), and slowing PC refresh cycles (since client technology investment is now spread across 2-3 different devices). Additionally, the rise of BYOD is a double-edged sword: on the one hand, it increases the need for mobility management solutions (since these devices have greater need for security and related capabilities, such as audit/compliance monitoring), but on the other, authority for these devices doesn't reside entirely within IT. And SMB channel partners are continuing to struggle on how best to offer mobility management solutions, mobility security solutions and bet on which vendor suppliers.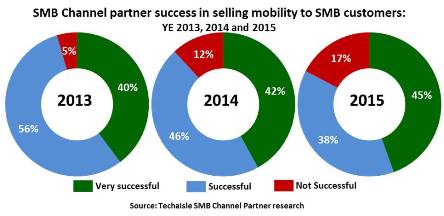 On the "pull" side, channel members who are being forced to abandon the 'one stop solution shop' positioning in favor of specialization in 1-2 of the core four areas need to decide if the uncertain journey into mobility has a greater overall benefit than focus on cloud, managed services and/or converged infrastructure/virtualization.