3X as many US midmarket firms as US small businesses are currently adopting IoT solutions. The trend will continue for the next 2-3 years. IoT adoption within SMBs is likely to be quicker than cloud. Average spending on IoT by SMBs is reaching the same levels of average spending on cloud; midmarket businesses are increasing their budget allocation for IoT solutions. IoT deployment holds a lot of promise for the SMBs and businesses have high expectations. However, IoT deployment has given businesses some unexpected benefits.
Short Table of contents is given below. For a detailed Table of Contents please click the download button above.
Current & Planned use of IoT solutions
Primary implementation approach
Spending on IoT solutions
Current implementation status
Primary leader of IoT deployment
Source of purchase of IoT solutions
Top of mind IoT vendor recall
Reasons for implementing IoT
IoT's potential opportunities
Expected Benefits from implementing IoT
Benefits realized from IoT deployment
Primary barriers to adopting IoT solutions
Security concerns when implementing IoT strategy
Types of IoT analytics and challenges
SMB Business issues, IT challenges, IT priorities, role of technology
IT budgets & Importance of financing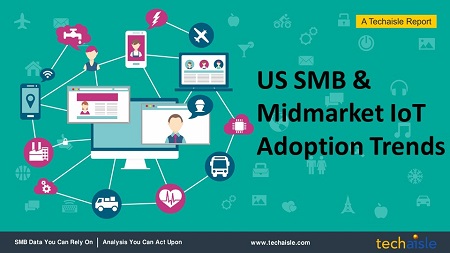 A 25 minute questionnaire was administered to each respondent. Respondents were screened for either having an infuence on IoT adoption or a decision maker or an implementer. The respondents were IT decision makers as well as Business Decision makers. Sampling quota was fixed by employee size categories: 1-9, 10-19, 20-49, 50-99, 100-249, 500-999. All analysis is conducted by employee size categories as well as small business and midmarket business. For the US market a total of 1135 SMBs completed the survey.
Report is delivered in PowerPoint format.
US SMB & Midmarket IoT adoption trends report is available to purchase for US$7500.