As part of SMB Compass Series, Techaisle has just released a free and detailed report on Salesforce for SMBs – Advantages, Limitations & Competitor comparisons. The report is focused on Salesforce solution portfolio for SMBs and acts as guidance for SMBs deciding to use CRM solutions and planning to use Salesforce solutions as well as competitor solutions. The report has been compiled based on deep discussions with SMBs using Salesforce, partners providing Salesforce implementation for SMBs and Techaisle global cloud surveys. The report covers Salesforce Cloud, SalesforceIQ, Salesforce Analytics Cloud, Salesfroce Pardot and Salesforce Marketing Cloud.
Salesforce has been leading the charge in cloud CRM and has been adding product offerings to its portfolio to provide end-to-end solution attracting, managing & retaining customers. Survey data also shows that within the US, Salesforce appears within top 10 cloud vendors as mentioned by SMBs.
Click on the report cover image to download the report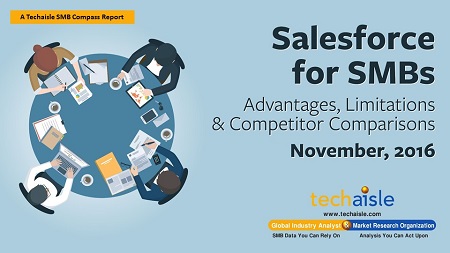 Table of Contents is given below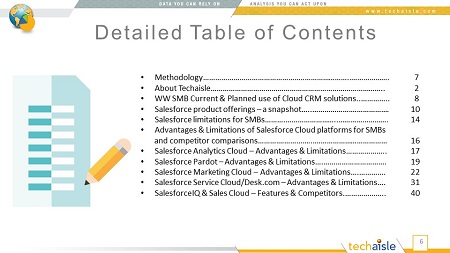 Techaisle's worldwide SMB & Midmarket cloud adoption surveys show that 38% of small businesses and 48% of midmarket firms are planning to use cloud CRM in the next 12 months. Data also shows that there is a very strong correlation between top business issues for 2017 and use of CRM. Within midmarket firms, improving effectiveness of sales & marketing is the second top business issue and fourth from the top for overall SMBs. In addition, attracting & retaining new customers /improving customer satisfaction is the 2nd most important business issue for SMBs.