3 minutes reading time
(505 words)
Techaisle survey - US SMB IoT adoption growing from early to mature stage
In today's competitive marketplace, it is critical that vendors develop detailed understanding of the small and midmarket segments, and align resources and strategies with requirements as SMBs move from initial experimentation with sophisticated solutions towards mass-market adoption.
In the US SMB & Midmarket IoT Adoption trends report, Techaisle Research analyzes 1,135 survey responses to provide the insight providers need to build and execute on IoT strategies for the small and midmarket customer segments. Techaisle's deep understanding of SMB IT and business requirements enables vendors to understand the 'why' and 'when' of solution adoption, current and planned approaches to technology use, the expectations that drive user investments, and key issues in supporting buyers to better create and intercept demand.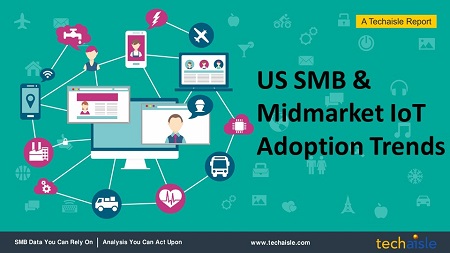 Highlights of findings presented in this report include:
IoT is still an early stage technology within small businesses, however, planned adoption trends show that the IoT usage and penetration may exceed 75% in midmarket and reach 1/3rd within small businesses. SMB survey respondents report that IoT solutions are currently deployed in 10% of small businesses and 29% of midmarket businesses. Many of the reported projects are exploratory but some have very sophisticated analytics.
21% incorporate minimal sensor deployment feeding isolated systems or feature devices that support remote monitoring/service/control. On the other hand, nearly 20% of SMBs that have deployed IoT are categorized as advanced users, having real-time information feeding enterprise-wide data intelligence solutions or connected devices creating competitive advantage.
Total spend on IoT is limited within small businesses but not so in midmarket firms. Midmarket firms report average IoT spending of more than $95,000, and are investing in hardware and deployment services as well as software.
IoT deployment holds a lot of promise for the SMBs and businesses have high expectations. In fact, Techaisle survey data shows that IoT deployment has given businesses some unexpected benefits. SMBs that have production-level systems deployed report that IoT has helped them to develop new products/services, improve controls within their businesses, increase business agility and reduce costs. Techaisle data shows that early IoT adopters have realized greater benefits than the next wave of SMBs looking to adopt IoT is anticipating.
SMBs are facing multiple barriers to IoT deployment - top among them are highly complex solutions, costs, infrastructure issues, connectivity & data center resources.
Small businesses tend to rely on supply channels (ISVs and outsourcing firms) that are not focused on hardware sales for help with deployment. Midmarket businesses look to sources, such as VARs, to deliver a solution combining hardware, software and integration and support services.
Microsoft is cited as 'top of mind' IoT supplier, but the survey data – which shows just five vendors cited by more than 10% of small business respondents (and none by more than 17%), and only three vendors mentioned by more than 10% of midmarket firms (topped by Microsoft at 22%) – suggests that there is tremendous scope for 'other' suppliers and new entrants to establish leadership in the SMB IoT market.
Detailed coverage and table of contents of the report can be downloaded here.