In response to my question, "what defines HPE's SMB go-to-market strategy?", Tim Peters, Vice President and General Manager, SMB, put it eloquently, "local empowered presence as a business solution provider through the largest partner network". Perhaps, therein lies the paradoxical problem. HPE GreenLake and Ezmeral are top discussion topics amongst partners, enterprise customers, media and analysts. But none of these are yet available and targeted towards the SMB customer. Regardless of having a wide portfolio of SMB solutions, HPE's SMB go-to-market messaging strategy is getting drowned under the onslaught of "return to software" shift. As a result, channel partners have become the most important conduit for information source and SMB solution selling. But data also shows that 70% of an SMB buyer's journey is complete before first contact with a supplier (channel partner or direct vendor).
Partners resolving the paradoxical problem
The paradoxical problem that HPE faces relates to marketing to two bookends of market segments – enterprise with a software solution approach targeting developers and IT buyers and the SMB customer with a yet to neatly defined as-a-service offering where the primary buyer is the business management. As HPE continues to design GreenLake enabled offerings for the SMBs, utmost reliance on partners is important. Partners contribute to creating, shaping and defining demand – in some cases by making customers aware of a new category or product, in others by helping to define solution requirements or specifications. To achieve partner success within the SMB market, HPE is focused on reducing friction across its enablement initiatives. Launched three years ago, HPE has brought to the forefront its enablement program Pro Series – Sales Pro, Tech Pro, Marketing Pro. Partners can tailor their experiences based on SMB market segment, a robust program for channel partners for a unified learning experience and digital marketing. (More on this in a future Techaisle Take analysis). So the question is, is HPE relevant for SMB customers?
Is HPE relevant for SMB customers?
Yes, despite an intense focus on the enterprise segment, HPE is one of a handful of vendor suppliers with a dedicated SMB executive team, and a partner organization, under Paul Hunter, that is stepping up its commitment to SMB channel partners.
Enabling Digital transformation
79% of SMBs are on the road to digital transformation. The roadmap to successful digital transformation begins with the creation of a sound physical infrastructure - the 'building blocks' or 'foundations' of business infrastructure. The most advanced and digitally transformed SMB firms are looking to improve their ability to effectively manage IT delivery into the future – cost efficiencies, operational excellence, innovation, business growth, organizational productivity and IT's speed and agility. HPE solutions lay the foundation for effective, agile, secure modernization and transformation.
I like that HPE does not have a catch-all process for selling digital transformation solutions to the SMB customers. There is a deliberate process to empower partners to understand an SMB customer's workloads and digital transformation stages before recommending, architecting, deploying and managing digital transformation solutions to deliver business outcomes.
Adopting Hybrid IT
Techaisle research shows that SMBs use a mix of public, private and public clouds – and that businesses often use two or three of these approaches simultaneously but they are definitely settling on the "best approach" which is hybrid. Workloads on hybrid has gone up by 30% in the last one year and basic hybrid deployment is expected to increase by 56% in the next one year. Hosted infrastructure will likely see a growth of 131% in the next one year.
HPE has several offerings for hybrid environments, including HPE OneSphere, HPE ProLiant for Azure Stack and Cloud-Ready Storage. Specifically, for SMBs, HPE has a set of five hybrid cloud solutions. Built upon the core features of HPE ProLiant Gen10 servers and Microsoft Azure services, these hybrid cloud offers provide a path to SMBs to enhance productivity, improve IT service delivery and manage cost efficiencies. The offering includes – Hybrid Remote Workers, Hybrid File and Backup, Hybrid Virtualization, Hybrid Development and Test, Hybrid Database.
In addition, HPE has solutions tailored for small businesses. Leading with its HPE ProLiant MicroServer Gen10 Plus featuring remote management and security capabilities. The solutions include Office in a Box, Scalable File and Backup as well as Edge to Cloud for simplified access to cloud services.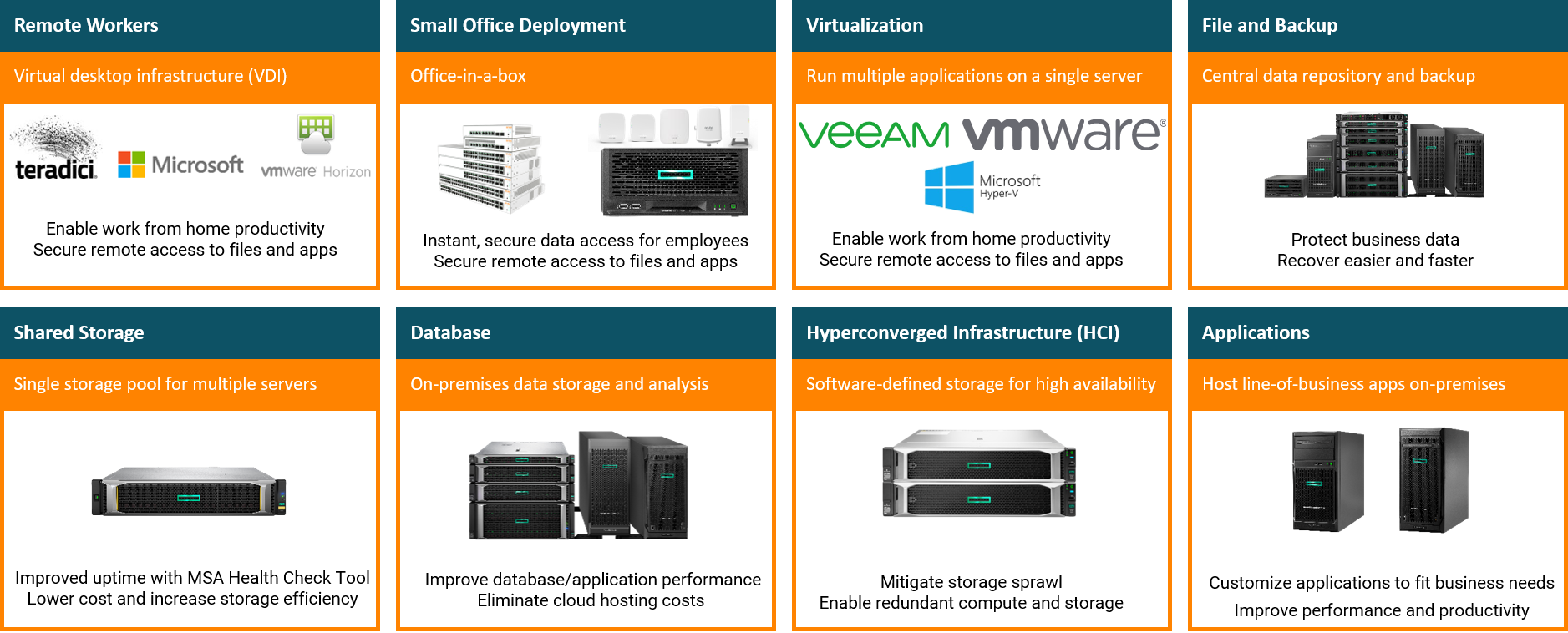 Deploying Hyperconverged Infrastructure
Techaisle data shows that HCI adoption is within the top ten IT priorities for SMB customers. Although a distant third in HCI deployment, HPE's SimpliVity solution has been growing at the edge for SMBs. It requires only 2 nodes to start, does not require separate storage and backup, and restoration can be done from a point in time. HPE's dHCI is ideal for SMBs who want their compute or storage or network to scale independently. The entire environment is managed through vCenter and monitored through InfoSight making it easy for SMBs. It separates compute and storage so that they can grow independently giving the SMB customer flexibility of HCI.
Implementing Networking
Aruba Instant On announced last year, is suited for 100 users and below, extends to 7 switches and has both wired and wireless unified management through Aruba Central. However, it is only offered as a subscription service. John Moran, Sales Director, North America, HPE Aruba, points out that HPE has not come across Cisco's Meraki Go in a competitive environment. I believe it is because Aruba Instant On is truly meant for the midmarket customers whereas Meraki Go is for the small businesses. Many SMBs still prefer outright purchase rather than subscriptions.
Is there a missing middle – midmarket segment?
Ignite Midmarket initiative, announced at HPE Discover in 2019, seems to have retreated into the background. As per Antonio Neri, President and CEO, HPE, midmarket initiative is still active and very important to HPE's success. Within the HPE GreenLake Cloud services, HPE has designed 17 pre-configured offerings, available in small, medium, large pre-configured services which can be installed within 14 days. Some of the services are suitable for the midmarket segment.
HPE GreenLake Hybrid Cloud is of huge interest to the midmarket segment because it offers the promise of consumption-based cloud solution for on-premise scalability, security, performance and cost management without over-investment in infrastructure allowing cloud management of both public and private resources from one console. HPE is extending its GreenLake offerings for the midmarket for quick deployments of workloads with right sized and ready to go storage, compute and virtualization. For midmarket firms which do not own and manage their own data centers, HPE has partnered with Equinix and CyrusOne to offer co-location solutions. To help its channel partners that serve the midmarket segment, HPE has developed a new quoting tool that reduces quote time from 18 hours to 15 minutes.
HPE's everything-as-a-Service enablers
HPE GreenLake
It is no secret that HPE has strategically dived into its swim-lane with a commitment to offer "everything-as-a-service" by 2022 - entire portfolio through a range of subscription, pay-per-use and consumption driven offerings. HPE GreenLake, which offers a flexible alternative to traditional on-premise IT hardware consumption, is the foundation for HPE's as-a-service strategy. HPE's GreenLake platform hosts servers, storage and networking in-house while retaining connectivity to multiple clouds overlaying with its own software and services. Cray acquisition in May 2019 is enabling HPE to offer HPC as-a-service for some of the most demanding workloads. HPE says that GreenLake has 90%+ customer retention rate (99% in July 2019).
HPE's vision is to become the Edge-to-Cloud Platform as-a-Service company with a focus on customer use cases and solutions and HPE Ezmeral is core to its strategy. HPE already competes against Dell in storage, servers, and networking, with Cisco in networking, and with Lenovo in servers and NetApp in storage. With the launch of Ezmeral, HPE has expanded its competitive footprint to include VMware Tanzu and Red Hat OpenShift, but HPE is quick to point out that Ezmeral is the only solution with built-in persistent storage. VMware and Red Hat are also partnering and HPE is working with both to define where Ezmeral can really add value. As customer traction is increasing, the competition is also stepping up, specifically, Dell Technologies On Demand, Azure Stack, AWS Outposts, Lenovo TruScale Infrastructure Services.
Once HPE launches GreenLake for SMB segment and provides access to GreenLake Central to MSPs and channel partners we could very well see a welcome arrival of HPE's everything-as-a-service strategy into the SMB segment.
Hybrid Cloud focus
Public cloud, private cloud and hybrid cloud approaches each offer unique business benefits to the adopting organization. While public cloud can deliver rapid scale for temporary workloads or support smaller businesses that find appeal in OPEX procurement models, private cloud can deliver scale at better cost in some circumstances, while hybrid cloud offers better, faster access to formerly siloed sources of information. In each case, cloud capabilities, including automation, programmability, self-service access to on-demand resources and consumption metering, can help transform IT from a cost center to business enabler.
HPE has an alliance with Google to adopt Kubernetes in hybrid cloud environments and extend reach of its software-defined infrastructure for building private clouds to legacy ProLiant servers, HPE Nimble Storage dHCI and HPE Cloud Volumes Block. HPE is giving its customers an option of deploying on-prem servers with virtual machines with either a VMware vSAN storage software or the HPE SimpliVity hyperconverged infrastructure platform. Additionally, customers have the option of deploying Kubernetes on bare-metal server. HPE is also embedding its HPE OneView IT infrastructure management and HPE Composable Fabric networking solution to create a composable rack environment. HPE's partnership with Nutanix provides an integrated hybrid cloud as a Service (aaS) option by leveraging Nutanix's Enterprise Cloud OS software, AHV hypervisor and delivering the solution through HPE GreenLake for a fully HPE-managed hybrid cloud.
The scene stealer - Ezmeral
No doubt Ezmeral was a scene stealer at HPE Discover Virtual Event. It is a complete software portfolio spanning container management, AI/ML and data analytics, cost control, IT automation and AI-driven operations and security. It is expected to speed innovation, transform applications and data from edge to the cloud. All of these are within the planned technology adoption path and essential to enabling digital transformation for 83% of midmarket firms to reduce IT deficit and deliver previously unimaginable business outcomes. HPE's initial focus is the enterprise segment. I strongly urge to not leave the midmarket segment behind. It is the true battleground segment.
Related HPE Techaisle Takes
HPE ProLiant MicroServer Gen 10 Plus focuses on SMB Digital Transformation
HPE boldly pivoting headlong into post-transactional market
HPE addressing SMB and channel partner Hybrid IT demands
HPE vs Dell SMB IT solution stack
HPE – doubling down to be SMB's IT partner of choice
Dell, HPE, IBM, Cisco competing for global SMB US$1 trillion IT Spend
Hyperconverged Infrastructure on a high-growth trajectory within SMBs and midmarket firms