SMB and Midmarket businesses are adopting Converged Infrastructure solutions for reduced cost and imrpoved IT efficiency. For slightly more than 1/3rd of small businesses and slightly less than 2/3rd of midmarket businesses, converged infrastructure solutions are among the top 10 IT priorities for 2018. Granted that by the end of year the actual penetration would be less but the very fact that CI/HCI has percolated to the top 10 is an interesting point to note. Cloud is everywhere, but Techaisle believes that efficiency is a reflection of the compute platform, not simply whether it is housed on-premise or at a remote facility and converged infrastructure contributes to the compute platform. SMBs are adopting converged infrastructure for one or more of five primary reasons:
To benefit from integrated design and efficiency
To tap into its ability to enable centralization/management of resources
To capitalize on performance/time-to-benefit advantages
To improve IT agility and its ability to meet business needs
To respond to core requirements for cost savings and improved security.
In fact, 39% of midmarket firms said that converged infrastructure helps lower total cost of infrastructure ownership.
In its SMB & Midmarket research, Techaisle has looked closely at converged infrastructure – hardware-defined systems that integrate network, server, storage and management technology in a single package. In its survey of 1000+ US SMBs and 3000+ globally, Techaisle probed for converged infrastructure adoption drivers. As figure illustrates, lower operating costs are a significant adoption driver for SMBs as a group and (especially) for midmarket (100-999 employees) businesses. Both groups also cite reduced operating costs, efficient resource provisioning, business agility and CAPEX advantages as reasons for choosing to move ahead with converged infrastructure.
SMB TOP REASONS FOR ADOPTING CONVERGED INFRASTRUCTURE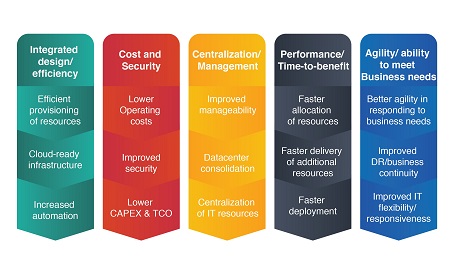 Role of Converged Infrastructure solutions in a Cloud dominant IT environment
Cloud's popularity isn't simply a matter of it being a catch-phrase that resonates with both IT and business leaders; cloud is atop corporate to-do lists because it responds to critical organizational needs. Cloud is an efficient platform for IT service delivery. Because it is provisioned "as-a-Service," cloud embeds professional support supplied by the cloud provider – a critical issue for SMBs, who have limited internal IT staff resources; and because it allows for customers to buy capacity on an as-needed basis, cloud aligns IT costs with business benefit. Lost in much of the cloud chatter, though, is the fact that there is a counterpoint for each of these widely-recognized cloud attributes:
IT efficiency is increasing, but that isn't solely or specifically an attribute of 'cloud'. Cloud is efficient because core delivery platforms are modern, optimized, and highly virtualized, meaning that instead of the 3%-10% utilization rates that in-house servers typically clock in at, cloud providers can obtain 25%-40% (or higher) utilization of efficient alternatives to costly, power-hungry IT assets, which improves cloud IT economics. But businesses that deploy their own efficient, virtualized modern gear are able to attain these benefits internally. Efficiency is a reflection of the compute platform, not simply whether it is housed on-premise or at a remote facility.
IT service delivery isn't actually getting less complex. In many cases, cloud increases the overall complexity of a business's IT delivery environment. Integration of installed systems sourced from multiple manufacturers can be a time-consuming task for IT departments, especially within resource-constrained SMBs. One research project conducted by Techaisle found that in a two-year period, small businesses were expected to move from an average of 1.9 to 3.3 different types of delivery platforms; the actual complexity reflected in this finding expands significantly with the addition of multiple in-house systems, multiple hosting providers – and many different cloud systems, including SaaS, PaaS and IaaS. Each of these cloud systems is supported to a substantial degree by the cloud provider – but the task of tying these systems together for corporate uses falls squarely on the internal IT staff.
HOW IS IT MANAGED WITHIN SMBs?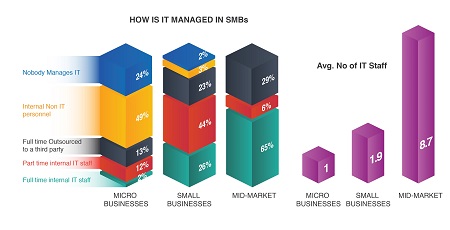 Cloud is less expensive than physical systems, and better aligns IT expenditures with business benefits. This is a popular perspective, and it isn't without merit: cloud reduces up-front CAPEX requirements, and for some systems, especially those with limited utilization or a small number of users, it will generally provide a very cost-effective alternative to on-premise systems. Businesses may well find, though, that costs for in-house systems with high utilization rates (both hardware and software) are lower on-premise than in the cloud. This is true within the depreciation period for purchased products; the comparison is even more compelling once the systems are fully depreciated, at which point the ownership cost (net of maintenance fees) falls to $0 for on-premise equipment, vs. an ongoing 'pay per sip' fee charged by the cloud provider. As with efficiency, the 'magic' isn't in processing location, but rather, in how effective an organization is in understanding how IT is used within the business and planning appropriately. SMBs that don't understand what their needs are will be best served by an approach that minimizes fixed investments; those that spend the time needed to match process requirements with IT infrastructure can make informed decisions to optimize investment vs. return.
The business rationale for advanced on-premise solutions such as converged infrastructure solutions, especially, hyperconverged infrastructure (HCI) – systems that integrate compute, storage and networking in a highly-virtualized, software-defined, scalable solution – doesn't simply rest on this 'not-cloud' analysis, however. Techaisle survey data shows that HCI offers real advantages to SMBs looking to optimize IT service delivery capacity and associated IT investment.