Techaisle forecasts worldwide SMB (1-999 employee segment) IT spend will reach US$735 billion in 2021 and cross US$1 trillion in 2028, growing at 2X the global GDP rate and 3X the enterprise segment. With slightly over 72 million SMBs (excluding home-based businesses), the market segment presents itself as lucrative and yet incredibly difficult to penetrate. Within each employee-size category there exists segments by IT sophistication, cloud maturity, digital transformation strategy, SaaS adoption, cloud first to cloud selective segments. As per Techaisle survey digital transformation is on the minds of most SMBs who are expected to spend US$275 billion on DX in 2018. And 42% of SMBs have become more dependent on technology over the last 12 months for better business outcomes.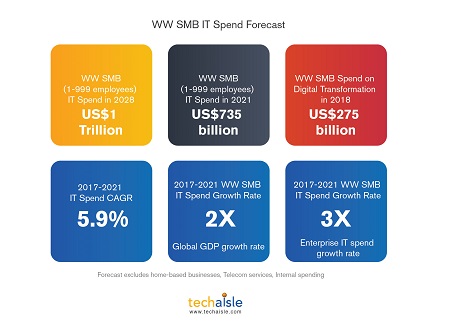 In an IT environment that is already very complex and likely to become more so in 2018, trusted advisors are very important to SMBs. Techaisle research also shows that three quarters of SMBs rely on a trusted party - usually an internal employee with expertise in IT and/or external consultants – to provide advice on IT strategy. In most cases (over 60%), these advisors are trusted because they are viewed as unbiased and experienced, and are able to provide the "right guidance" to the SMB buyer.
While the "unbiased" observation would seem to rule out product vendors, SMBs exhibit a clear preference for advisors who can move seamlessly from advice to procurement and deployment. Nearly three quarters of SMB buyers would like their IT suppliers to be able to provide technology advice that is directly connected to business issues and outcomes, and nearly two-thirds want an IT advisor who is "invested in customer success."
This last phrase is important. Increasingly, "invested in customer success" refers to shared-risk contracting structures in which some part of the payment stream is linked to measurable business outcomes – payments made when the customer realizes the process or productivity improvements promised in the course of the sales process, as opposed to the traditional pay-on-product-delivery basis that leaves the user to find technology-attributable benefits after the supplier is fully compensated. This success-based or SLA-based payment logic is relatively new, and likely to place train on channel (and potentially, vendor) cash flows. Creative financing options will be needed to pave the migration from asset acquisition to outcome-based payments.
SMBs are experiencing primarily six problem areas when purchasing technology products & services. These are:
Separating hype from reality, sifting through over-content sharing by vendors
Technology fit with business requirement and the ability for vendor sales to guide, educate and bridge the need
Cost effective solutions that address budget constraints, are competitively priced and take into consideration cost of deployment, maintenance and training of staff
Identifying single point of contact for sales, support and continuous advisory
Compatibility & integration with existing infrastructure including expertise to manage integration
After-sales support that is proactive, trained vendor support staff who understand the history of IT infrastructure and business pain points
Techaisle tracking studies show that most SMBs use a combination of Dell, Cisco, HPE and Lenovo. Almost all use Microsoft. But not all vendor brand experiences are equal. When respondents were asked to name their top 3 preferred technology suppliers, data shows that Microsoft appears in the top 3 list of 80%-90% of SMBs. Dell has stronghold in the small business segment and appears in top 3 of 44%-46% of small businesses, far ahead of HPE. Data also shows that the midmarket segment is the real battleground with only a few percentage points differences between IBM, Cisco and Dell.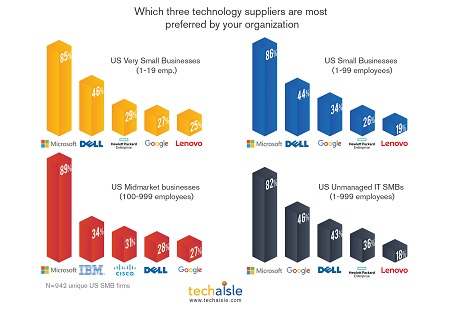 Techaisle's corresponding research on Top 10 SMB & Midmarket business issues, IT challenges and IT priorities, clearly shows that issues – mobility security, data protection/recovery/business continuity, integration across clouds and between cloud and on-premise systems – are important to both small and midmarket businesses, and messaging that addresses these topics will resonate at all levels of the SMB market. However, vendors focused on midmarket rather than small businesses may want to take note of the prominence of "workplace (or 'digital') transformation" on the midmarket challenges list. Midmarket firms are looking to reinvent the ways that they support employees (individually and in workgroups) to drive productivity and efficiency. Suppliers to this segment would be wise to emphasize how their offerings pave the way to a more agile and productive future work state.