HP has split into two – HP Inc. and Hewlett Packard Enterprise (HPE). Almost all SMB relevant products and solutions (except PCs and printers) now reside within the HPE organization. The global small and midmarket businesses, SMB (1-999 employee size) market has been the growth engine for the IT industry at large. The reason is quite simply that SMBs account for over 80 percent of businesses in any country – developed or developing. As per Techaisle, SMBs are forecast to spend US$597 billion on IT in 2015. Their IT requirements range from servers, networking and storage to cloud, mobility, analytics, managed services and collaboration solutions. Today, most SMBs are looking towards IT suppliers that offer appealing value propositions in either of three IT delivery models – traditional infrastructure built on-site from hardware and software components; hosted solutions and/or applications most often purchased on a "pay as you go" model; and, cloud infrastructure delivered on-demand.
HPE – the new incarnation of HP and its focus on SMBs with Flex solutions
Since the launch of its "Just Right IT" portfolio (September 2010) for SMBs, HPE has been striving to better serve its SMB customers by consciously lowering cost of solutions, improving agility in deployment and enabling faster time to value in managing IT assets. Just Right IT includes products, services and solutions specifically engineered for SMBs. The portfolio offers management, data protection, communications and connectivity solutions that are designed and priced "just right" to deliver affordability and value to SMBs. These solutions revolve around HPE's core offerings of servers, storage and networking which comprises of:
Servers: ProLiant MicroServer, ProLiant 10 Series Servers, ProLiant 100 Series Servers, ProLiant 300 Series Servers
Networking: 1950 Switch Series, R100 Wireless VPN Router Series, Cloud Managed Networking, and 2920 Switch Series
Storage: Solutions for the virtualization, SQL Server, Exchange, File sharing and Backup
In November 2015, soon after the split, HPE announced a new portfolio of ProLiant Generation 9 (Gen9) Servers (ProLiant DL20 Gen9 and ProLiantML30 Gen9) that are specifically engineered for SMBs to help reduce cost and complexity to run the new style of IT, web, collaboration, and business workloads. HPE is hoping that the new server portfolio advances its vision for compute and the future of data center technology.
HPE also announced its Flex solutions which bundles various services around its server, storage and networking products including support services, financial services, ISV software, distribution services, and management. It is specifically targeted at three different segments of SMB market at the low end of which are the SMBs who are "starting out" and at the high-end are the SMBs who are "expanding their business". This does align well with what Techaisle analysts find in Techaisle's SMB & Midmarket IT Sophistication Segmentation as shown below.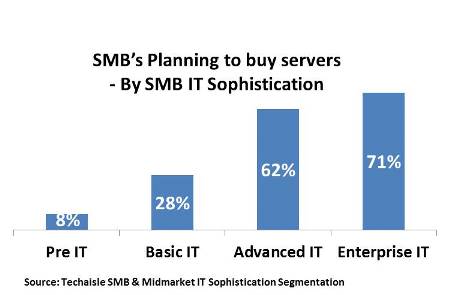 The expanded portfolio is expected to provide new business opportunities for HPE's channel partners. To continue to build on its channel loyalty, it is investing heavily on its partner program - Partner Ready, investing in a unified business model for all its channel partners through a single platform for membership, portal, locator and service delivery. HPE is also emphasizing on the benefits of its Flex solutions to its channel partners. In his remarks McLeod Glass, VP & GM HPE Tower Servers and SMB Solutions mentioned that "Flex solutions will help deliver a platform to initiate a conversation with SMB customers".
However, HPE has to clearly communicate a value proposition for it's 'Flex solutions' offerings which seem to be a rewrapping of its existing services for SMBs. Breathing down on HPE's neck would be Dell's ProDeploy and ProSupport services which are designed to provide everything from hardware planning, configuration, installation and complex integrations to ongoing proactive support.
It would be interesting to see how HPE Financial Services' deferrals and pay-as-you-go offering gets combined with Flex solutions because Techaisle believes it would make sense for HPE to combine the flexibility of deployment with the convenience of payments. It may be said that Dell Financial Services Scale Ready payment solutions consisting of Provision and Pay, Pay As You Grow, Scale On Demand, and Cloud Flex Pay are the most relevant financial solutions for SMBs that are starting out to the ones that want to grow and expand.
In keeping with its four tenets of Transform, Protect, Empower and Enable, HPE Flex solutions have specifically identified four key areas of addressing SMB needs – virtualization, business protection, data processing and collaboration. All of these are very important for the SMBs but notable misses are cloud and mobility which are among the top priorities of both small and midmarket businesses.
Servers, Network, Storage and Services as the center for SMB solutions
While the recent announcements were for new server offerings, HPE continues with its focus on entire compute continuum of servers, network, storage and services for SMBs. The Just Right IT portfolio of products contains all the elements an SMB needs for every stage of growth. HPE's initial announcement on servers is hardly surprising. Despite the fact that increasingly SMBs are taking their infrastructure to the cloud there is substantial demand for on-premise servers either for hybrid/private cloud deployments or plain old file and print sharing. As the data below from Techaisle's SMB & Midmarket cloud adoption trends survey shows that a high percent of SMBs who are using cloud servers are also planning to buy and deploy on-premise servers.

HPE does face tremendous competition in the server space. Lenovo is finally beginning to place greater emphasis on its server line after having acquired IBM's x86 server unit. With the Lenovo acquisition of IBM x86 server unit, it catapulted to top-five server vendors joining HP, Dell, IBM, and Cisco but then faltered. Dell is the most aggressive giant rolling out its PowerEdge 13G 1-Socket servers for the SOHO/SMB market with HPE squarely in its sight. Specially Dell's PowerEdge T130 and T330 are targeted towards micro- and smaller- SMBs whereas the R230 and R330 are meant for larger SMBs. Dell's approach to IT management is simplicity, efficiency and availability and it says that "Dell's OpenManage systems management latest generation offering takes 40% less time to deploy a server vs. HPE solution".
Dell is looking to extend its reach in the IT infrastructure segment through its capabilities in storage, servers, virtualization and PCs and poses a threat to HPE's business in the SMB space. Dell is trying hard to challenge HPE's market leadership in servers and is succeeding in regions such as Asia/Pacific. However, HPE may have an advantage as its channel base is very loyal and lot more than 40% (Dell's commercial business via channels) of its sales is through channels. Techaisle's SMB channel trends data shows that 51% of SMB channel partners say they trust HP, a number which is higher than Dell, and 42% say they like HP, a number which is lower than Dell. There is clearly tremendous work ahead for HPE to not only convince its channel partner base but also help SMB customers to pivot to Just Right IT thinking.
Final Techaisle Take
HP's (now HPE) late market entry and small market share forced it to close its Helion public cloud offering and shift its focus to hybrid cloud. HPE will drop its public cloud offering on 31 January 2016, surrendering the territory to Amazon Web Services and Microsoft's Azure. Recognizing the future is hybrid, HPE is planning to move to a multiple partner-based model for its public cloud capabilities. Techaisle believes that HPE is still in a dilemma as to which cloud offering it really needs to focus on as SMBs continue to shift to cloud. In November 2015, HPE launched its online SMB marketplace platform (in the US), showcasing HPE products and services but fulfilled by its partners CDW, PC Mall, PC Connection and Insight. There is not enough clarity on HPE marketplace's intended objectives.
Flex solutions are good for SMBs but HPE must convey a clearer positioning of its portfolio of recent servers launched and what services are being offered for assessment, deployment and management of servers. And above all, what is the overlap or distinction between Just Right IT and Flex solutions and how both combined could appeal to an SMB customer.
HPE continues to make investments "millions and billions of dollars" in its turnkey product offerings and to help SMBs, however, HPE is still missing the plug-in pieces to help SMBs get the most out of their business. Techaisle's global SMB & midmarket survey research shows that business priorities are impacting SMBs' IT solution focus. The drive to develop new customers has a direct impact on the desire to emphasize solutions that support business growth, including social media, mobility, cloud and analytics. Additionally, growing business confidence has an effect on all business-relevant solution areas, freeing up resources for new solution exploration and adoption. When we look at planned adoption compared with current use of key IT solution areas, we see an average anticipated increase of more than 70% in the SMB user community with the effect that mobility, BI/analytics, cloud, collaboration, virtualization and managed services are poised to join social media as installed business solutions. The initial discussions and messaging addresses how HPE provides solutions across four areas (1/ transforming to a hybrid infrastructure through virtualization, 2/ protecting digital enterprise through business protection offerings, 3/ empowering the data-driven organization through analytics/data management, 4/ enabling workplace productivity through collaboration). However, HPE needs to quickly dive into SMB business outcomes and how HPE addresses SMB business priorities of and IT adoption patterns of cloud & mobility with its Just Right IT portfolio of products, solutions and services.
HPE is in very early stages of its new incarnation. The next six months will be important for setting the tone and pace to be SMBs' IT partner of choice and continued loyalty of channel partners that serve the SMB community. Past should not define the present but the present will certainly shape the future. A split is a big enough event, a misstep could be disastrous. HPE is quick to point out "while the HPE name is new, the commitment to SMBs is not. HPE is promising to remain committed to working with SMBs and providing them with the IT tools they need to grow their businesses". In fact, Techaisle is sensing a hint of positivity, vigor and excitement not felt at the old HP for a long time. HPE needs to channel that positivity to address the IT needs of 72 million SMBs and 165 million home-based businesses worldwide.