Occasionally there comes along a compelling, impressive, persuasive, and differentiated notebook design that astonishes you. Lenovo ThinkBook Plus Gen 3 is that design. The new Lenovo ThinkBook Plus Gen 3 has a 17.3-inch ultrawide 3K display AND an additional 8-inch color display beside the keyboard. It is built for multitasking. And I love it.
I first fiddled with Thinkbook Plus in November 2019. The notebook gripped my attention because of its "Think" pedigree, focus on the SMB segment, and unexpected E-Ink screen on the lid. It was an intriguing design. Fast forward two years to September 2022. The innovation difference between the Gen 1 and Gen 3 has been nothing but exponential. I distinctly remember quizzing engineers during analyst council sessions with many PC OEMs about a notebook with multiple or extensible screens. Two models with dual screens have been introduced, and Lenovo ThinkBook Plus Gen 3 is far better than its competitor.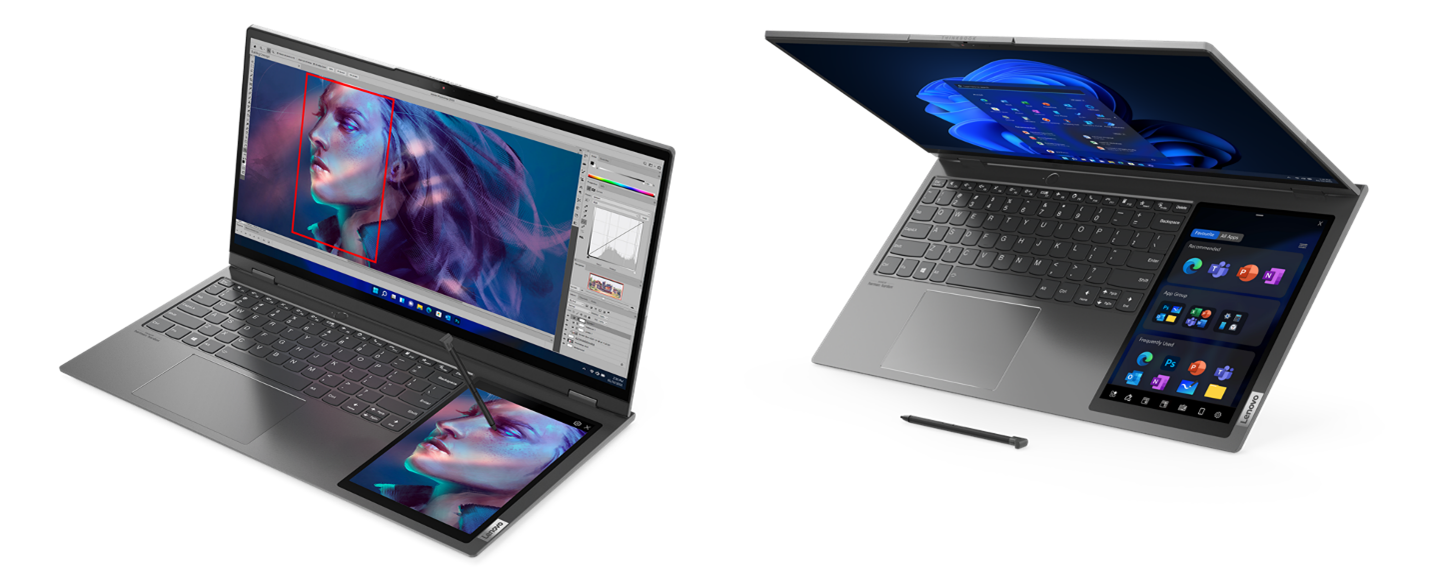 I have been using a fully configured (1 TB SSD, 12th Gen Intel core i7-12700H processor, 32 GB memory, a fingerprint scanner on the power button, TPM 2.0) production model for most of the last month. It is an innovative and practical notebook that exudes the quiet confidence of imaginative applied design. When I powered on the notebook, my synapses fired on all cylinders. Lenovo still has one of the cleanest setups and installs of any PC OEM. Lenovo Vantage is one of the best apps to personalize device settings, update drivers and software and manage security configurations.

Dual displays are more productive than one
The touchscreen 17.3-inch main display of the ThinkBook Plus Gen 3 is ultrawide and has a resolution of 3072 x 1440 with an aspect ratio of 21:10 and 400 nits brightness. The ultrawide display in a laptop makes multitasking more accessible and allows users to see more content with less distraction. The massive and roomy display is a visual treat, a productivity enhancer, and ideal for Windows 11 snap layout. Straddling the line between business, work, and life, ThinkBook boasts Dolby Vision for lifelike images, blue light reduction, and 2 X 2W Harman Kardon audio for superior sound. The Lenovo Integrated Pen is a bonus for the secondary display. There is a built-in pen garage in the right corner of the chassis rear. I found the pen responsive on the 8-inch display when using Microsoft OneNote. I have extensively used the secondary 800 x 1280 multitouch LCD display for email, note taking, meeting calendar, WhatsApp desktop, skype, web browsing, file explorer, and Teams chat. Its 10:16 aspect ratio works very well, in my experience. It is one of the best examples of multitasking. Although the screen resolution is not the best, it is very productive to have an additional display. The high point is that I can drag and drop most applications and snap windows from the main to the secondary display and vice versa. I have effectively used the screen to glance at my talking points during presentations. The two screens combined optimize my productivity. The backlit keyboard is helpful.