In October 2022, Zoho reached US$1 billion in revenue. Zoho was founded in 1996 to deliver easy-to-use and deploy CRM solutions to the SOHO market segment (Small Office, Home Office). Even the Zoho name was a spin from SOHO. Zoho has transformed from a fledgling startup to an enterprise serving small, midsized, large, and public sector organizations globally. In recent years, Zoho has successfully moved upmarket from helping small businesses to midmarket firms and enterprise customers. Mid-market firms are measured, thoughtful, agile, and rapidly digitally transforming, focusing on cloud cost optimization and business process automation. These firms are building a longer-term strategy for an integrated, flexible approach to incremental cloud expansion. In direct contrast, small businesses move from point to point, working first on one discrete solution and then on the next. This dichotomous approach is a real challenge for suppliers as they need to differentiate solutions for the small business market and demonstrate that their offerings are essential components of broader strategies for mid-market firms while attracting attention to their products and building brand preference in both segments. While the expectations of mid-market buyers about SaaS providers are similar to large enterprises, the budgetary limitations create challenges in supplier selection, deployment, and management.
Techaisle research shows that midmarket firms invest in their employees and are social responsibility advocates. As a result, they want their vendors to share these characteristics and mindsets. Therefore, serving the mid-market segment necessitates a distinct culture that is not characterized by high prices and lengthy sale cycles.
Midmarket technology DNA and role of Zoho
The positioning of the solutions within the midmarket is essential. It requires in-depth information on business benefits and the process steps needed to capture those benefits targeted at BDMs, and information on how to assemble, deploy, integrate, and support/optimize these solutions targeted at ITDMs – and an understanding of how to position and convey the messages to each audience.
Its extensive portfolio of cloud business applications includes 50+ products, ranging from traditional office suites to analytics, finance, sales and marketing, collaboration, customer service, HR, and many more business processes at competitive pricing. Zoho has a deep engineering culture immersed in R&D, along with maintaining its cultural ethos without having to cope with any interference from either external investors or the public market. Zoho believes that instead of spending heavily on sales and marketing, it would instead invest in software development efforts or let its potential customers access the limited-feature platform for free. This strategy has proved to be very successful for Zoho and its customers.
Simplicity, flexibility, and value for midmarket firms
Zoho One, the flagship product, is designed for mid-market businesses. With Zoho One, customers have access to 45 business, collaboration, and productivity applications, of which over 20 applications (across functions) are used by more than half of Zoho's customers. The solutions are a part of a unified technology platform with built-in search, messaging, and AI services. It runs on a unified database with a unified data model with data pillars that enable seamless integration to deliver single truth for the business empowering users with a unified experience. The collection of apps running on a single database architecture and purpose-built on Zoho technology stack - services, software, hardware, and network infrastructure - deployed on Zoho's own global data centers ensures performance, availability, security, and privacy. All these solutions and features come at an affordable price, which makes the package suitable for mid-market firms as it significantly reduces the total cost of ownership, deployment, and integration timeframes.
Raju Vegesna, Chief Evangelist, Zoho, once said, "the market is littered with features masquerading as products." Zoho One provides single sign-on, single subscription, and a fully integrated platform. It is common knowledge that app-specific experiences drive infrastructure-level optimization steeped in Zero Trust, AI, distributed file structure, and data center expansion driven by market dynamics.
More than 60% of Zoho's workforce is devoted to engineering, developing new technologies, and keeping these technologies updated. Since the launch of Zoho One in 2017, Zoho has been innovating and updating its applications. With the evolution and maturing of newer technologies, Zoho has been adding AI/ML functionalities and improving user experiences.
In the past five years, Zoho One has grown considerably and has acquired over 50,000 businesses as customers in 160+ countries. Over the past two years, the platform has grown 150%, with 37.5% of new customers from mid-market and enterprise segments. License upgrades have increased by 92%. These figures spotlight the strategic commitment by Zoho to deliver end-to-end solutions that empower organizations to be agile, scalable, and adaptive to changes in their industries. Even the midmarket developers are taking notice as they can access Zoho Tables, RPA, and Test automation tools. Zoho Finance suite has seen tremendous growth. As per Zoho, it is processing 100M invoices per year.
Zoho One is wholly developed in-house on a single technology stack and is a unified, end-to-end platform that offers plenty of integration points across applications. Well-grounded unification enables organizations to link functions such as sales, marketing, customer support, accounting, human resources, and others. Moreover, the platform can be easily integrated with third-party solutions, allowing organizations (especially mid-market enterprises) the flexibility to manage complex systems, large amounts of data, and dispersed teams.
Techaisle's latest midmarket research shows that 42% of firms are increasing their spending through cloud marketplaces. Over 500K Zoho users use 1500+ apps from the Zoho marketplace (e.g., Twilio for Zoho CRM). Recognizing the need for verticalization, Zoho has purpose-built industry apps such as real estate CRM, travel agencies, IT services, field services, and many others. Most importantly, Zoho enables midmarket firms to develop and deploy custom apps.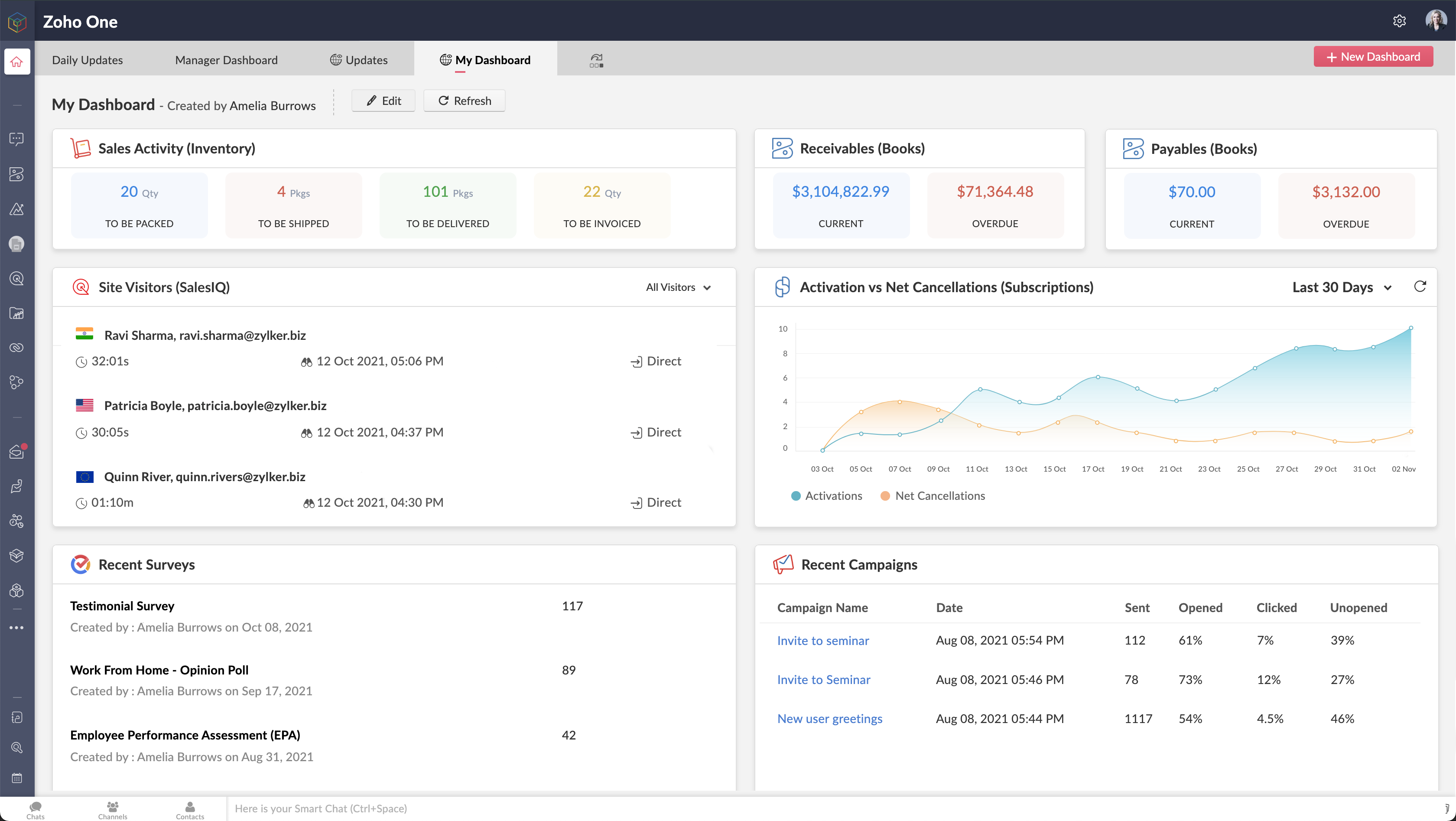 Zoho addresses the need for high-velocity custom apps
It is relatively easy to adopt a single SaaS solution, connecting its inputs and outputs to relevant internal systems and processes. It is possible to adopt a handful of cloud applications, hand-wiring the interconnections between them and adjacent applications. But this craft-built approach to the cloud differs from longer-term visions of scale, flexibility, and agility. It creates IT management overhead and performance and security risks. Even worse, disconnected systems affect relationships between companies and their customers: workflows that lack cohesion create unnecessary gaps in service. Unable to link all inputs to achieve a single view of the business reduces visibility into individual customer preferences and broader market opportunities. Zoho One provides midmarket firms with tools they can use to develop their applications and automate their business processes by creating workflows. For example: