Hybrid work trends have emerged rapidly over the past year, changing how organizations approach collaboration. Not long ago, the hybrid mode of work was viewed as a luxury – a privilege only for employees who could manage their job from home on occasion. However, the pandemic compelled organizations to scramble for new ways to ensure business continuity, and Hybrid work transformed into a must-have from being a nice-to-have option. Organizations that fail to embrace this change and try to return to a 100-percent-office-based work strategy are at risk of falling short in productivity, talent retention, and much more. Amid the worldwide trend of 'great resignations,' organizations have been trying to find a balance between working from home and the office.
In a scenario where hybrid work is no longer a choice but a necessity, many organizations are already aware that they need to provide consistent technical support to employees across different locations to enable a hybrid work environment that is seamless, secure, and smart. Hybrid work requires more than just collaborative software; it requires advanced devices, robust security, dependable connection, and smooth networking—all of which must function in tandem. Furthermore, it requires a unified solution to avoid fragmented communication, additional IT administrative labor, and increased security concerns.
The Webex platform addresses all these essential aspects of hybrid work – where employees work and how they prefer to work. It offers several solutions that can be easily integrated with various pre-existing systems and ensure enterprise-grade security.
Read on learn about Webex, comparisons with Zoom, Microsoft Teams and Google Meet
History of Webex
Webex was founded in the 1990s, acquired by Cisco in 2007 for $3.2 billion, and was renamed Webex Meetings in April 2018. Until the launch of other video conferencing platforms such as Zoom, MS Teams, and Google Meet, it was synonymous with video meetings. Like any other start-up, Webex has had its ups and downs but has overcome those hurdles and become successful because of its strong business principles and the core team's devotion to providing excellent customer service.
In 2014, Cisco introduced a new service, rebranded as Cisco Spark in 2015, and renamed Webex Teams in 2018 with a redesigned user experience. The Webex Suite was created in April 2018 by combining Cisco's Webex video conferencing technology and the Cisco Spark team collaboration software and adding them to the Webex Calling and Webex Contact Center systems that were part of the Broadsoft acquisition in February 2018 to consolidate the company's collaborative portfolio. The Webex Suite started to come into play with the introduction of Webex Calling and Webex Contact Center, the technology bases acquired with Broadsoft in Feb 2018. Still, these new products were not introduced until early 2019.
Before the acquisition, Webex focused on providing a customer-focused solution that changed to a revenue-generating business line after the purchase. The conceptual difference between the pre-and post-acquisition eras can be demonstrated by the fact that till 2007 if Webex went down for even five minutes, its engineers would travel to meet the customers to explain why that had happened and promised that would not happen again. After the acquisition, however, when the company network went down, it was attributed to a fault at the client organizations' end rather than Cisco's.
The shift from being a customer-focused company to a revenue-focused one started to show its negative effect – the platform was not running reliably and intuitively, the video call feature did not work seamlessly, timely innovation and upgrades did not happen, and customers became frustrated. Meanwhile, other video meeting platforms became popular, and Webex lost its market share.
When COVID-19 struck the world, video meetings became popular. However, Cisco Webex could only triple its meeting minutes to 25 billion between January and April 2020 as compared with Zoom, which witnessed a 20-fold jump to 170 billion meeting minutes during the same period. The Webex team was limiting some of the expansion to build out data centers and infrastructure to better cope with significant increases. The competition increased users/minutes but also had many downtime issues as they needed to be fully prepared. Regardless, Webex saw an 8x increase in call traffic in the months immediately following the pandemic. Cisco took a step forward to bolster Webex and drive innovation. Since then, a great team of leaders, consisting of Jeetu Patel, Javed Khan, Lorrissa Horton, Snorre Kjesbu, Aruna Ravichandran, and Abhay Kulkarni, have been injecting new and innovative features to Webex to keep ahead of the competition.
The platform saw over 400 feature additions in six months between October 2020 and March 2021. The new features helped the platform become more inclusive and offered enhanced networking, privacy, and security features. Since then, Cisco has continuously addressed the market's needs by simplifying its tool to deliver an improved user experience. Webex accelerated its feature velocity, often prodding competition to provide the same functionality.
Webex relevancy for businesses
An in-person meeting imposes constraints on the participants. The attendees must congregate in the same physical area, and the organization must ensure that it has a vacant conference room or office. Neither is a guarantee, especially for small businesses with limited office space and businesses whose staff travels frequently.
Organizations are seeking real-time collaboration without the limits of in-person meetings. Webex offers a compelling mix of comprehensive services, innovative features, low cost, and ease of use – all of which are great features for a solution.
Webex comes in two options that cater to the needs of different types of organizations. For personal and small businesses, Cisco offers Webex App, and for enterprises, it provides Webex Suite.
This Techaisle article will focus primarily on Webex Suite.
What is Webex Suite?
Webex Suite is the industry's first hybrid work suite, combining cloud and on-premises calling, messaging, meetings, polling, whiteboarding, asynchronous video, webinars, and events into a single, comprehensive, and secure solution.
The Suite provides an extensive portfolio of capabilities, where each capability is a product category by itself. While many organizations use tools from multiple providers for all these different capabilities, Webex offers all of these features in a single package. Webex Suite provides several collaboration modes under a single subscription via the Webex App and is managed centrally via the Control Hub.
Webex Suite components
The Webex Suite provides a comprehensive solution for hybrid work which they assert is backed by their world-class security.
Calling: A cloud calling platform having 45 million users and 8 billion monthly calls
Meeting: A video conferencing platform providing a hybrid-friendly meeting experience
Messaging: An asynchronous collaboration tool that keeps the users connected with both internal and external stakeholders
Polling: Audience engagement tool that helps in making meetings more engaging, interactive, and insightful
Webinars: A scalable webinar platform with a capacity of up to 100,000 and features such as real-time translations to 100+ languages.
Events: An end-to-end event management platform for in-person, virtual, and hybrid events
Whiteboard: A mechanism for teams to collaborate in real time or at their leisure with a single virtual surface
Vidcast: An asynchronous video offering launched as part of the Webex Suite last year in 2021
Webex's Revenue Breakdown
In Q1 FY 2023, Cisco reported the most significant quarterly revenue in its history with US$13.6 billion – a 6% year-over-year increase. While its product revenue has been climbing steadily (up by 8% year-over-year to US$10.2 billion), the company saw the collaboration segment's revenue, which includes Webex, fall by 2% year-over-year attributed to a decline in meetings and supply-chain constraint for devices, but partially offset by growth in calling.
Despite the slight fall in revenue, Cisco is committed to driving Webex forward and has emphasized new partnerships and interoperability with other solutions. Cisco Webex has driven innovations to help customers navigate their challenges when offices reopen and offer employees flexibility over their working patterns.
At its WebexOne 2022 event, Cisco announced updates to the Webex Suite, new collaboration devices, new customer experience solutions (contact center and CPaaS), and partnerships to help expand its collaboration footprint.
Updates to the Webex infrastructure
The WebexOne 2022 event saw Cisco unveil the details of its commitment toward advancing hybrid work, as part of which it is focusing on the following three aspects:
Reimagining workplaces: Fundamentally reimagine workplaces for all employees
Flexible Workstyles: Allow flexible workstyles because various persons and professions have varied needs, and there is no universal method of operation
Security and Manageability: Make sure that the hybrid work environment is safe and manageable for IT
Cisco states unequivocally, "the Webex of today is considerably different from the Webex of two years ago" since it has developed a lot of features and functions. Let us discuss the details of the innovations and developments under each significant aspect of the hybrid work environment.
Reimagining workspaces
Redesigning a workspace necessitates changes on two fronts – high-end collaboration software and the requisite hardware. Webex has innovated on both fronts.
Collaborative software
Previously, collaborative suites served as productivity islands. If one stayed on these islands, collaboration software functioned perfectly, but if one ventured out, it proved cumbersome. Today's world is a very different place. Organizations employ various collaboration and communication technologies to complete their tasks, and Webex has embraced the trend of merging collaboration suites with other technologies.
Cisco understands that many businesses use more than one collaboration tool, just as we all use multiple streaming services. That is why Cisco has significantly invested in interoperability with other platform providers such as Microsoft, Zoom, and Google over the past two years to deliver a consistent and efficient user experience. Cisco has simplified interoperability and improved user efficiency by ensuring that Webex interacts smoothly with Microsoft 365, Google, and Zoom. Webex users can host Google and Zoom meetings on Webex devices themselves.
This enables organizations to standardize a single set of endpoints while shifting to a collaborative multi-vendor environment. Cisco has partnered with Microsoft to provide the Microsoft Teams Rooms experience on its collaboration devices. Under this partnership, both companies' joint customers can benefit from the possibility of hosting Microsoft Teams or Webex meetings natively on their Cisco devices. Microsoft customers can link their exchange calendar to Cisco Webex and Microsoft Teams. Webex can also be connected easily with both Outlook and Office 365.
Miro for Webex brings social interactivity to Webex video discussions, allowing participants to use Miro's online collaborative whiteboard in Webex meetings.
The collaboration between Webex and Google has two components. First, organizations can join Webex Meetings and Webinars without requiring a browser by utilizing their Chromebook or any other Chrome OS device. Second, device integrations allow customers to join Google Meet conversations from their Webex devices and vice versa.
This benefits organizations as the lack of product interoperability have long annoyed them.
Rising need for Collaborative devices
The collaboration devices market is expected to grow in the next 3-5 years due to most business meeting rooms requiring collaboration devices. Around 10-12% of meeting rooms are currently collaboration-enabled, suggesting that a great deal is needed to equip offices for hybrid work and virtual participation and that offices might require many rooms to have video devices. This is the perfect opportunity for it to invest more in the collaboration devices market to equip more businesses with such devices.
Additionally, the hybrid work culture has highlighted the concept of hot desks, wherein employees work from offices without having specific desks allocated to them. Cisco wants to make that process much more manageable. Cisco's vision is to provide Webex desk hubs, wherein its customers can implement hot desks using the new Webex devices. The devices will enable users to turn any available desk into a personal space.
This vision has led to Cisco extending its hardware portfolio with an enormous set of new products/ slew of collaboration devices. The devices have been made available for commercial and personal usage and range from desk devices such as the Desk Pro to room devices such as the new Cisco Room Kit EQ, one of the industry's most comprehensive collaboration device solutions for large workspaces. It has a new 720 series headset, with Webex and Microsoft Teams connect buttons.
Additional devices will be released by early 2023. These include devices designed for small-to-large meeting room spaces, such as Cisco Room Kit Pro, Cisco Room Bar, and Cisco Board Pro 55-inch and 75-inch. Following this will be The Cisco Desk Pro and Cisco Room Navigator.
To summarize, Webex is delivering on its open ecosystem promise with its new partnerships and is not skimping on the necessary hardware that it believes is required to bring out the best in hybrid work.
Flexible Workstyles

Cisco has also unveiled a range of new tools for flexible workstyles, including:
Mobile Camera Share
Cisco has revealed a new tool using iOS and Android video capture capabilities. Webex Meeting participants can use their iPhone and iPad cameras to capture information and annotate what they view using Mobile Camera Share. Instead of providing images to the project team, a construction worker, for example, can report real-time progress on a working site.
Enhanced Webex Whiteboarding
Webex has always had whiteboarding capabilities, but the new whiteboard tool has made the Webex Suite more powerful. Anyone may initiate, join, and participate in a whiteboard session using an Internet browser, the Webex App, or a Cisco collaboration device. This allows distant teams to communicate directly in the conference on the same whiteboarding screen without leaving the app. The teams can control all whiteboards from the Webex App.
Group Call Management
Webex Calling now includes Group Call Management, a feature that enables businesses to use call center services without needing additional contact center software. This capability allows enterprises to utilize informal call center services to improve customer engagement, analyze performance, boost staff training, and deliver outcomes without needing a separate or specialized contact center application. The feature allows supervisors to access detailed call queue analytics – both real-time and historical – to allocate staff better, train them, and jump into calls as needed.
Slido integration in Vidcast
Cisco has also integrated Slido (an audience interaction platform) into Vidcast, an asynchronous video offering launched as part of the Webex Suite last year. Vidcast includes AI-powered editing tools and Slido integration for embedding polling into shared video content, which helps boost audience engagement.
Security and manageability
Finally, it is pointless to implement complex technologies without ensuring strong security. As a result, Cisco's third priority has been to enhance the security and management of Webex. Unlike its competition, Webex uses Cisco's industry-leading in-house security products, natively integrated into Webex from the ground up. This provides superior performance, end-end visibility, and integrated management. It supplemented Webex's security and manageability portfolio with the following:
Control Hub
Cisco has merged the Webex Control Hub with Cisco Spaces to create a smart workspace. Employees can benefit from the link by receiving critical information such as real-time occupancy and air-quality updates. The data could be used to rearrange workstations within buildings.
Audio Watermarking
Webex will soon provide the option to embed a unique inaudible identity for each meeting participant through audio watermarking. This identification allows compliance officers to quickly identify the origin of any recording by uploading it to Webex Control Hub. This capability, for example, may help investigate a situation in which a confidential meeting was recorded without permission and shared to social media by a meeting participant using a mobile phone. Audio watermarking can help determine where the audio recording of the meeting came from, preventing future incidents.
Addition of Duo Multi-Factor Authentication to Extended Security Pack
Duo Multi-factor Authentication is now a part of the Extended Security Pack, enabling single sign-on (SSO), multi-factor login, and password-less authentication for Webex.
Webex Customer Experience
Just as the pandemic has fostered hybrid work, it has permanently altered how customers connect with organizations. Customers increasingly want companies to communicate with them via digital channels other than by phone. This is another aspect that Cisco has focused on heavily while updating its Webex portfolio.
Cisco has announced new features and capabilities for its Webex Customer Experience (CX) portfolio, which provides fully integrated collaboration, a cloud contact center, and a cloud communications platform. Cisco claims that its Webex CX portfolio is the only one that can provide Unified Communications-as-a-Service (UCaaS), Contact Center-as-a-Service (CCaaS), and Communications Platform-as-a-Service (CPaaS) all in one bundle.
Webex's CX portfolio enables businesses to easily engage with customers across their unique CX journeys for digital and manual interactions. Below are a few key innovations.
Webex Contact Center (CCaaS)
Supervisor Desktop and Enhanced Reporting Capabilities
Webex Contact Center now includes an upgraded cloud-based supervisor dashboard for monitoring agent performance, delivering messages through the Webex App, and viewing detailed agent information and critical interaction highlights. Webex also expands Analyzer reports, allowing managers to use real-time and historical data to enhance their teams' performances. The supervisor dashboard is unique in the market partly because it integrates views of agents' digital and voice interactions to give a holistic perspective.
Digital Channels for Webex Contact Center Enterprise
Webex Contact Center, Webex Contact Center Enterprise, and Unified Contact Center Enterprise users can now use Webex Connect to access critical digital channels such as chat, email, SMS, and social media messaging as well as digital self-service via bots.
Access Subject Matter Experts
Webex Contact Center agents can now seamlessly interface with Microsoft Teams users. Webex Contact Center also integrates with leading CRMs, including Salesforce, Microsoft Dynamics, ServiceNow Zendesk, and Freshdesk.
Reduced Auditory Distractions
Webex Contact Center has an AI-driven background noise reduction technology available on PSTN voice conversations. Reduced background noise enhances the customer experience by minimizing distractions for both the customer and the customer service agent.
Webex Connect (CPaaS)
Webex Connect is a cloud communications platform (CPaaS) that connects communication channels and current back-end business tools to assist and automate all customer and employee interactions.
Integrations
Webex Connect's new out-of-the-box integration with Sycurio allows users to include simple and rapid credit card payments into customer journeys for purchase and deposit. Additionally, Webex's upcoming partnerships with Epic and Cerner will help healthcare customers integrate their back-end systems to enable timely and relevant communications with patients across all touchpoints.
Zoom playing catch up to Webex?
Zoom also recently organized an event called Zoomtopia, where it released several independent capabilities and announced several updates to its Zoom One package. While Zoomtopia 2022 was a big success with various innovations introduced, certain features appear to have been launched as either response to WebexOne 2022 or to play catch up with Webex's pre-existing features.
Webex Recording Enhancements vs. Zoom IQ
At WebexOne, Cisco released an interesting innovation under Webex meetings, allowing users to change recording layouts, use chapters to navigate and consume recordings quickly, and attach speaker names to every dialogue in a transcript.
Similarly, Zoom announced that it is making improvements to Zoom Meetings; in early 2023, it will apply its AI software, Zoom IQ, to meeting recordings through which users would be able to produce video summaries and create chapters in transcripts so that people can find essential parts of a conversation or meeting.
CCaaS Comparison
Zoom has been behind the eight ball, launching its CCaaS product in February 2022, nearly two years after Webex's Contact Center debuted in 2020.
Zoom announced its plans to offer a virtual agent for its CCaaS product, stating that the feature would be fully launched in early 2023. In contrast, Webex already provides virtual agent support (chat and voice). The chat support is a self-service online experience available 24X7 and can be seamlessly transitioned to human agents as needed. Webex also contains a call monitoring feature that allows supervisors to access calls, listen to conversations, and create a three-way conference to join an ongoing discussion.
Webex Vs. Zoom
Choosing the right platform for hybrid work is tricky due to the risks associated with picking the wrong one. While Cisco Webex and Zoom tick the key boxes and provide the bulk of the video features required, organizations' budget, capacity requirements, existing infrastructure (if any), and personal user preferences influence their decision to select a particular platform. Aside from these features, organizations must examine other critical aspects (on the product front) to make the most appropriate selection. Let us understand these aspects in detail.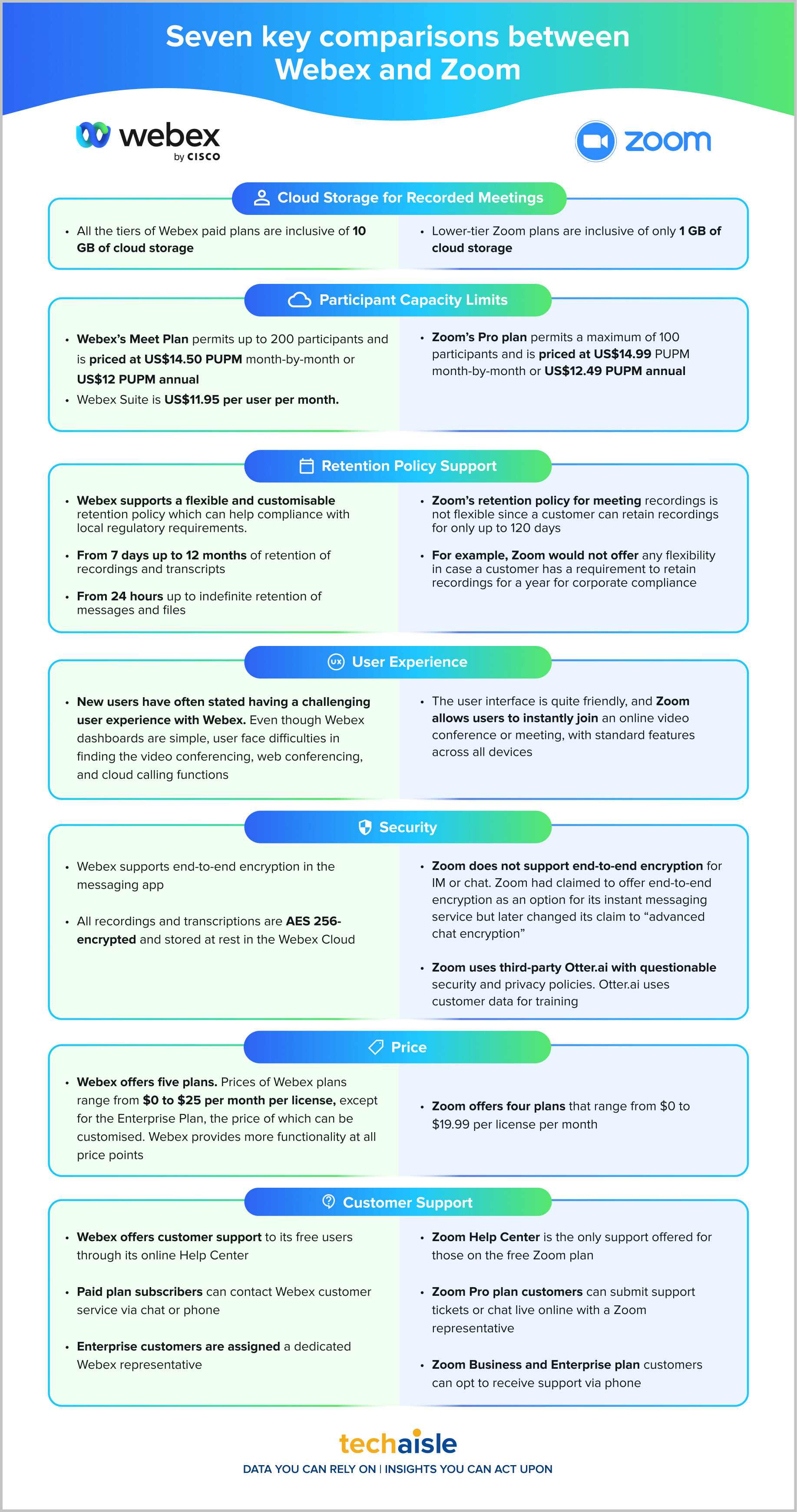 Webex vs. Microsoft Teams

Cisco Webex has certain advantages over Microsoft Teams in several areas, including the following: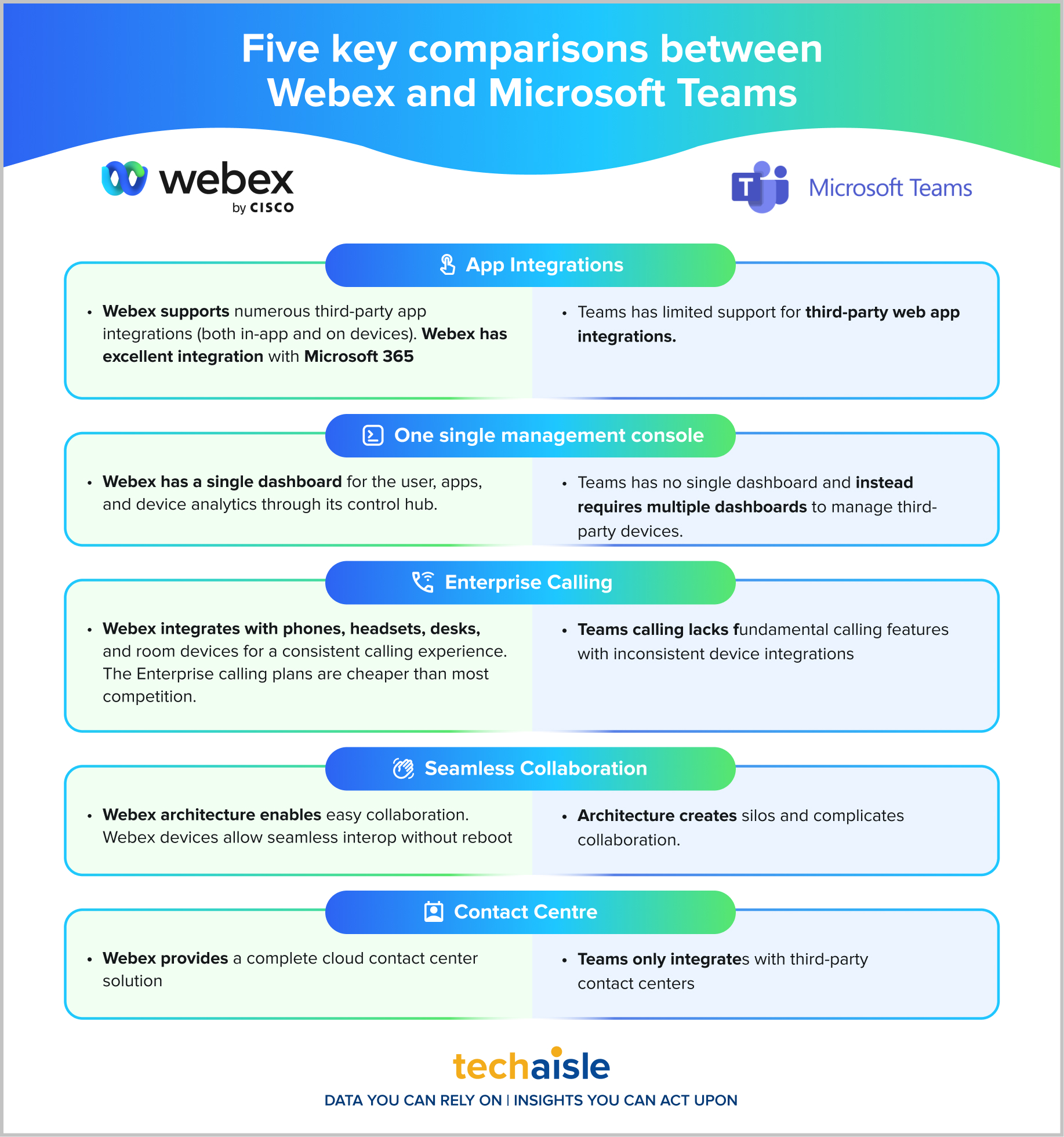 Teams pale in comparison to Webex in terms of breadth and depth of features, particularly in the areas mentioned earlier—even though Teams is a viable product and Microsoft has made improvements to it in recent years.
The above is a partial list of features and functions, and Microsoft has advantages in its integration with other Microsoft products. However, Webex is the superior alternative for enterprises that must collaborate with external users, have integrated hardware and software experiences, enterprise calling, interaction with apps, a single administration experience, and customized experiences.
Webex vs. Google Meet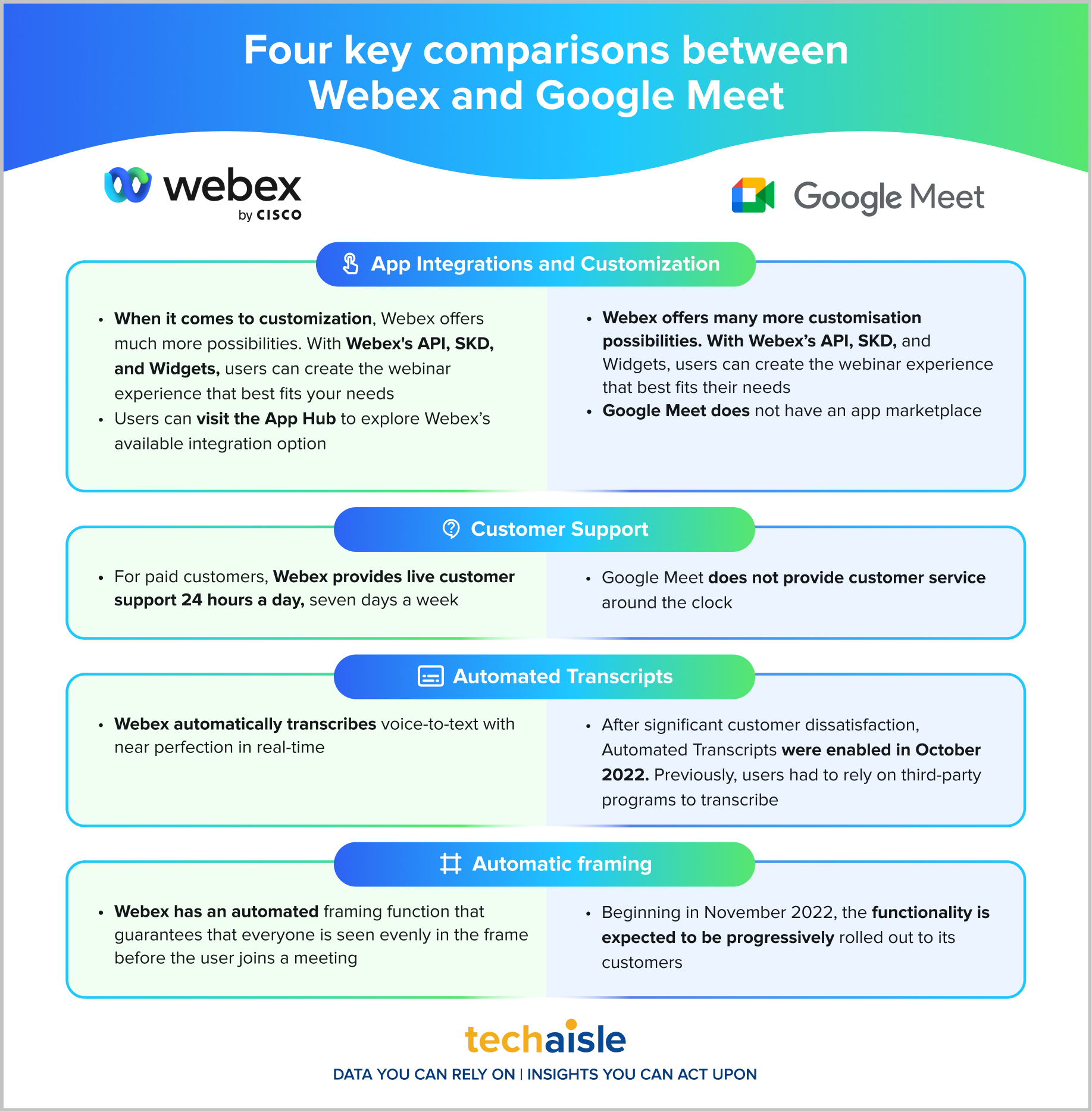 As we see, Webex has a much more comprehensive portfolio than Google Meet. If we rely solely on features, then Webex is a better choice for businesses as it provides several functionalities which are served better. Google's voice-calling product is considered rudimentary. In addition, Google Meet does not include webinars and events. However, Google Meet is a better choice for businesses deeply immersed in the Google Workspace ecosystem.
Future growth regions for Webex

India is the second largest market for Cisco after the US in terms of usage, and cisco now aims to expand its Webex ecosystem in the country. To achieve this, Cisco has taken multiple steps, such as investing in a dedicated Webex infrastructure, gaining the required regulatory approvals, releasing a full suite of Webex devices in the country, and reducing the Webex Suite's cost by 50%. It was previously priced upwards of ₹1,000 (US$ 12.2) and now costs ₹ 550 (US$ 6.7) per user.
Cisco's goal is to create a more inclusive work experience and cater to an estimated three-fold growth in the number of digital workers in India by 2030. The India Webex infrastructure also includes a dedicated data center, which, according to Cisco, would allow it to partner with more start-ups, customers, partners, and service providers in the country.
The company's primary goal with these investments is to capture the burgeoning market in India, which is estimated to exceed US$250 million by 2025. With a dedicated India Webex infrastructure, it can now deliver enhanced performance to its clients at a lower cost, enabling their seamless transition to a hybrid working model.
Final Techaisle Take
Many aspects differentiate Cisco from the competition among the currently available hybrid work solutions. Unlike cases where organizations engage with multiple service providers for diverse solutions and end up having a fragmented experience, Cisco offers a bundle of capabilities that function as an integrated solution, offering a consistent unified experience. A single collaborative platform is cost-effective as organizations don't have to purchase different functionalities from numerous providers individually.
Next, as we all know, data is the new currency today, and top-notch security is a priority for organizations. With hybrid work, IT security and endpoint protection has become more vital than ever. Online collaboration platforms must provide the highest degree of security for tasks ranging from meeting scheduling and authenticating members to document sharing. This is where Webex surpasses the competition. Triggered by increased user rates and infrastructure's inability to keep up, Zoom's users have witnessed security lapse incidents in the past. Previously, the platform had a string of meeting disruptions.
Webex, on the other hand, has a stellar reputation for video conferencing security. Cisco places high importance on security, evident in its significant investment in an independent security and trust organization (STO) with oversight over Webex, which analyzes security and undertakes proactive penetration testing. Furthermore, Webex has a well-defined security privacy policy, which does not rent or sell user data to other parties. On the other hand, Zoom shares data with 46 third-party advertising partners, including Facebook and Google, and has previously been detected utilizing SDK connections that send user data to Facebook.
Thus, while both Webex and Zoom provide feature-rich, dependable video conferencing options, Webex has a much better reputation for system security and is considered one of the market's most secure video conferencing platforms. Webex emerges as a highly compelling collaboration solution for organizations prioritizing security.
Moreover, Webex has developed substantially in the recent few years. When the world turned to work from home during the pandemic, Webex was initially behind the curve but surged back swiftly after with much innovation geared at helping businesses to thrive in a hybrid environment. Cisco is more powerful now than it has been in a long time, thanks to new devices, interoperability, excellent security, and a wide range of software features.