The question of whether an SMB IT buyer benefits most from a strategy of working with a single or primary supplier responsible for integration and management of all resources, or whether it is better to procure individual components, systems and services from a larger group of 'best of breed' suppliers, is nearly as old as IT itself. The question is especially important to SMBs, which generally have limited internal resources, and would benefit from third party integration and streamlined procurement processes. Techaisle has observed a trend towards a more holistic procurement strategy as small businesses encounter increasing requirements for cross-product integration supporting digital business practices and develop greater appreciation for the value of a trusted technology advisor.
Preference for a single supplier
Over time, Techaisle's SMB research has consistently found that a large proportion of SMB buyers would be comfortable dealing with a single primary vendor if that firm was able to supply all of the technology required to deliver on the full scope of IT/business requirements. Taken as a whole, the commentary from those in favor of a single supplier strategy highlight three imperatives:
Breadth of product portfolio matters
Services matter
Economics matter
The SMB IT solution stack
Figure below illustrates the Techaisle SMB & Midmarket IT solution stack. It is comprised of four main sections. At its core, the stack defines an SMB's core systems (compute infrastructure) requirements. The software stack is positioned at the top of the systems components. The left-hand side of the figure highlights major categories included in the services stack. The right-hand side of the figure contains many of the major categories that comprise the security stack. A clearly-defined IT stack matters to a definition of what the 'art of the possible' looks like in the SMB IT world.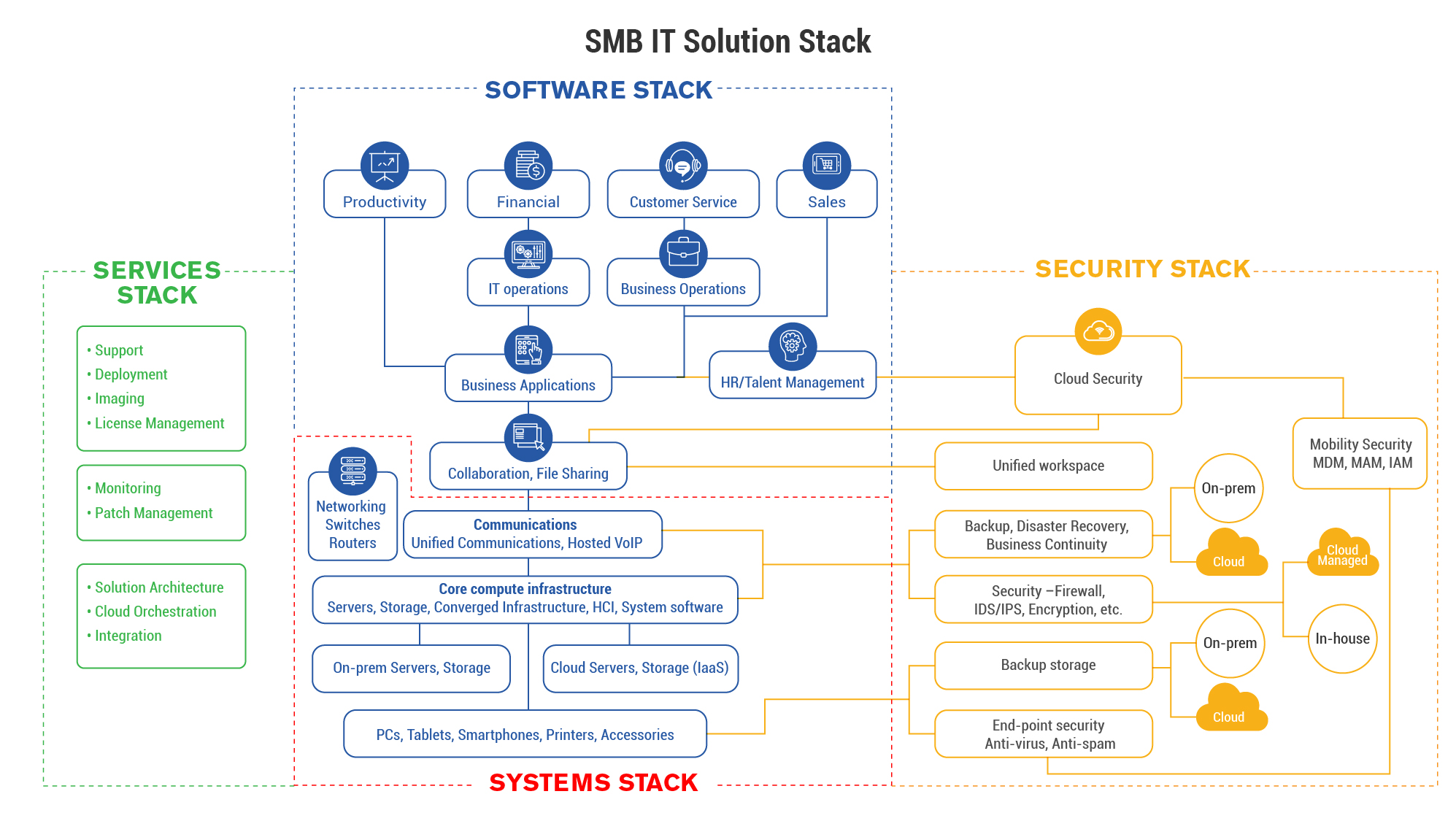 Dell SMB IT Stack
The SMB IT stack constructed by Techaisle is a unique framework for understanding and evaluating the power of Dell's portfolio. The figure below, a Dell specific version of the Techaisle IT stack diagram, identifies areas that Dell addresses by core products, non-core (branded) products, partner offerings, and not offered.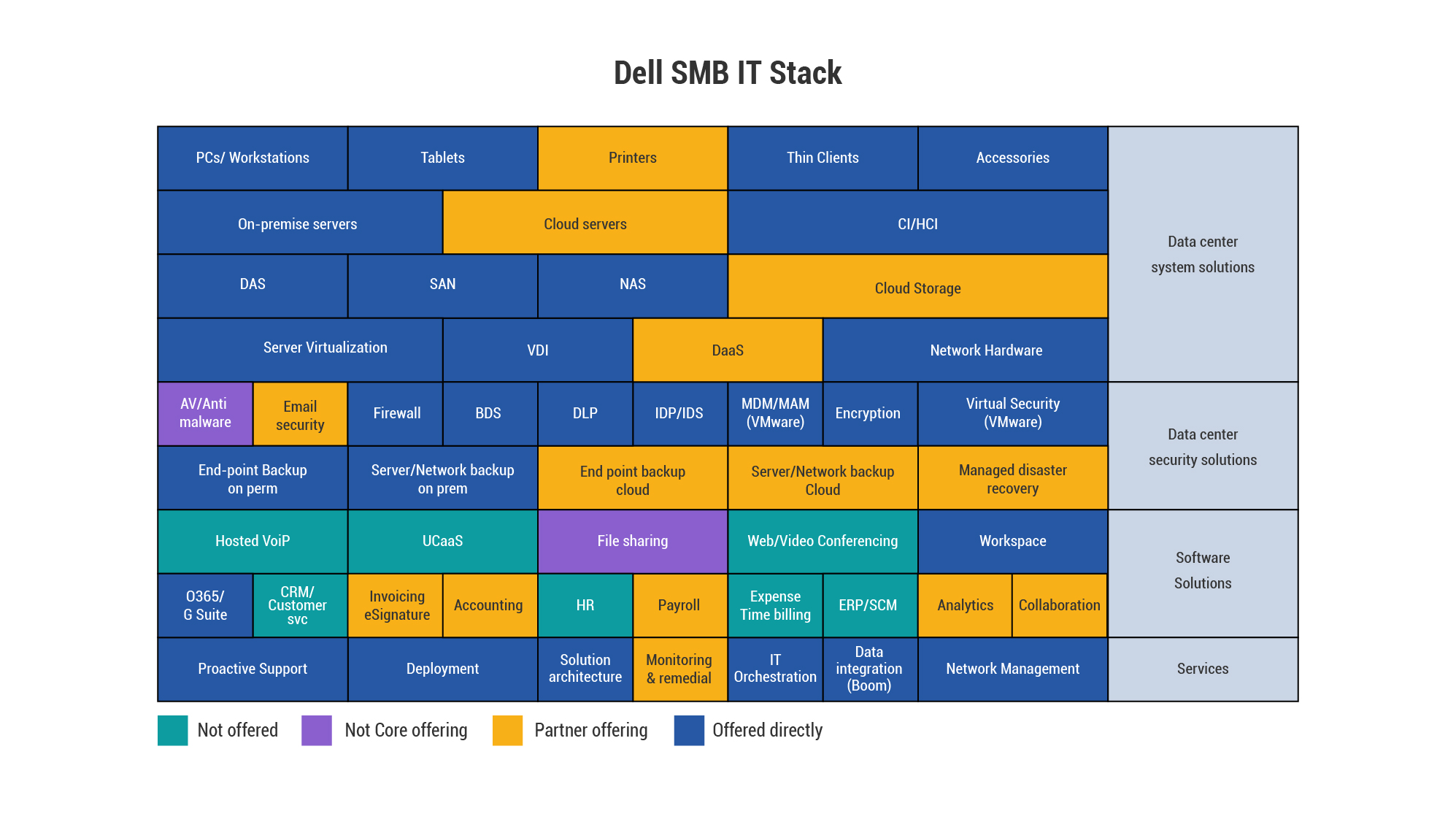 Client devices
The top line is comprised of products that would generally be assigned to individual end-users – PCs/workstations, tablets, and accessories – plus printers, which can be an individual, departmental or corporate device. Dell is, of course, is a leading single source supplier of PCs and workstations – and since the acquisition of Wyse in 2012, of thin clients as well. The only gap in the company's coverage of the top row of the stack is printers – Dell announced that it is discontinuing its printer line, which was based on Xerox technology.
Server technologies
The second row of the Techaisle SMB IT stack depiction looks at servers. Dell is one of the leaders in the on-premise server market, and has highly-credible offerings in the rapidly-growing converged infrastructure/hyperconverged infrastructure market. Dell does not offer a cloud-based alternative to on-premise equipment but delivers servers to some cloud suppliers. SMBs and midmarket firms that use both on-premise and cloud-based systems often use VMware VCloud products which are within the Dell portfolio as a consequence of the EMC acquisition in 2016 for cross-platform workload management.
Storage technologies
The third line in the data center system solutions section looks at storage options. Dell provides direct-attached storage (DAS), storage-area network (SAN), and network-attached storage (NAS) systems but does not offer cloud storage under its own brand. The Dell line was hugely expanded by the acquisition of EMC in 2016. Adding EMC to existing Dell storage offerings – which until that point, were a mix of home-grown solutions and technologies acquired through acquisitions like EqualLogic and Compellent – transformed the company's storage line from one of many alternative supply options into the standard-setter in the industry.
Virtualized solutions and networking
The last line in the data center system solutions section of the IT stack diagram looks at virtualization and networking equipment. Dell offers server virtualization as a native capability on the products that they sell to SMB and midmarket customers, on both traditional servers and as a key design point for CI/HCI systems. Dell also offers DaaS through partners. Dell's VDI Complete solution combines Dell hardware and Horizon software provided by VMware.
Data center security and backup solutions
A review of the top row under the "data center security solutions" shows that there are different perspectives on the extent to which Dell's security portfolio is integrated within its branded offerings. This debate extended into Techaisle itself, where one faction believed that the Dell offerings are not really core to the company's SMB IT stack, and another believed that the breadth of the Dell portfolio is noteworthy, even if the technologies themselves – many of which were added through a series of acquisitions – aren't really integrated into a coherent whole. Dell's anti-virus/anti-malware offering is shown as "non-core"; Dell promotes a branded solution in the commercial market but a partner offering (from McAfee) in the consumer and small business segments. Dell positions Symantec as a lead partner for email security. It has its own robust firewall technology which traces back to the acquisition of SonicWALL in 2012; though Dell subsequently divested SonicWALL as part of the sale of its software division in 2016, the company developed expertise during the 2012-2016 period.
It is unclear whether the BDS (breach detection systems) capabilities offered by RSA – the pioneering security company that was purchased by EMC in 2006 and acquired by Dell as part of the EMC acquisition in 2016 – should be considered "offered directly" or "non-core," and Techaisle elected to recognize both perspectives. The adjacent cell, for DLP (data loss prevention) is again a question of whether the Data Guardian offering is a core component of Dell's SMB IT stack.
Dell does deliver core offerings in the intrusion detection and prevention (IDS/IDP) market, an area where Dell's capabilities are enhanced by yet another acquisition, of SecureWorks in 2011. Dell also offers native encryption solutions, which incorporate RSA and other technologies, and can be acquired with Dell hardware and/or deployed in multi-vendor environments. Dell's Mobile Device Management/Mobile Access Management (MDM/MAM) and virtual security offerings are sourced from VMware.
Application software
Dell is not a major SMB software provider. In many ways, this is an advantage for SMBs, as Dell supports most software packages used by a small or midmarket business. It does supply Microsoft Office 365 or Google's G Suite. Dell has incorporated Dropbox and Microsoft solutions within its portfolio. It works with Adobe (Acrobat) and Foxit Software on the invoicing/eSignature category, and it works with QuickBooks to provide accounting and payroll software to small business customers. Dell, by virtue of its ownership of VMware, can be seen as offering workspace capability directly. Dell does not position CRM or ERP or customer service or other applications as part of its stack offerings. It views partner offerings in several software areas as important to its stack composition.
Services
The final row in the Dell SMB stack looks at services. Dell offers proactive support services, deployment and solution architecture to SMB clients. Dell does claim to offer remote monitoring and remediation services.
Power of Dell portfolio
It is clear that Dell is capable of meeting many of an SMB's IT requirements but it is also true that it cannot meet all IT needs. Dell has done a laudable job of establishing comprehensive SMB IT stack portfolios and is positioned for success as primary/single-source suppliers to the SMB market – but it needs to extended its portfolio into all appropriate cells within the model and wrap its offerings with the management attributes that are needed to translate potential acceptance into the long-term relationships that underpin sustainable market leadership.