97% of SMBs and midmarket firms consider technology important and integral to business success. As we enter 2023, IT product and service suppliers are looking to create a context for understanding the range of outcomes that the new year may bring. Techaisle has launched its "2023 in Focus" research series to support that effort, which illuminates issues and requirements in the vast SMB, core-midmarket, and upper-midmarket segments. After surveying thousands of SMBs and midmarket firms and having hundreds of depth calls, we see key trends that revolve around:
Enabling a connected business and business process automation
Converging on long-term growth, profitability, and innovation
Prioritizing cloud cost management and security
Hybrid work but challenges are overwhelming
Sharpening focus on IT spend for time to value, agility
As-a-service technology acquisition gaining momentum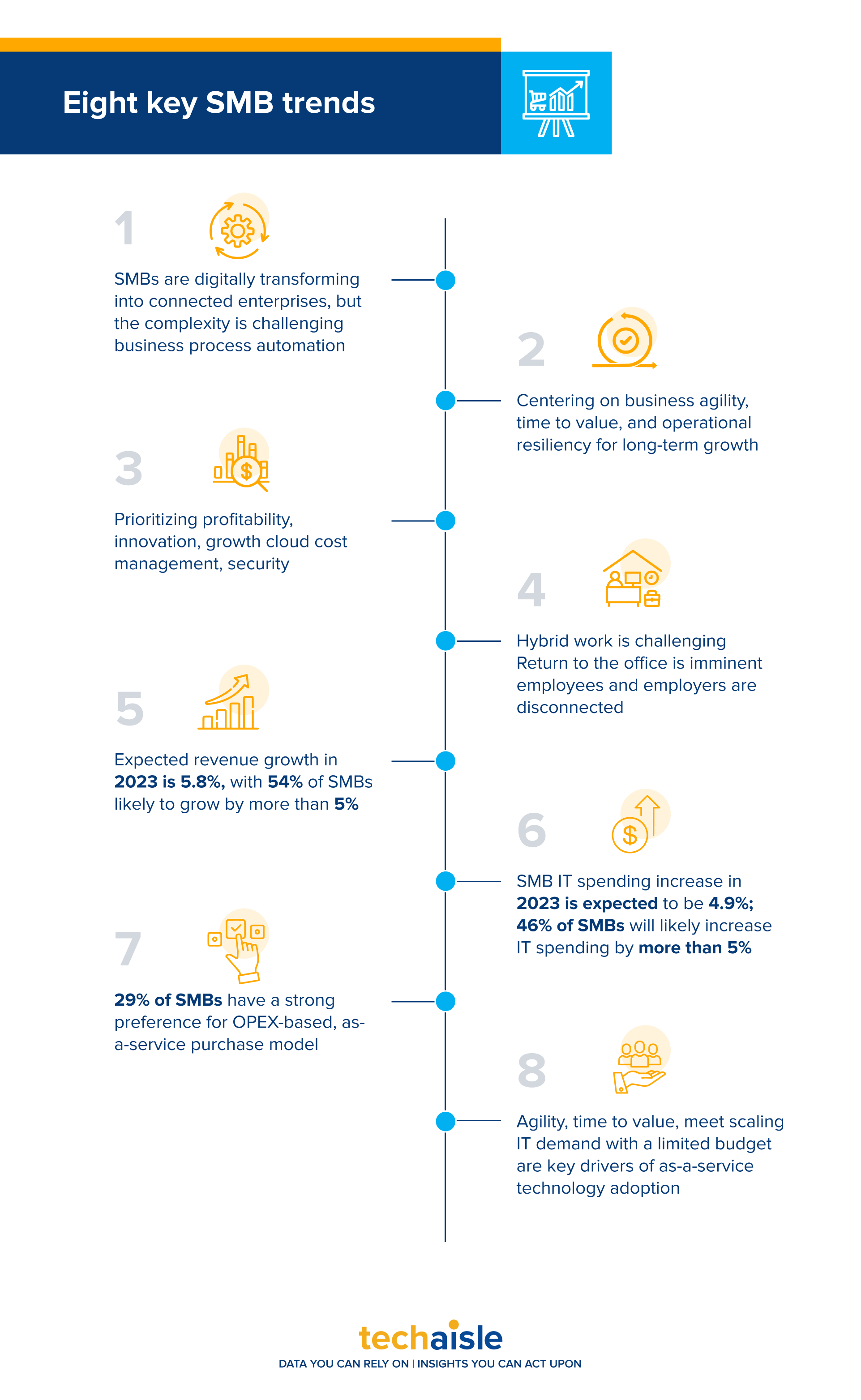 SMBs and midmarket firms are good indicators to measure the economy's pulse in any country, as they constitute over 90 percent of global businesses. They are intricately linked to large businesses, government departments, and educational institutions as suppliers and customers. In addition, many consumers rely on SMBs for products and services they consume within their households. Technology plays an integral part in the daily operations of SMBs across all departmental functions, including sales, marketing, operations, finance, and customer support.
Every year or two (or three), a new trend sweeps the IT industry, and breathless coverage asserts that the recent phenomenon has arrived fully shaped to transform technology and IT's role in business strategy. This is, of course, very rarely true. Instead, most trends play out over time, and technology change tends to be incremental rather than revolutionary. SMBs and midmarket firms are searching for a zero-friction future.
To read about the 2023 SMB Top Business Issues, IT Priorities, and Challenges, click here
To read about the 2023 Core-Midmarket Top Business Issues, IT Priorities, and Challenges, click here
To read about the 2023 Upper-Midmarket Top Business Issues, IT Priorities, and Challenges, click here