Current trends show that Robotic Process Automation (RPA) adoption rates have risen significantly, with many businesses wanting to automate processes to increase efficiency. RPA is a non-invasive technology for making daily operations more efficient, allowing for increased productivity. While larger organizations have started early, smaller businesses have also begun to adopt RPA increasingly. While there is still some misconception that RPA is not so relevant for SMBs. The rise in adoption can be attributed to the fact that RPA technology helps boost productivity, enhance customer and employee satisfaction, improve cash flow, support audit and compliance requirements, and gain a competitive advantage. SMBs rely on efficient workflows and effective systems throughout all processes, and in the SMB space, efficiency is often a critical competitive advantage.
Importance of RPA to SMBs and midmarket firms
SMBs have constraints, such as limited resources and budgets, that demand flexibility. However, because SMBs are agile, they can quickly adopt new technologies with less friction. Large enterprises are generally burdened with complexity and red tape, but SMBs can embrace change and gain immensely by implementing RPA.
1. Technological competitive advantage: SMBs can improve productivity to gain a competitive advantage by automating repetitive and time-consuming tasks traditionally associated with back-end office functions.
2. Real-time tracking: RPA systems can track, analyze, and estimate an organization's data in real time. Based on the estimates, SMBs can focus on improving their shortcomings and building their strengths. In addition, the data can be accessed anytime when required.
3. Cost reduction: SMBs often have limited resources and are highly cautious about direct and indirect costs. Hiring more personnel increases business costs, but by adopting RPA, SMBs can handle daily operations with lesser dependency on the human workforce.

RPA Use Cases for SMBs
As RPA technology continues to evolve, its applicability across industries, functions, and systems also expands. Here are some of its SMB use cases.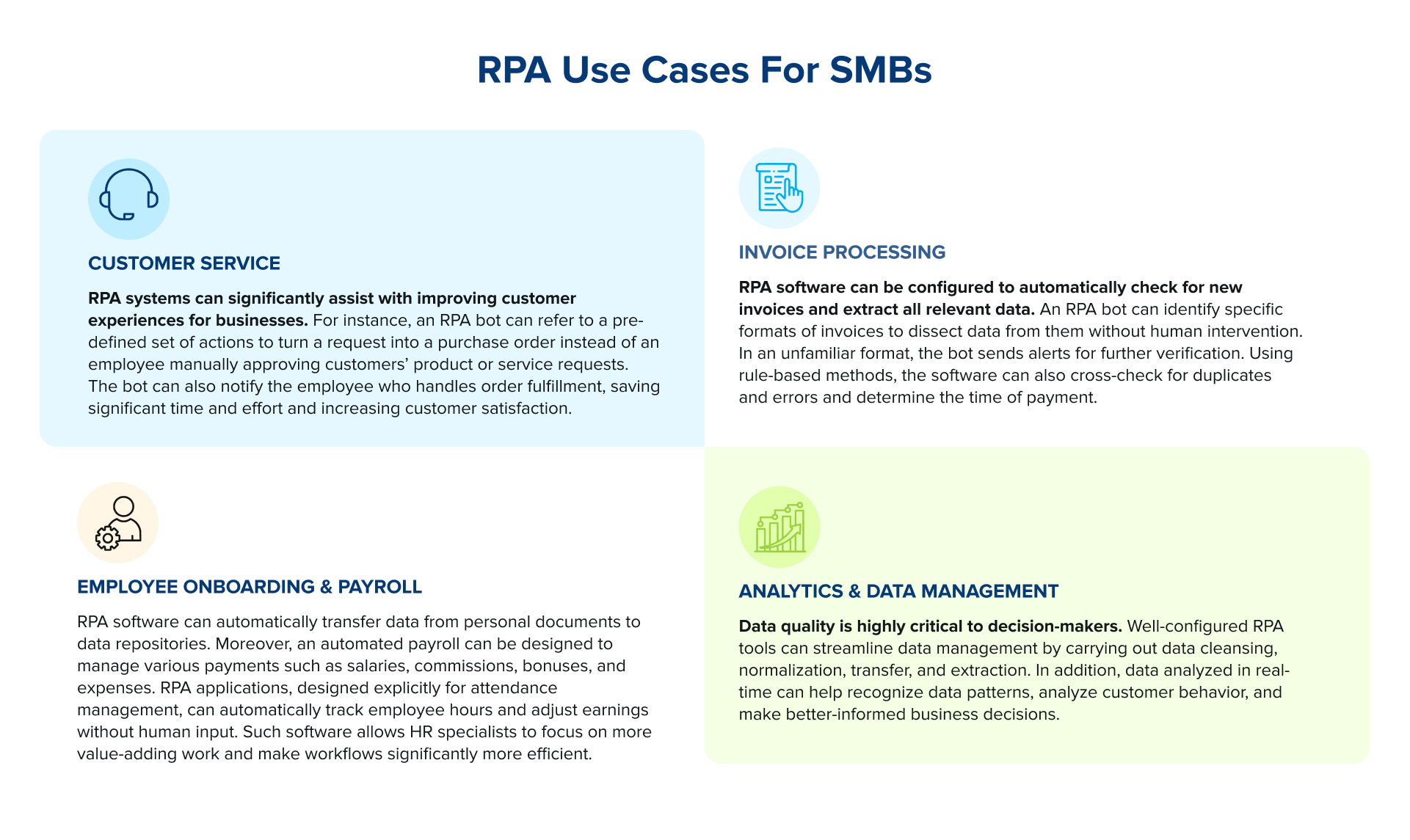 Xerox Overview and its Automation journey
Xerox Holdings Corporation, a workplace technology company founded in 1906, designs, develops, and sells document management systems and solutions in North America and internationally. Headquartered in Norwalk, Connecticut, it offers workplace solutions, including desktop monochrome, color, and multifunction printers; and digital services that leverage workflow automation, personalization, and digitization services. Xerox marketed the first xerographic, plain-paper copier in 1960. The product was so successful that the company had to fight to prevent the trademark Xerox from becoming a generic term.
Xerox also provides IT solutions, such as IT hardware and software, technical product support, professional engineering, managed cybersecurity, cloud migration, and commercial robotic process automation (RPA). In addition, it gives FreeFlow a portfolio of software solutions for the automation and integration of the processing of print jobs comprising file preparation, final production, and electronic publishing; XMPie, a personalization and communication software that supports the needs of omnichannel communications customers; DocuShare, a content management platform, that empowers digital transformation, automates content-centric business processes and systems, and delivers seamless digital workplace collaboration; and CareAR, an enterprise augmented reality business.
Xerox's Automation Journey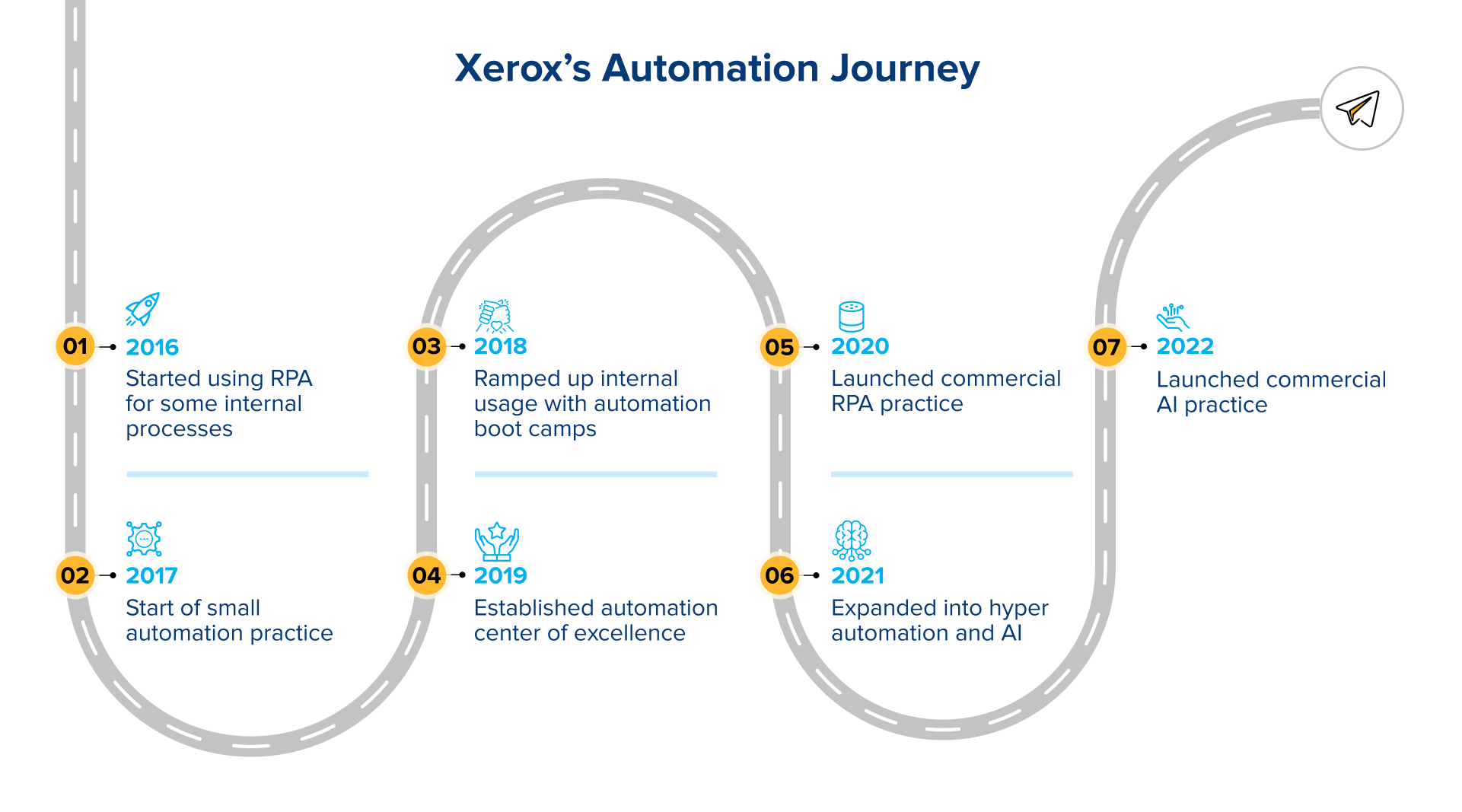 Xerox's RPA Service
Xerox has developed a new business model and now provides a commercial platform of its own – RPA-as-a-Service (RPAaaS). Ensuring a great customer experience with its remarkable services is a priority for Xerox. The company follows a customer-centric approach, and the decision of which business process needs to be automated is always customer-driven. First, Xerox's representatives engage with customers to understand their pain points. Then, they present the customers with a catalog containing all the automation services Xerox can offer, from which customers can choose the one that fits their business processes. If a customer's need can be solved with one of the bots already in the catalog, then Xerox integrates it into the customer's systems. If a customer requires something beyond the catalog, Xerox builds a custom bot to cater to the customer's needs and preferences.
Xerox believes in taking a collaborative approach to assess customers' situations, understand the problem they are looking to solve, and identify how best to solve it. Xerox's services can start with simple invoice processing automation and go up to providing more complex AI-based solutions for various client needs. Significant features of Xerox's RPA services are as follows:
ROI Calculator: It helps customers to determine cost savings, time savings, etc. The calculator allows customers to make an informed decision on which business processes need to be automated and whether automation will deliver the required ROI. The ROI may sometimes be intangible, such as overall employee or customer experience. While the calculator provides an estimate of ROI, the decision of what to automate solely depends on customers' needs and preferences. Xerox assists them with which bots are most likely to suit their business requirements.
Simplified Pricing: Xerox's pricing is simple and structured based on the needs of both SMBs and large enterprises. It includes bot, bot configuration, interfaces to systems, deployment, hosting, training (up to 30 hours), and 100 hours of free support per year for an all-in monthly fee. Xerox handles the complete design, implementation, and support. The simplified pricing allows smaller SMBs to use automation services based on their needs.
Fast Deployment: Xerox offers complete deployment covering fast and effective implementation of bots from the catalog. It hosts most implementations on Xerox cloud or on-premise within 5-8 weeks. As a result, customers can implement the automation processes without impacting their critical operational activities.
Multifunction Process Automation: Xerox offers an extensive bot gallery with multiple ready-to-use SMB processes that can also be tailored to client-specific needs. Each bot has a clear responsibilities/task list with configurable forms, inputs, outputs, and steps to perfectly fit customers' business processes.
Xerox Automation Team assesses, builds, deploys, and supports the RPA capabilities in customers' processes. The first step is understanding the SMB customers' pain points and evaluating the current processes. Frequently, the next step is identifying the workflows, in consultation with the customer, to automate based on business value and expected ROI. After that, Xerox's team virtually automates and runs processes using bots in the cloud or on-premises. Once the RPA is in place, Xero provides training and ongoing support for the length of the contract.
RPA technology used by Xerox
Xerox's move to offer commercial automation with 'RPA-as-a-Service' as one of its signature offerings to its customers came after streamlining and simplifying many of its internal processes with automation. It regularly hosts automation boot camps to raise the profile of automation within the company to increase awareness of new technologies. This has led to success across various internal departments. It decided to launch its commercial business after receiving numerous automation-related requests from its large enterprise and SMB customers. Xerox provides RPA-based services by leveraging strategic technology partnerships with leading RPA providers, including UiPath, Microsoft Power Automate, Workato, ABBY, and others, creating bots that fit the needs of each customer.
The commercial launch of the RPA service in the market has brought tremendous success for the company and could rightly be stated as a 'transformational change.' Xerox keeps innovating to provide the best possible customer service and has curated the best tech stack for its customers by constantly observing the market and adding partners. The catalog offered to customers during sales is continuously updated based on Xerox's library of software robots.
The solutions have helped many SMBs implement RPA across various use cases throughout their complex operations. For example, the success of the 'RPA-as-a-Service' business line for Xerox can be estimated from the fact that, at present, the company processes around 6 million transactions in a quarter.
Xerox's RPA offerings
Xerox offers a full RPA service for its customers. Its automation library has been converted into a catalog of around 30 software bots, enabling its customers to explore potential business automation opportunities quickly and easily. The bots support a variety of verticals and all functional areas of businesses. The catalog is divided under the following six headers: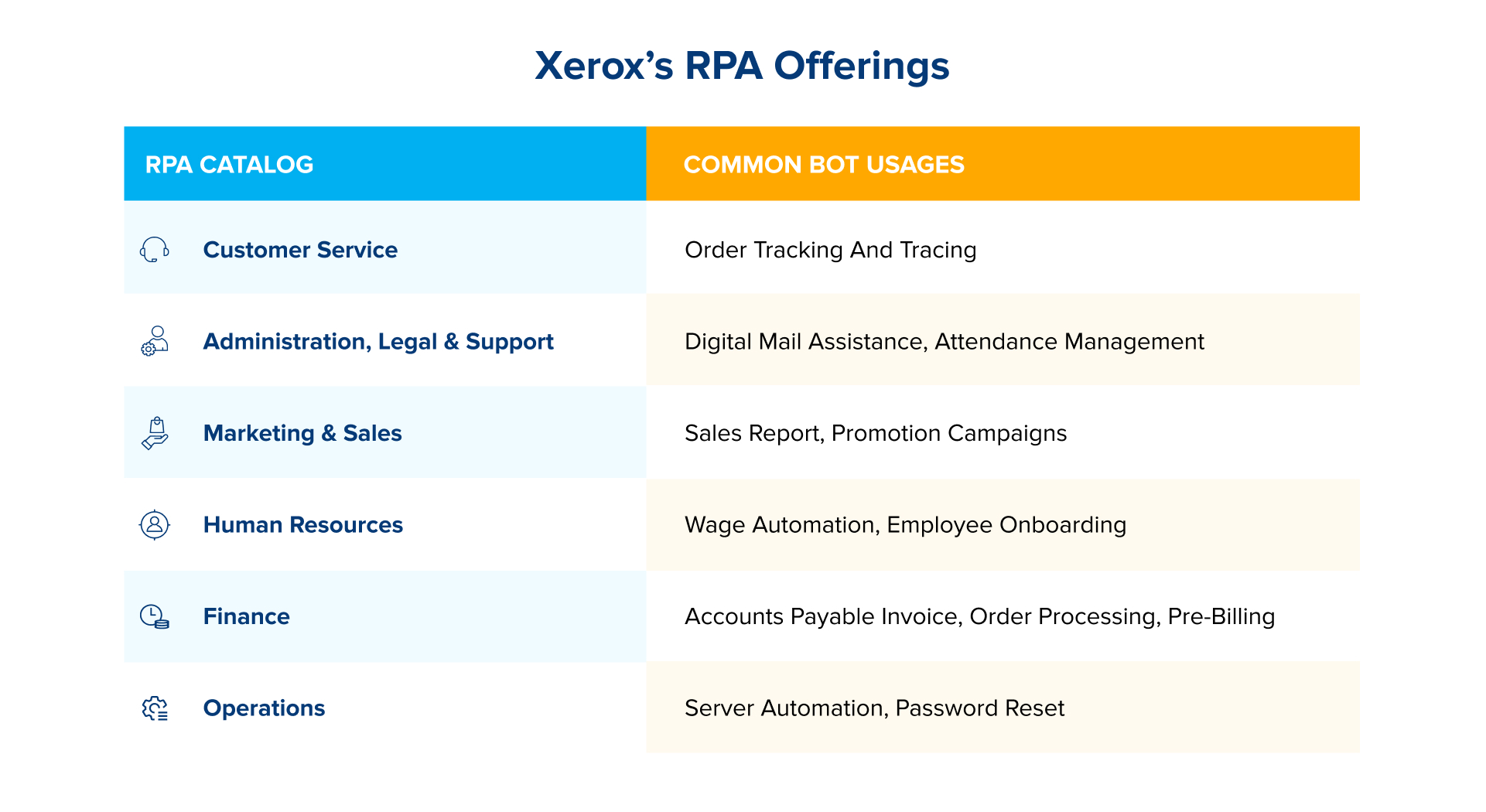 The RPA catalog is non-exhaustive, and Xerox continuously expands its bot catalog. The resulting offering from Xerox is an end-to-end automation solution for customers at every level across multiple industries.
Reasons for RPA Failures
RPA projects have a high failure rate, with some estimates reporting a rate of 30-50%. The two most common reasons are organizations' lack of goal setting and the high cost of support in the case of RPA script breakdown.
When There's No Clear End Goal
An organization needs to automate business operations with a defined aim in mind to save time, money, and resources. If the organization does not grasp the workflows that need to be automated, it'll automate the wrong ones and run into roadblocks that will either prolong or halt the project's execution. The primary goal of automation is to save time and effort, save costs, and improve performance.
On the other hand, Xerox begins its RPA deployment by assessing customers' end goals and evaluating and understanding their requirements. After ascertaining these aspects, it progresses to building and deploying RPA capabilities. This stepwise methodical approach ensures that both Xerox and customers have complete clarity on the end goal of the RPA.
Lack of Free Support Hours
Outside of IT, RPA is most used by non-technical individuals working in departments like operations, HR, or others, who may only sometimes have a thorough knowledge of the entire process or job being automated. Furthermore, at its core, RPA is simply a software script created to execute instructions. As a result, if something goes wrong with the instructions, the RPA script will either stop or deliver inaccurate data, and resolving the instructions is expensive.
To combat this problem, Xerox offers 100 hours of free support annually and 30 hours of training. If a script does not operate as expected, the customer does not have to pay for additional help and may take advantage of Xerox's free support hours.
Final Techaisle Take
Undoubtedly, organizations can bet on automation to handle repetitive, rule-based tasks to ensure smooth, efficient operations. But unfortunately, many SMBs introduce RPA to their workforce even before they embrace the change. Besides, the prevalent one-size-fits-all mindset of RPA firms has raised concerns among investors and consumers alike. This is where Xerox enters the picture.
Xerox sets itself apart from its competitors by leveraging its vast RPA experience. Most providers haven't transformed their operational environment with automation to the extent of Xerox. It has successfully implemented RPA across many different use cases throughout its complex operations. While other RPA providers target specific business processes or verticals, Xerox cuts across all these with a horizontal approach. It is also expanding its RPA framework and increasing its footprint in numerous industries, including retail, sports and entertainment, and manufacturing.