Techaisle SMB and Midmarket Mobility Adoption Trends data shows that BYOD is not a factor in every SMB's mobility strategy: more than half of small business (1-99 employees) respondents to the Techaisle SMB survey report that all or essentially all of the mobile devices in use are owned by the business, and nearly 25% of midmarket enterprises own 90%+ of their mobile device portfolios. However, BYOD is widespread within this group: 36% of the devices used by small businesses and 43% of those in use within midmarket firms are owned by employees.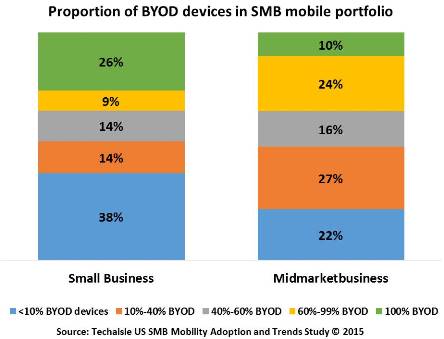 The term BYOD has only been around since 2009, when it is said to have originated at Intel – but it has since become ubiquitous. A web search on the term will return nearly 10 million hits, and IT managers at organizations of all sizes and from nearly all industry sectors are very familiar with demands for connecting employee-owned mobile devices to corporate IT networks, applications and data resources.
Techaisle survey data shows that BYOD within SMBs comes in several 'flavors.' One of them is where employee both selects and pays for a new device, delighting the SMB finance, but causing problems for IT. Another flavor is CYOD, where employee pays for the device but selects it based on guidelines or an approved list. It appeals to both the SMB and IT but is not completely satisfactory for the employee. Third flavor is where it is a mix of two with some level of reimbursement for the purchase from the company and/or technical support for the devices. This has an upside because the employee selects technology that he/she is comfortable with but the downside is that the cost burden rests, at least to some extent, with the company rather than the employee.
Techaisle SMB and Midmarket mobility adoption survey data also shows that BYOD has implications on desktop and notebook purchases.
As is the case in each year's SMB research, the Techaisle SMB survey asked respondents to detail their plans for acquisition of different types of client devices. Two of the major categories investigated by the survey are desktop PCs and notebook PCs. Techaisle data finds stronger purchase intentions for desktops than for notebooks in the US, an opposite of the intentions in Asia/Pacific. For example, in the US, 30% of small businesses and 75% of midmarket companies are planning to buy desktops in in the next one year as compared with 18% of small businesses and 63% of midmarket firms reporting notebook purchase intentions.
However, SMB purchase intentions do not provide a complete perspective on mobile device acquisitions. While one can assume that all desktops connected within a business are company-owned, data suggests that some of the notebooks used are employee-owned. If one includes potential employee purchases of notebooks as a factor in the expansion or refresh of corporate notebook fleets, the acquisition outlook for the next one year is altered.
Based on global survey data Techaisle calculated the impact on notebook purchase intentions using several scenarios. Again, looking at the US market only, if employee purchases of notebooks are equivalent to current BYOD penetration levels, new notebook units would be about equal to new desktop purchases in most employee size segments, while a 50% scenario would result in ratios ranging from about 1:1 to 1:6 in all but the smallest employee size category.
Of course notebooks are not the only type of compute device used within SMBs. Techaisle SMB 2015 survey also probed use and purchase intentions for tablets and Chromebooks.
The survey found that tablets have established a foothold in small businesses – with 38% of small businesses with 1-99 employees using tablets today – and that they are firmly entrenched within midmarket mobile device portfolios, with 94% of midmarket firms (and 100% of firms with 250-999 employees) reporting use of tablets.
Purchase plans indicate that the population of tablets within US SMBs will increase with just over 20% of microbusinesses, roughly 45% of "larger" small businesses, and more than half of midmarket businesses plan to buy tablets in the next one year. Although purchase volumes are not likely to be very high in any employee size segment, the breadth of purchase intentions indicates that the overall population of tablets used within global SMBs (including US, Asia/Pacific, Europe, Latin America) will expand across all employee size categories, resulting in a low double-digit percentage increase in tablets used by US & Europe SMBs, high teens in Asia/Pacific and Latin America in in the next one year.
The Techaisle SMB survey finds that interest in Chromebooks appears to be relatively flat. Comparing data for the last two years Techaisle finds that while Chromebook buying intentions for companies with 10-99 and 500-999 employees is increasing there is flat or declining interest in the 1-9 and 100-499 segments. Assessing the overall SMB impact of these purchase plans, Techaisle estimates that Chromebook unit sales will be up by just over 6% in in the next one year.
IT vendors need to recognize the distinctions that are apparent across employee size categories, and structure their offerings accordingly. OEMs and other IT vendors courting the very small business (1-19 employee) segment should recognize that employees are most likely paying for and supporting these devices themselves; as a result, manufacturers will need to offer financing and vendor/carrier-supplied, business-grade support options. In larger organizations, funding and support is more likely to come from business and IT management; in these markets, OEMs are advised to establish programs that make it easy for corporate staff to onboard, secure and support new devices and users. In both cases, there are gaps in policies; suppliers who help businesses to establish and implement effective BYOD practices may be able to position their products favorably as a result.