There is one common issue that IT firms across the spectrum face: the need to find an effective way to attract and engage prospective SMB customers. Techaisle's global SMB survey research shows that there is no one method that will engage technology buyers within the small business or midmarket segments: in both markets, SMBs use a mixture of multiple reach and multiple depth vehicles to understand and evaluate options.
Over the years, Techaisle has been asking survey respondents to identify their "sources of information for technology solutions" in their technology buying journey. Respondents are prompted through a list of 14 options, spanning traditional and online media and advertising, websites, whitepapers and case studies, face to face sales calls, personal recommendations, blogs/forums, and search engines.
Comparing data across several years provides a fascinating trend. As the number of technology options, vendor choices and sources of purchase channels continue to increase both in number and complexity SMB technology buyers have also progressed in their choice of types and numbers of trusted, reliable and useful information sources for technology guidance.
Look at the figures presented below comparing data across two years, 2013 & 2015. Several observations immediately jump out for both small and midmarket business.
In 2015, small businesses are using completely different set of information sources than they relied on in 2013. A consistent top source from 2009 to 2013 - "Recommendations from friends, colleagues or partners" has fallen to seventh position in 2015. This is certainly not surprising as most of the "recommenders" are in the same predicament as the small business buyers, that is, grappling to understand the rapidly changing technology options and corresponding ability to solve with business issues. The role of TV advertising has percolated to the top and the usefulness of articles in technology websites and magazines cannot be understated.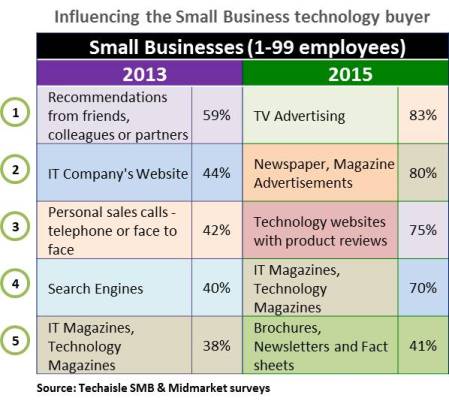 The midmarket segment has increased the number information sources in 2015 than in the previous years. Data presented in the figure below shows some interesting observations for midmarket. Although percent of midmarket businesses using "IT Company website" has remained unchanged its relative position has fallen from 1st in 2013 to 5th in 2015. It is neither the most dominant source nor it is the first point of influence for midmarket businesses. Similar to small businesses, TV advertising and technology websites, magazines have percolated to the top for midmarket businesses.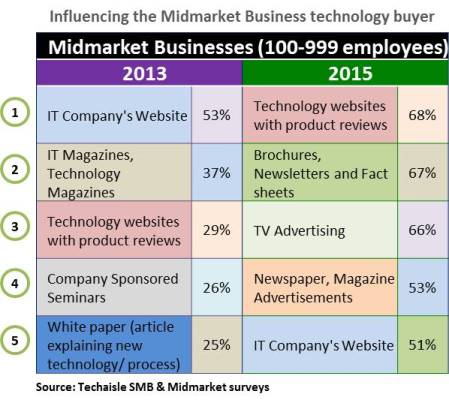 Use of content marketing avenues such blogs has remained unchanged at between 8% - 14% of SMBs. Its position in the list of information sources has also stayed the same, between 12th and 14th in terms of ranking. It is of course true that different vendors (and SMBs) use similarly-named options in different ways – for example, visits to an IT company website can be cursory or can be an intrinsic part of a detailed supplier evaluation, and "blogs/forums" encompasses both some of the most superficial and some of the deepest content on the web.
The data provides several important perspectives on the challenges facing technology marketers generally, and cloud marketers in particular, who need to attract new SMB customers to their offerings.
The first issue is the sheer number of vehicles used by buyers in both the small and midmarket segments: in each case, the data suggests that they use an average of more than five sources of information when evaluating potential solutions and suppliers.
The second issue that is evident is that marketers need to use a mix of mass-market tactics to attract initial interest, transitional marketing options to deepen and shape that interest, and in-depth materials to establish preference within buyer accounts. Clearly, there is a "buyer's journey" that needs to be overlaid across these many marketing vehicles, to manage the process from initial interest to sale.
Thirdly, to complicate the influence points further, BDM influencers usually differ from ITDMs. No one information source is used by more than 65% of members within the four buyer segments considered in the research (small business ITDMs and BDMs, mid-market ITDMs and BDMs).
The findings also show that "shallow" vehicles represent about one-third of overall sources used by small businesses, and just less than 25% of those used by midmarket buyers; that "moderate" vehicles capture 41% of total small business attention, and about one-third of midmarket buyer interest; and that "deep" options represent just over 25% of the information mix in small businesses, and 45% in firms with 100-999 employees.
IT marketers today will need to take a portfolio approach to marcom targeted towards SMBs. There are some areas that clearly need to be covered and executed well and some sources that should be of particular focus for specific SMB segments. The stakes around effective communications are high; with estimates currently holding that SMB buyers are 60%-80% or more of the way through their evaluation processes before they contact an IT vendor.