Techaisle's quantitative study (survey of nearly 900 SMBs) on SMB & Midmarket Big Data Adoption and Trends shows that 7 percent of small businesses and 20 percent of midmarket businesses are currently using Big Data solutions and that another 17 percent & 38 percent respectively are planning to adopt within the 1-2 years. These businesses are looking at a big data solution from 3 perspectives:
"First, what are the organizational needs, second, what could be served as a solution and, third, what could be the best combination of the tools and technologies available today which will provide value add. Based on all one should decide on a solution because the Big Data space is very enormous and could be applied for any domain," aptly quoted by CIO of a midmarket firm who has successfully implemented big data solutions in his organization.
Common findings that run through corresponding depth interviews (over 60 interviews conducted globally) conducted by Techaisle, Insights from the Trenches of SMB Big Data Implementers, are:
PoC – more is better, timing is of essence
Cost efficiencies of Hadoop, especially Cloudera
Plethora of tools deployment – emergence of Spark and Flume
On-premise only – now and the future
Must conduct skills training and gap analysis
Lessons learned – not to underestimate complexity but uniform voice – go for it
The promise of superior data-driven decision making is motivating 24 percent of US small businesses (1-99 employees) and 58 percent of midmarket businesses (100-999 employees) to invest in Big Data technology.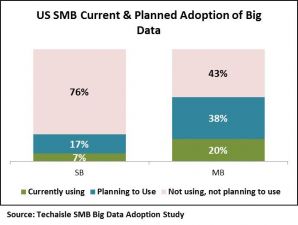 In addition, the possibility of analyzing a variety of data producing action-driven business insights is too big to ignore for midmarket businesses. This represents a sizable opportunity considering that the segment is relatively new, it requires a certain level of IT sophistication and a history in linear investment in information technology enablers to be successful.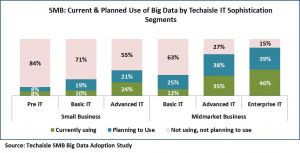 Specifically, midmarket attitude towards big data has transitioned from "over-hype" to "must-have" technology with the increase in employee size. Only 11 percent of midmarket businesses consider big data to be an over hype suggesting that it has crossed the tipping point faster than similar sentiments for cloud adoption at its introduction. However, nearly one-fourth of lower mid-market businesses still consider it to be over-hyped yet 29 percent think that it will be an important part of their business decision making process.
Nevertheless, SMBs face many challenges in implementing big data solutions.

There are many different tactical objectives for deploying big data projects and SMBs are expecting some clear cut benefits from big data analytics such as increased sales, more efficient operations, and improved customer service.
CRM solutions had first established the analytics for analyzing customer data but the data was mostly two-way transactional data. This changed when customers began visiting business websites to explore, browse and perhaps make purchases thus leaving behind a trail of information. IT vendors and mid-market businesses figured out the need to analyze the data and combine it with transactional information.
However, everything changed with the onset of social media, blogs, forums and opinion platforms where the identification of false positives and negatives became difficult and knowledge about the customer and resulting segmentation became an inaccurate undertaking. Big data analytics presents the possibilities of connecting together a variety of data sets from disconnected sources to produce business insights whether for generating sales, improving products or detecting fraud. It is therefore not surprising that globally SMBs and midmarket businesses are turning towards big data analytics to analyze social media data, web data, customer and sales data along with click-stream machine generated data and even communications data in the form of emails, chat, voicemails.