Over the past decade, there has been an explosion in the number and types of information sources available to SMB IT and business decision makers. It is no longer the case that these ITDMs and BDMs congregate in a handful of trade events, or refer to a limited number of industry publications – and it is also no longer the case that these ITDMs and BDMs can be moved predictably through a process that starts with an initial inquiry and progresses through education to qualification and to a sale. Instead, technology buyers are increasingly self-educated: they find information on products/solutions online, check reviews and comparisons, drill into pricing and features…and then make contact with a supplier – not with an initial inquiry, but with a fully-formed request.
This changed behavior has radically altered the approach that IT vendors use in marketing to new accounts. 'Campaign marketing' has become a relic of an earlier age, replaced by a content marketing brew combining 'thought leadership' (to engage new prospects) and 'digital discovery' (to ensure visibility for the thought leadership). At a higher level, the notion of a marketing funnel has been supplanted by focus on buyer personas and the buyer's journey, as marketers look to map 'sticky' content to digital pathways traversed by high-priority targets. This is a particularly onerous task in the SMB market, since many vendors lack direct experience with customers and prospects, managing them programmatically rather than individually.
These changing needs and priorities are reflected in the nature of requests that Techaisle has been receiving. While in the past, we have been asked about market-wide trends in SMB technology, we are increasingly asked to analyze the ways in which an ever-wider range of SMB decision makers are investigating and selecting IT products and solutions.
This report provides the first large-scale, statistically-reliable look at how SMBs are approaching IT. By documenting the buyer's journey, we are contributing to the health of the SMB economy – we are helping suppliers to effectively reach SMBs in need of new solutions, which in turn will accelerate IT adoption within the US SMB market.
In its research, Techaisle has segmented the journey into four broad parts: collection of information on business and technical needs, identification of relevant solutions and suppliers, and selection of a solution/supplier. Besides providing title-based analysis, Techaisle has also grouped "buyers" into five categories: senior executives, finance, sales and marketing, admin and operations and IT thereby also presenting a high-level overview of sources used through the decision process providing an entry-point for suppliers looking to tailor their content marketing strategies to the needs of each group.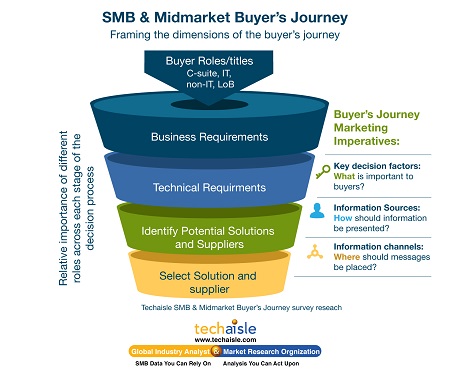 Who, what, where and why: matching personas to information sources, channels and 'care-abouts. Brief table of content is shown below:
Methodology
Executive Summary - Influencing the buyers
Who, what, where & why: Matching personas to sources, channels and 'care-abouts'

C-suite, non-IT
IT staff - executives & managers
Personas
KDFs (Key Decision Factors)
Sources & Channels of information during different stages of buying process

Aligning with technology acquisition process

Roles, Key decision factors, sources & channels of information
Buyer 'care-abouts'
Cloud
Mobility
Virtualization
Analytics
Managed Services
Collaboration
Security

Influencing the non-IT buyers by title

Personas
'care-abouts'
KDFs

Influencing the IT buyer by title

Personas
'care-abouts'
KDFs

SMB Business Issues, IT Challenges, IT Priorities, Role of technology
IT Budgets and Importance of Financing
How are technology acquisitions paid for
Approach to technology acquisitions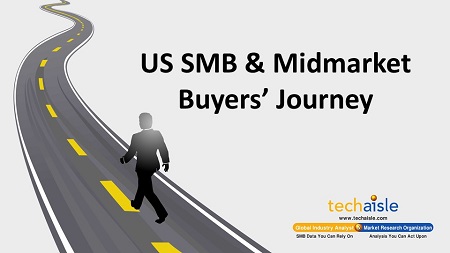 A 30 minute questionnaire administered to each respondent
Respondents: IT decision makers, Business Decision makers
Sampling quota fixed by employee size categories: 1-9, 10-19, 20-49, 50-99, 100-249, 500-999
All analysis is conducted by stakeholders, departments, Line of business, IT, Titles
A total of 1152 unique SMBs completed the survey. In each respondent organization (SMB), there were multiple respondents ranging from a marketing manager to the CEO, from IT manager to the CIO allowing for a rich and detailed analysis as well as persona development of each type of buyer and product area.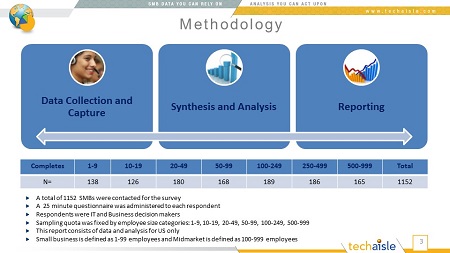 The report is delivered in PowerPoint format and is priced at US$8,500. Report can be purchased individually or as part of annual subscription services. For an additional fee, Techaisle can customize to report for client needs. Customization will include presentation and inquiry time.