In a recent Techaisle's global SMB Cloud computing study, SMB IT and business decision makers were asked "Which one of the following is most important - increasing your customer base, Improving customer satisfaction, deriving better customer insights or delivering to customer needs? Clearly, these are all essential objectives; Techaisle's intent was to understand which are most important in shaping current IT priorities. The research found that 35% of SMBs are most focused on improving customer satisfaction." Customer satisfaction is an especially pressing issue within midmarket businesses: 39% of firms with 100-999 employees selected improving customer satisfaction as their top customer-focused priority, an even higher proportion than was logged for "Increasing customer base" (31%) within the midmarket.
Techaisle's SMB "Wheel of productivity" data shows that customer service is usually the application that SMBs use after CRM and marketing automation. In fact, Techaisle's most recent SMB cloud shows that of the SMBs using cloud customer service application, 53% are also using cloud CRM and another 24% are planning to add CRM to their customer service solution. Looked at another way, of the SMBs that are using CRM solutions, 38% are also using customer service applications and another 19% are planning to add customer service.
The impact of increasing the customer base and improving customer satisfaction is manifest across many different SMB business objectives – attracting and retaining new customers, increasing business growth, keeping pace with competition, and focusing on new markets are all C-level issues that rely on market reach and effective customer management. For example, executive focus on growth leads directly to demand for improvements in sales and marketing – and in today's market, these improvements are generally delivered in the form of CRM systems that improve sales process efficiency and visibility, and social marketing systems that capitalize on connectedness within an economy that increasingly relies on person-to-person, cloud-enabled communications rather than broadcast and print media for information.
Social marketing and CRM are two of the key applications that link cloud infrastructure to top-line growth objectives. It is unusual for platform technologies to be viewed as business growth drivers, but cloud isn't really a platform technology – it's a means of rapidly delivering capabilities needed to compete in evolving markets. When asked whether cloud is primarily a driver of new opportunity or a way of achieving cost control, 80% of Techaisle's SMB Cloud Computing Adoption and Trends study respondents reported that cloud helps their business grow. Cloud-based solutions (including, and particularly, CRM) provide the insight needed to manage a sales and marketing funnel and attract and retain new customers.
The improved visibility resulting from cloud-based sales and marketing automation systems has in turn illuminated the need for, and potential associated with, better and better-integrated customer management and support processes. This insight is prompting increased investment in systems automating customer support tasks: Techaisle's global SMB survey data shows that customer service is among the top cloud applications planned for adoption within the next year.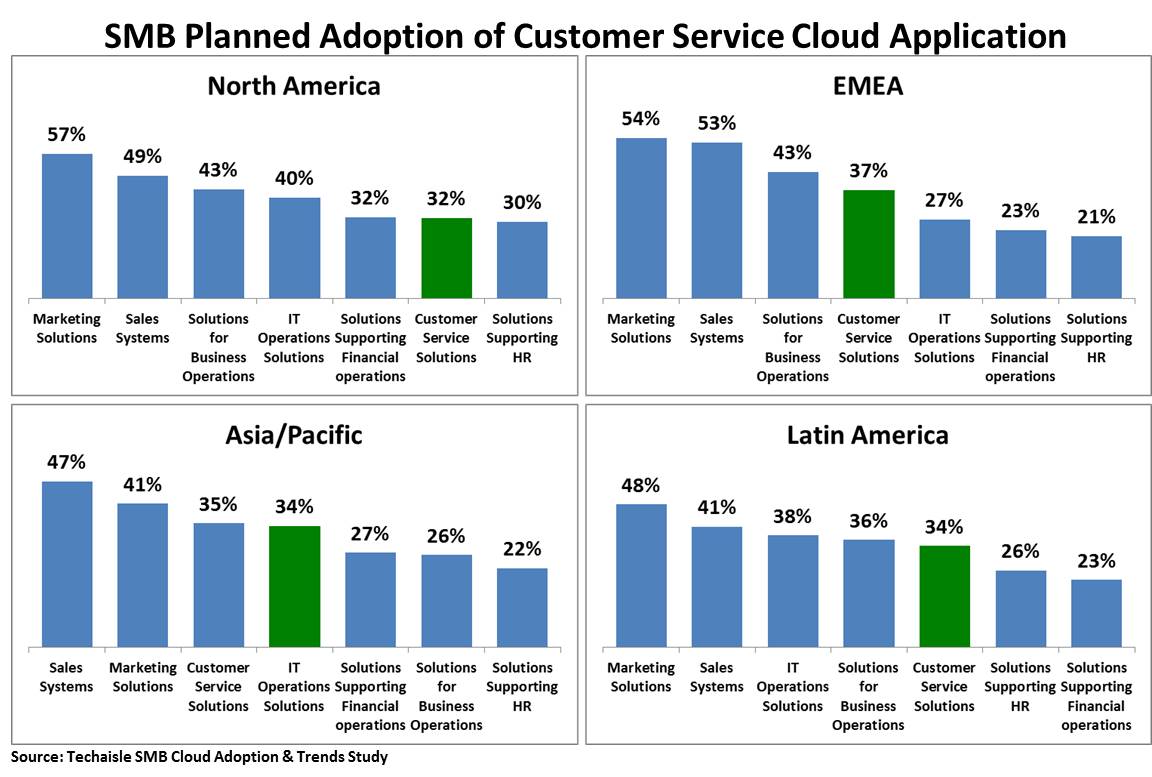 This trend is particularly apparent within advanced IT users. Looking at the current and planned use of customer service applications through Techaisle's SMB IT Sophistication Segmentation (SITSS ) framework, we find that the level of current and planned cloud-based customer service application adoption increases with IT sophistication within both small and midmarket businesses.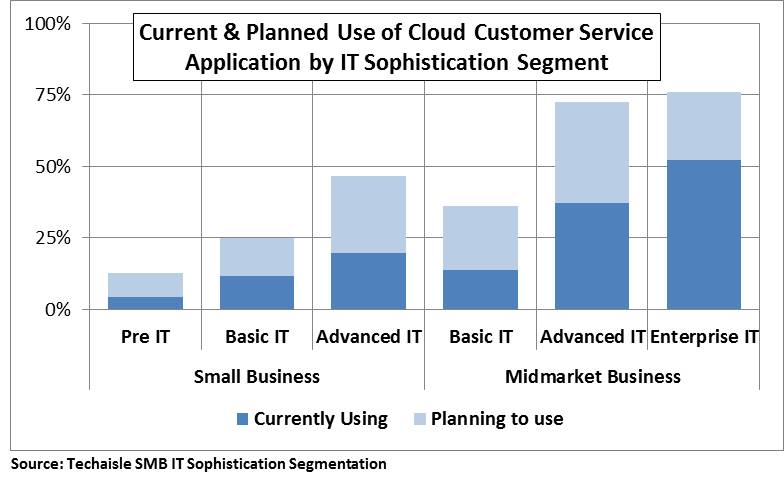 Desk.com – enabling SMB customer service success
High customer satisfaction starts with great customer service, and Desk.com, part of Salesforce's portfolio is enabling SMBs use technology to improve customer service. Desk.com has pre-configured and pre-connected tools such as knowledge base, agent productivity tools, native mobile app, activity reports and dashboards so that an SMB could actually be up and running in an average of two days.
Being tightly integrated with Salesforce's flagship CRM product certainly helps.
Although Desk.com is well integrated within the Salesforce organization it has its own product road map clearly building on the success achieved by Salesforce. Techaisle believes that this is important for the product suite and its users. Techaisle has written extensively about Salesforce in the past (click here for the most resent post "The Good, the bad, the Ugly). Desk.com comes across as being different from the core Salesforce product in that it is better aligned with SMB requirements. The Desk.com team has clearly learned about how SMBs work and behave differently than enterprises – and it is using that knowledge in the development of the solution.
Natively enabled Mobile Platform
SMBs are more committed to mobility than enterprises. Within an SMB, customer service agents may double as sales staff, the office manager, or even the CEO. Because they work on the road, from their homes and from an office, enabling customer service through a mobile platform is of tremendous importance. What is really great about the Desk.com solution is it comes with a native mobile app on both iOS and Android so the SMB gets end-to-end case management for agents, meaning that they do not have to be tethered to their desk to access customer support systems. The agents can use the same productivity tools, knowledge base and same features that come with the standard Desk.com desktop experience on their mobile device.
Improving Agent Productivity
Mobility is a key requirement for SMBs, but it isn't really the core requirement: the central business issue for resource-constrained SMBs is improving productivity. A "single pane" view that provides all relevant customer information is essential for customer service agents who fill multiple roles within the organization. Desk.com does a good job of responding to this requirement with its focus on agent productivity. One of the tools included as part of the application is "Macros," which can by invoked either with a mouse or by keyboard shortcuts. Macros can insert a knowledge article link into the case, apply multiple labels, update different statuses, update and apply custom fields, and/or update one or more cases, accelerating workflow and driving efficiency in the customer support process.
Helping SMB customers help themselves
SMBs are increasingly focusing on their customers' ability to help themselves. Desk.com comes with self- service support templates designed to look good not just on a desktop but on any mobile device. The templates are customizable to allow SMBs to echo the look and feel of their main websites. If an SMB's customer is looking for a very simple FAQ-type experience they can go in and search for a particular topic or connect to more details with the ability to call into a customer support line. The knowledgebase also extends support for multiple brands and allows an SMB's customers to self-select into a particular product or service and be served the most relevant content.
Down the Road
Desk.com is continuing to invest in product development and one of the most important aspects is how the solution interacts with Salesforce and how Desk.com provides end-to-end service, sales and other business process solutions that are integrated appropriately for an SMB. A key area of investment is in the synchronization of metadata to provide a 360 degree view of the SMB's customer to the support agent. A key second area of investment is in case management, embedding native support center within native mobile apps. As noted above, this is a critical capability in the SMB segment: for many SMBs, the mobile app is the primary (and sometimes the only) touchpoint with customers. Techaisle's SMB Collaboration studies have shown that SMB focus is expanding from creating information repositories (largely complete) to adding rich media and media escalation and Desk.com is working on additional support for rich media and images and emails out of a service channel, adding collaboration layer to case management process.
Techaisle Take
Desk.com is a differently abled organization than Salesforce, whose focus seems to be primarily on enterprise customers. Desk.com is on a path to help SMBs grow by providing an out-of-the-box solution that helps SMBs help their customers faster, thereby improving customer satisfaction and customer retention. With an inbox that brings together all of the different channels that SMB might be using to provide customer service - email, phone, social panels - into the same interface, Desk.com helps SMB customer service agents to work on solving customer problems rather than navigating between mismatched system components.