Dell's recent enhancements to its security portfolio address midmarket companies' specific security concerns and goals. Dell has significantly expanded its security portfolio with in-house capabilities and partnerships to enhance its threat protection, management, and incident response capabilities. The company's new additions are crucial in addressing mid-market businesses' security challenges. According to Techaisle data, cybersecurity prevention investments are the highest technology priority for core and upper midmarket firms. With an average spending increase of 8.6%, 64% of midmarket firms are boosting their investments in cybersecurity solutions. The main reason for this spending increase is advanced threats and the rise of remote working, as reported by 61% of firms. In today's digital environment, cyberattacks are becoming increasingly prevalent and sophisticated, posing a threat to companies of all sizes. The traditional approach to security revolved around building higher cyber walls, hoping that no one would cross them. However, in the last ten years, attackers have found ways to breach these walls, making it necessary to have preventive strategies in place. Businesses must therefore prepare for the possibility of breaches and their potential impacts. Consequently, they must have a comprehensive security portfolio that offers end-to-end protection – from detecting and preventing threats to minimizing the damage in the event of a breach and helping users recover their data.
Mid-market enterprises are particularly susceptible to cyberattacks due to their limited resources compared to larger organizations. They face the same challenges as their larger counterparts but require more resources to defend themselves. To address these challenges, mid-market businesses need a security portfolio that can protect their operations from cyberattacks and minimize the risk of financial and reputational damage, especially as cyber threats become increasingly sophisticated. This article examines how recent updates to Dell's security solutions portfolio can help mid-market businesses navigate the evolving threat landscape and enhance their protection capabilities.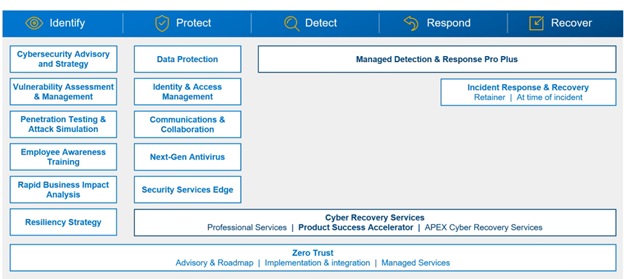 DELL'S FOCUS ON CYBERSECURITY FOR MID-MARKET CUSTOMERS
Dell understands that customers need ongoing support to manage their security infrastructure, and its approach to security is based on three key aspects. The first involves identifying and addressing blind spots and vulnerabilities in an organization's technology and processes. The second is focused on protecting assets and data and the entire security architecture stack, and the third involves continuous security management.
Dell's focus on mid-market customers is driven by the understanding that such a business often needs more sophisticated capabilities in security, which can be immensely complex and unfamiliar. They are also particularly vulnerable to security threats due to a lack of specialized IT or security teams, and business resiliency is critical for them. As a result, determining where to allocate their time, funds, and resources to protect their business best can take time and effort. Dell recognizes this challenge and has introduced solutions to enhance these clients' cyber defense capabilities and help them build business resilience.
Its Managed Detection and Response (MDR) Pro Plus offering and Product Success Accelerator (PSX) cyber recovery service address the specific needs of mid-market customers. MDR Pro Plus provides threat detection, investigation, and breach and attack simulations to test security controls. At the same time, PSX for Cyber Recovery simplifies the deployment and operation of secure, isolated recovery vaults.
MANAGED DETECTION AND RESPONSE (MDR) PRO PLUS
Dell recently launched MDR Pro Plus, a tiered MDR offering that enhances Dell's existing MDR services. The new offering tackles critical security operations challenges through a vulnerability assessment, pen testing, attack simulation management, security awareness training, and incident recovery care. According to Techaisle data, only 19% of midmarket firms have undergone security awareness training. Furthermore, between 31% and 52% of firms are interested in vulnerability assessment. Techaisle's IT security survey data reveals that 59% of firms prioritize risk assessment before adoption, and 58% are interested in penetration testing. Dell's latest security portfolio enhancements for midmarket customers directly address priorities and initiatives.
Vulnerability assessment includes monthly IT environment scans and the use of machine learning to prioritize patching the most exploitable vulnerabilities. It also features monthly automated breach and attack simulations and annual penetration testing to detect and address faulty security controls and misconfigurations. MDR Pro Plus also offers customized security awareness training for employees throughout the year to promote best security practices. In case of a breach, Incident Recovery Care provides a rapid response from certified cybersecurity experts to assess the situation and assist organizations in recovering and restoring data.
Dell's MDR Pro Plus service offers comprehensive security solutions that enable organizations to identify and address security gaps, foster a culture of security, and effectively respond to potential threats. This ultimately strengthens the organization's security posture and contributes to its overall business resilience.
PRODUCT SUCCESS ACCELERATOR (PSX) FOR CYBER RECOVERY
Dell's PSX service allows customers to build a cyber recovery vault to protect against cyberattacks or to recover data in the event of an attack. The service is offered in three tiers – Ready, Optimize, and Operate – each designed to meet the needs of different levels of technical expertise and resources available within a customer's IT department. These tiers enable customers to choose the appropriate level of assistance that aligns with their IT capabilities and preferences, whether they prefer to have greater control and do it themselves or want more assistance throughout the process. In addition, each tier includes a KPI-based success plan, an operational runbook, and on-demand training. Customers can quickly and effectively create an isolated cyber recovery vault through PSX and cyber recovery services to protect critical data from cyber threats. As a result, organizations can enhance their business resilience and minimize downtime by having a secure backup of their data and the ability to recover from an attack quickly.
DELL REVAMPING ITS CYBERSECURITY PORTFOLIO WITH CROWDSTRIKE'S FALCON PLATFORM
With the IT landscape becoming increasingly vulnerable to threats, organizations have started to acknowledge the need for external cybersecurity expertise to address the cybersecurity talent shortage. In response, Dell is expanding its partner network to make cybersecurity services more accessible. As part of this effort, Dell has recently partnered with CrowdStrike to add its Endpoint protection to Dell's Cybersecurity Portfolio.
Dell has reintegrated CrowdStrike's Falcon SaaS threat protection into its SafeGuard and Response endpoint protection services, marking the first milestone in the renewed partnership between the two companies. The CrowdStrike Falcon platform employs machine learning algorithms, artificial intelligence capabilities, behavioral blocking, attack indicators, deep kernel visibility, and custom compromise indicators to secure IT environments.
As part of the partnership, Dell will offer CrowdStrike Falcon to its customers through various offerings, including Dell commercial PCs, in the coming months. Customers can also purchase CrowdStrike subscriptions through Dell.
George Kurtz, CEO of CrowdStrike, sees the company's partnership with Dell as a way to expand its reach to smaller businesses through various channels. The partnership aims to deliver top-notch technology and employ the most effective go-to-market strategy to make the platform more accessible to small businesses. As a result, CrowdStrike Falcon will be available to a broader customer base, offering enhanced visibility and protection against threats for the company's clients.
FINAL TECHAISLE TAKE
In every corner of the globe, businesses are building new capabilities that rely on technology. Small businesses are automating previously manual processes and digitizing critical tasks and information sources. At the same time, large enterprises are dedicating vast resources to analytics and digital transformation – capitalizing on the reach and opportunities enabled by digitalized processes. Positioned – sometimes 'squeezed' – between the agile small businesses and deep-pocketed enterprises are midmarket businesses. These firms strive to stay ahead of smaller firms and compete with global giants.
The many challenges associated with cybersecurity make it daunting for executives and IT staff working in midmarket businesses. Many may be tempted to wonder whether the extensive focus on (and investment in) cybersecurity is a wise use of resources in demand across the organization. The reality, unfortunately, is that experts believe that a data breach is a matter of 'when' not 'if.' Every midmarket business is a potential victim of cyber intrusion – and every responsible executive and IT management team will need to deploy technologies and develop strategies to protect against intruders – detect the presence of hackers who have gained access to corporate data – protect data 'in motion' and 'at rest' via encryption, to prevent exfiltration of critical, sensitive information – and to react to breaches when they are discovered.
Dell has significantly expanded its security portfolio with various in-house capabilities and partnerships to enhance its threat protection, management, and incident response capabilities. The company's new additions are crucial in addressing mid-market businesses' security challenges. It offers services such as prioritized patching of vulnerabilities, which is vital because threat actors frequently exploit known vulnerabilities to compromise environments. Its attack simulations and penetration testing complement vulnerability assessments, while awareness training can educate employees about cyber risks and promote best security practices. The PSX offering is designed to simplify the implementation of a cyber recovery vault for customers, while the addition of CrowdStrike Falcon response services significantly enhances Dell's threat management capabilities. Overall, Dell's expanded security portfolio and strengthened capabilities reflect its commitment to meeting the needs of mid-market businesses and establishing itself as a leading player in the IT security industry.