Occasionally there comes along a compelling, impressive, persuasive, and differentiated notebook design that astonishes you. Lenovo ThinkBook Plus Gen 3 is that design. The new Lenovo ThinkBook Plus Gen 3 has a 17.3-inch ultrawide 3K display AND an additional 8-inch color display beside the keyboard. It is built for multitasking. And I love it.
I first fiddled with Thinkbook Plus in November 2019. The notebook gripped my attention because of its "Think" pedigree, focus on the SMB segment, and unexpected E-Ink screen on the lid. It was an intriguing design. Fast forward two years to September 2022. The innovation difference between the Gen 1 and Gen 3 has been nothing but exponential. I distinctly remember quizzing engineers during analyst council sessions with many PC OEMs about a notebook with multiple or extensible screens. Two models with dual screens have been introduced, and Lenovo ThinkBook Plus Gen 3 is far better than its competitor.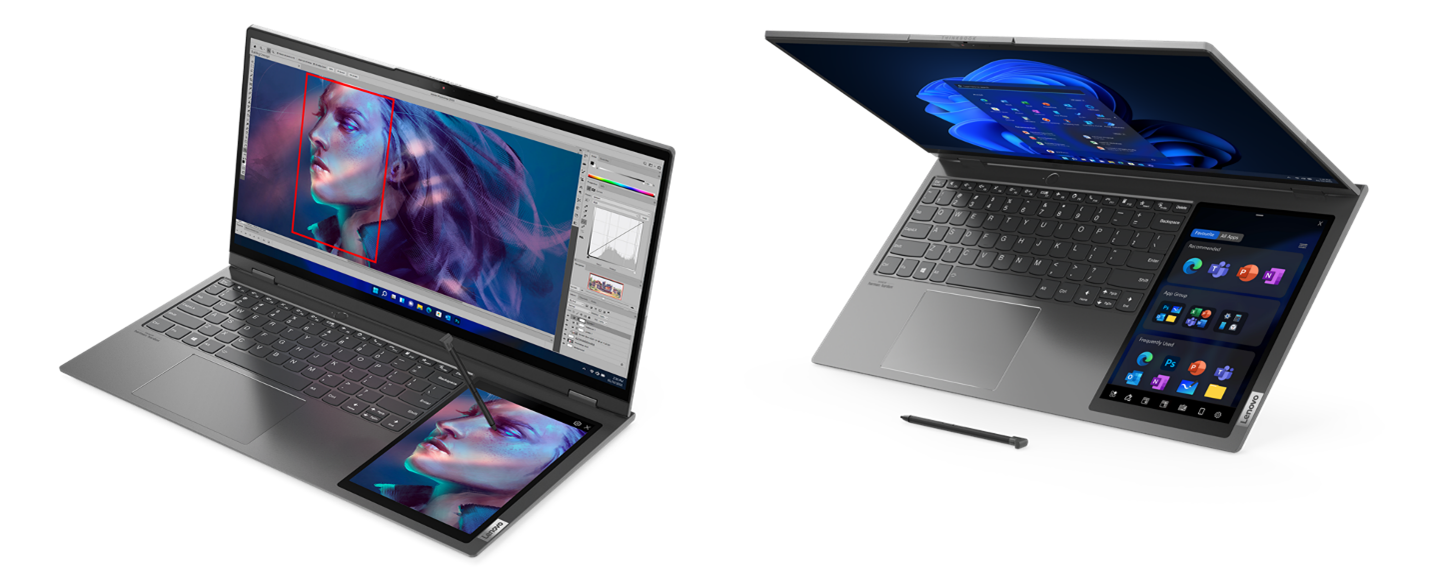 I have been using a fully configured (1 TB SSD, 12th Gen Intel core i7-12700H processor, 32 GB memory, a fingerprint scanner on the power button, TPM 2.0) production model for most of the last month. It is an innovative and practical notebook that exudes the quiet confidence of imaginative applied design. When I powered on the notebook, my synapses fired on all cylinders. Lenovo still has one of the cleanest setups and installs of any PC OEM. Lenovo Vantage is one of the best apps to personalize device settings, update drivers and software and manage security configurations.

Dual displays are more productive than one
The touchscreen 17.3-inch main display of the ThinkBook Plus Gen 3 is ultrawide and has a resolution of 3072 x 1440 with an aspect ratio of 21:10 and 400 nits brightness. The ultrawide display in a laptop makes multitasking more accessible and allows users to see more content with less distraction. The massive and roomy display is a visual treat, a productivity enhancer, and ideal for Windows 11 snap layout. Straddling the line between business, work, and life, ThinkBook boasts Dolby Vision for lifelike images, blue light reduction, and 2 X 2W Harman Kardon audio for superior sound. The Lenovo Integrated Pen is a bonus for the secondary display. There is a built-in pen garage in the right corner of the chassis rear. I found the pen responsive on the 8-inch display when using Microsoft OneNote. I have extensively used the secondary 800 x 1280 multitouch LCD display for email, note taking, meeting calendar, WhatsApp desktop, skype, web browsing, file explorer, and Teams chat. Its 10:16 aspect ratio works very well, in my experience. It is one of the best examples of multitasking. Although the screen resolution is not the best, it is very productive to have an additional display. The high point is that I can drag and drop most applications and snap windows from the main to the secondary display and vice versa. I have effectively used the screen to glance at my talking points during presentations. The two screens combined optimize my productivity. The backlit keyboard is helpful.
When tethered to the home office desk, I always connect my current ThinkPad X1 Nano to an external monitor through the ThinkPad Thunderbolt 2 Gen 3 dock. However, due to the excellent screen real estate, there is no need for me to connect the Thinkbook Plus Gen 3 to a Lenovo ThinkVision monitor. I also do not need to travel with a ThinkVision M14 portable monitor. However, I did pair the ThinkBook Plus Gen 3 with a wireless keyboard and mouse.
Portability and Dual Screen Versatility

The FHD IR webcam is good, supports Windows Hello, and has a physical privacy shutter switch. However, I very rarely use built-in webcams and prefer to use external cameras with camera controls and AI framing. I like that there are plenty of ports to attach an external webcam, light, and even a wired headset. There is one Thunderbolt 4 port, one USB-C port, two USB-A ports, and an HDMI port. Either of the two ports – Thunderbolt 4 or the USB-C port can be used for charging or DisplayPort.
At 4.4 lbs., it is heavy but not heavier than most 17-inch laptop brands. At 0.7 inches (17.9 mm), it is thin enough to fit into my Tumi backpack. The internal battery is 69Whr and can charge quickly with Rapid Charge capability using the included 100W USB-C AC adapter. Although I mostly used the notebook connected to the power source, I did use it during a couple of long-haul flights. At full brightness and with Wi-Fi not connected, I got about 4 hours. More than the battery life, I received many questions and inquisitive looks on the flights.
Windows jump is a versatile feature developed by the Lenovo SMB segment team for the ThinkBook Plus Gen 3 dual-screen device only. When dragging the window, the feature automatically pops up seven split screen modes. Users can choose any mode to immediately make the window snap in place to eliminate any unexpected dragging issues. There is also a Mirror function, which includes two parts (B to C & C to B). The B to C mirrors the contents of the main screen to C (sub-screen/secondary display), which enables creators and designers to draw details of pictures in Photoshop. The C to B function mirrors the contents of C cover the sub-screen to the main screen, which lets the user share notes with meeting members in an online meeting. Dual-screen collaboration improves users' efficient office work.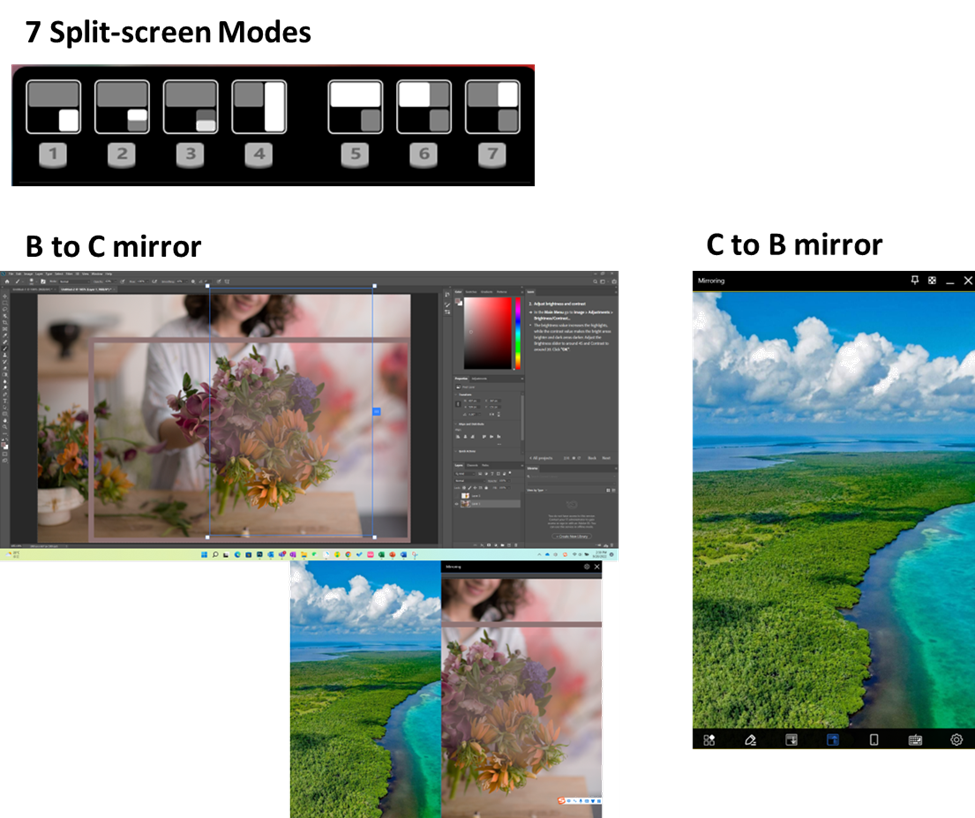 Final Techaisle Take
The PC market is highly complex and subject to significant and abrupt changes. The appeal of the notebook – which doubled as both a mobility device and a content creation platform – waned for a while and rebounded recently. Tablets, not notebooks, were seen as a critical productivity tool. The proliferation of operating systems and underlying architectures created opportunities for a wide range of suppliers – and confusion for many IT managers who needed to integrate, support, and secure these devices. The acceptance of multiple screens and the availability of new platform technologies created a market where "endpoint devices" spanned a wide range of categories: desktops, notebooks, tablets and smartphones, thin clients, All-in-Ones, 2-in-1s, and other device types. These form factors are differentiated by more than size and input technology; they move through different channels at different price points; they appeal to different kinds of buyers who use other means to learn about and source them. Buyer openness to new screen types emboldened suppliers to redefine categories or create entirely new device classes. ThinkBook Plus Gen 3 is one example that delivers new experiences for the "work-life" employee.
There is arguably more opportunity to define net-new PC offerings today (foldable is a much-anticipated trend) than there has been for decades. There is an additional requirement on PC OEMs to segment accurately, to be in tune with the needs and preferences of target segments, and to move quickly to address new demand drivers – but there is also a unique opportunity to translate this acumen and agility into substantial marketing-driven success. As PCs become more capable, SMB buyers – especially the business decision makers (BDMs) who wield increasing power in IT decisions – are moving past the device itself to a need for solutions that capitalize on the capabilities of the new units. To date, PC OEMs have focused on building and selling screens, not the solutions that connect the screens. OEMs who understand how to connect their products to business-relevant solutions have an opportunity to differentiate those products, attracting new SMB customers and channel partners. And this is what Lenovo has set out to achieve with the latest Thinkbook Plus Gen 3. Lenovo is on a path to ensure that SMB employees can access the productivity tools that suit them best. By giving a choice to SMB IT buyers, Lenovo is simply narrowing the usage continuum. ThinkBook Plus Gen 3 is not an ordinary notebook. It is built for productive, multitasking SMB employees. It is ideal for home offices and cubicles with space restrictions. In its third iteration, Lenovo succeeds in making a superlative statement and reimagining a new modern way to multitask on notebooks. Once upon a time, there was a notebook. Today, there is the Lenovo ThinkBook Plus Gen 3 notebook.