In October 2022, Zoho reached US$1 billion in revenue. Zoho was founded in 1996 to deliver easy-to-use and deploy CRM solutions to the SOHO market segment (Small Office, Home Office). Even the Zoho name was a spin from SOHO. Zoho has transformed from a fledgling startup to an enterprise serving small, midsized, large, and public sector organizations globally. In recent years, Zoho has successfully moved upmarket from helping small businesses to midmarket firms and enterprise customers. Mid-market firms are measured, thoughtful, agile, and rapidly digitally transforming, focusing on cloud cost optimization and business process automation. These firms are building a longer-term strategy for an integrated, flexible approach to incremental cloud expansion. In direct contrast, small businesses move from point to point, working first on one discrete solution and then on the next. This dichotomous approach is a real challenge for suppliers as they need to differentiate solutions for the small business market and demonstrate that their offerings are essential components of broader strategies for mid-market firms while attracting attention to their products and building brand preference in both segments. While the expectations of mid-market buyers about SaaS providers are similar to large enterprises, the budgetary limitations create challenges in supplier selection, deployment, and management.
Techaisle research shows that midmarket firms invest in their employees and are social responsibility advocates. As a result, they want their vendors to share these characteristics and mindsets. Therefore, serving the mid-market segment necessitates a distinct culture that is not characterized by high prices and lengthy sale cycles.
Midmarket technology DNA and role of Zoho
The positioning of the solutions within the midmarket is essential. It requires in-depth information on business benefits and the process steps needed to capture those benefits targeted at BDMs, and information on how to assemble, deploy, integrate, and support/optimize these solutions targeted at ITDMs – and an understanding of how to position and convey the messages to each audience.
Its extensive portfolio of cloud business applications includes 50+ products, ranging from traditional office suites to analytics, finance, sales and marketing, collaboration, customer service, HR, and many more business processes at competitive pricing. Zoho has a deep engineering culture immersed in R&D, along with maintaining its cultural ethos without having to cope with any interference from either external investors or the public market. Zoho believes that instead of spending heavily on sales and marketing, it would instead invest in software development efforts or let its potential customers access the limited-feature platform for free. This strategy has proved to be very successful for Zoho and its customers.
Simplicity, flexibility, and value for midmarket firms
Zoho One, the flagship product, is designed for mid-market businesses. With Zoho One, customers have access to 45 business, collaboration, and productivity applications, of which over 20 applications (across functions) are used by more than half of Zoho's customers. The solutions are a part of a unified technology platform with built-in search, messaging, and AI services. It runs on a unified database with a unified data model with data pillars that enable seamless integration to deliver single truth for the business empowering users with a unified experience. The collection of apps running on a single database architecture and purpose-built on Zoho technology stack - services, software, hardware, and network infrastructure - deployed on Zoho's own global data centers ensures performance, availability, security, and privacy. All these solutions and features come at an affordable price, which makes the package suitable for mid-market firms as it significantly reduces the total cost of ownership, deployment, and integration timeframes.
Raju Vegesna, Chief Evangelist, Zoho, once said, "the market is littered with features masquerading as products." Zoho One provides single sign-on, single subscription, and a fully integrated platform. It is common knowledge that app-specific experiences drive infrastructure-level optimization steeped in Zero Trust, AI, distributed file structure, and data center expansion driven by market dynamics.
More than 60% of Zoho's workforce is devoted to engineering, developing new technologies, and keeping these technologies updated. Since the launch of Zoho One in 2017, Zoho has been innovating and updating its applications. With the evolution and maturing of newer technologies, Zoho has been adding AI/ML functionalities and improving user experiences.
In the past five years, Zoho One has grown considerably and has acquired over 50,000 businesses as customers in 160+ countries. Over the past two years, the platform has grown 150%, with 37.5% of new customers from mid-market and enterprise segments. License upgrades have increased by 92%. These figures spotlight the strategic commitment by Zoho to deliver end-to-end solutions that empower organizations to be agile, scalable, and adaptive to changes in their industries. Even the midmarket developers are taking notice as they can access Zoho Tables, RPA, and Test automation tools. Zoho Finance suite has seen tremendous growth. As per Zoho, it is processing 100M invoices per year.
Zoho One is wholly developed in-house on a single technology stack and is a unified, end-to-end platform that offers plenty of integration points across applications. Well-grounded unification enables organizations to link functions such as sales, marketing, customer support, accounting, human resources, and others. Moreover, the platform can be easily integrated with third-party solutions, allowing organizations (especially mid-market enterprises) the flexibility to manage complex systems, large amounts of data, and dispersed teams.
Techaisle's latest midmarket research shows that 42% of firms are increasing their spending through cloud marketplaces. Over 500K Zoho users use 1500+ apps from the Zoho marketplace (e.g., Twilio for Zoho CRM). Recognizing the need for verticalization, Zoho has purpose-built industry apps such as real estate CRM, travel agencies, IT services, field services, and many others. Most importantly, Zoho enables midmarket firms to develop and deploy custom apps.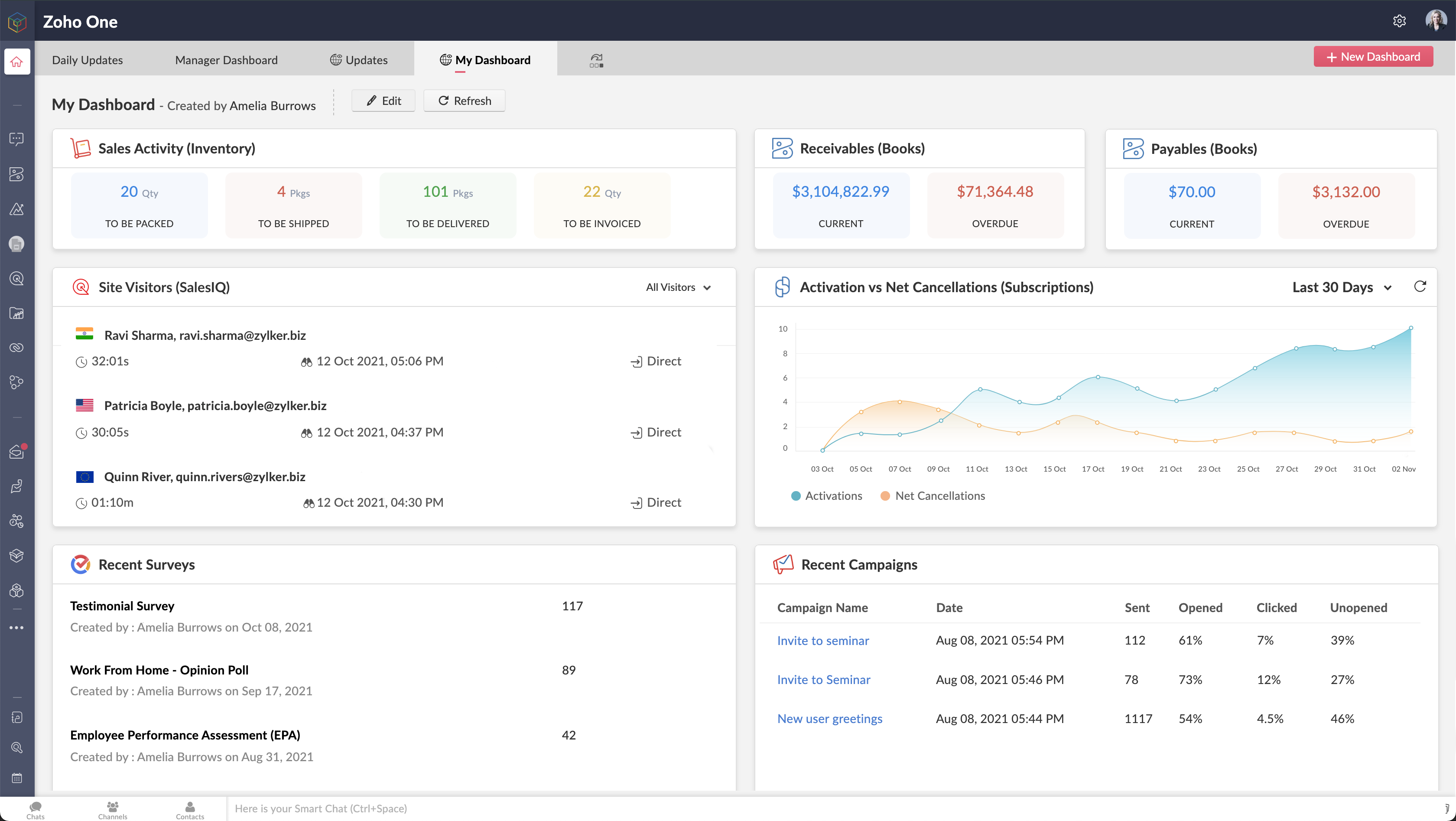 Zoho addresses the need for high-velocity custom apps
It is relatively easy to adopt a single SaaS solution, connecting its inputs and outputs to relevant internal systems and processes. It is possible to adopt a handful of cloud applications, hand-wiring the interconnections between them and adjacent applications. But this craft-built approach to the cloud differs from longer-term visions of scale, flexibility, and agility. It creates IT management overhead and performance and security risks. Even worse, disconnected systems affect relationships between companies and their customers: workflows that lack cohesion create unnecessary gaps in service. Unable to link all inputs to achieve a single view of the business reduces visibility into individual customer preferences and broader market opportunities. Zoho One provides midmarket firms with tools they can use to develop their applications and automate their business processes by creating workflows. For example:
Zoho Creator
Zoho Creator is a platform that allows organizations to create applications in-house with minimum coding expertise. It is a tool that employees across all levels, including managers, IT teams, and developers, can use to create applications to manage different processes. Zoho Creator also comes with many free, ready-to-use business apps that can be installed and customized using a template library. The platform has a solid user base of 6 million and is trusted by global brands, including Amazon, Volkswagen, and Lyst. For increased accessibility, every application created with Creator includes a native app for both iOS and Android. Its key advantages are:
Low-code application development: Creator adopts a strategy for software development that involves little to no code for developing apps. It is a low-code application platform (LCAP) wherein the user utilizes visual tools to integrate business logic into an application instead of writing huge lines of code.
Scalability: Applications developed with Creator are designed to scale upwards as the organization grows automatically.
Ease of use and deployment: Since there are no distinct phases of maintaining, deploying, creating, and setting up apps, Zoho Creator saves organizations both time and money as it does not require any setup or maintenance services across its lifecycle, unlike other apps.
Highly secure: To guarantee security Zoho Creator ensures that all the customer data is housed in data centers across various countries. This mitigates and diversifies any possible risks such as targeted cyber-attacks, server failures
Zoho Flow
Zoho Flow enables organizations to automate their operations by linking their apps to Flow. Organizations can build custom integrations to automate their workflows across multiple business functions. Flow is essentially a connector that allows users to connect their created applications such that the apps can communicate and share data. It assists management and IT teams in designing and visualize connectors between Zoho and other third-party apps.
The process starts with organizations determining the event they require to trigger an integration when creating the flow. Organizations may drag a sequence of activities onto the flow builder or use a library of pre-built actions for straightforward integrations.
Developers, on the other hand, can use webhooks to start events and use Deluge scripts (Deluge, also known as Data Enriched Language for the Universal Grid Environment, is Zoho's proprietary scripting language that links its products in the Zoho suite) to trigger events to build more complex integrations. Interestingly, Zoho also runs on Deluge, so support for it is unlikely to be dropped.
Zoho Analytics
Zoho Analytics is a business intelligence application that enables organizations to analyze critical data and build informative dashboards to help them make better decisions. It allows organizations to import data from various data sources (including files, local and cloud databases, business apps, and more) and then visually analyze it with many prebuilt reports and dashboards. This visual analysis aids in the discovery of insights that might otherwise go unnoticed. It comes with APIs that can be integrated into the organization's products/applications to provide BI capabilities.
Zia, Zoho's smart and Intelligent Assistant, is a tool based on machine learning and artificial intelligence. It is a conversational AI assistant within Zoho Analytics. It is powered by natural language processing, which enables it to interpret queries in English and then use the data to respond to the questions in the form of actionable and visual insights. Some of its key functionalities are as follows:
Zia voice: Organizations can chat with Zia to find solutions to the queries they have about any Zoho CRM module
Best time to contact: Sales personnel can utilize this feature to be aware of the optimal moment to approach their clients
Conversion prediction: This enables organizations to maintain a sales pipeline by understanding the likelihood of conversion of their leads
Trend analysis: Organizations can set alerts regarding any business metric trend they want to gain insights into. They will receive prompt, periodic alerts whenever the metrics change
Macros Suggestions: Zia can suggest macros to organizations based on users' workflows. These macros can then be used both to save time and increase workforce productivity
Zoho Finance Platform

Although Zoho is known for its CRM platform, its Zoho Finance Platform has been gaining traction and has already achieved 50% year-over-year (YOY) revenue growth, supporting more than half a million businesses across more than 160 countries. Zoho's Finance Platform includes solutions for accounting, inventory management, travel and expense management, billing and subscription management, and payroll management. These applications enable instant interoperability, seamless data flow, and system unification. The Finance Platform integrates with a network of payment gateways, banks, travel partners, and shopping carts. Developers can make use of the APIs to integrate with other third-party applications.


Zoho prioritizes user privacy and security

As per Techaisle research, security and privacy are top concerns for 87% of midmarket firms. They are also the fundamental aspects boosting Zoho's continued success and are evident in its products and processes.
Zoho has a comprehensive privacy policy, as part of which it does not promote ads on any of its products, including free editions. Further, it ensures that users' data is not mishandled or misused; it is not sold to any third party and is confined to Zoho and related websites only. In doing so, it gives up on potential ad revenues or revenues it could have earned by selling users' data, which shows its commitment to respecting and protecting users' privacy.
Every change and feature in Zoho's products go through secure coding guidelines, code analyzer tools, vulnerability scanners, and manual review processes, thereby mitigating all threats. It has a robust logging and monitoring system to ensure secure traffic through its servers. Further, it uses intrusion detection and prevention systems to protect and prevent its infrastructure from cyber threats. It owns and operates 12 strategically located data centers across North America, Europe, Australia, and Asia. All the above allows Zoho to keep a strong oversight of customer data, privacy, and security.
Final Techaisle Take
Over the years, I have spent much time with Zoho's senior executives and development teams. A differentiator is Zoho's work culture which reflects the company's values. This is unique to Zoho, which helps it attract and retain talent. It continuously works toward reskilling its employees, keeping them motivated, and increasing overall employee engagement and productivity at work. Zoho strongly believes in maintaining a socially conducive atmosphere in the workplace and follows a strict no-cabins culture. This encourages equality in the workplace and ensures that managers/leaders are approachable.
Mid-market businesses have several entry points - CRM, Books, Workplace, CRM Plus, Invoice, and Projects. Two apps are within the Finance Platform (Books and Invoice). Techaisle has spoken with many midmarket firms. The research has found that many firms upgrade to a platform suite, such as CRM Plus or People Plus, Finance Platform, and discover the benefits of utilizing adjacent and connected Zoho products.
This method is ideal for mid-market organizations that are often cautious about spending large sums of money all at once. This "test one app" strategy balances both parties' interests. Organizations save money, and Zoho benefits by adding more possible consumers to its app ecosystem. As a result, rather than being a zero-sum game, it is a win-win situation for both.
Pricing itself is a compelling midmarket value proposition for adopting Zoho. Techaisle research shows that using and adopting specific applications from many competitors and integrating them is substantially more expensive. It requires continuous maintenance and updates, adding to the total cost of ownership. The midmarket must coordinate with multiple vendors for deployment, management, and integration. Hence, at the all-organization annual pricing of US$37 per user per month, Zoho One automatically becomes the most preferred option for mid-market businesses. In addition to cost benefits, an organization gets access to a platform backed by solid R&D that is regularly updated yet remains affordable. The company's ethos and culture help it increase overall employee engagement, making them better aligned with the customer's goals.
The first entry point to the cloud in many midmarket firms is the purchase of a specific business application by a business user. Techaisle data shows that 51% of SMBs began their cloud journey with a SaaS application. Each of these disconnected siloed applications provide real & immediate benefits in terms of enhancing individual productivity and morale and helping recruit tech-savvy new workers. The next step in this process is to automate related tasks within a single operation.
With connected applications, businesses can organize data across foundational systems like collaboration while integrating new or emerging capabilities as shared capabilities rather than pilot programs tied to a niche objective. As in Zoho One, connected applications benefit enterprise agility, corporate efficiency, collaboration, and alignment. Cross-functional visibility is essential for diagnosing issues within the business and formulating enterprise strategy. However, there are several drawbacks to individual cloud applications. They tend to be expensive to acquire and complex/costly to deploy and manage. Their scope is defined/limited by the number of available expansion modules. While coordinated across many components to ensure compatibility, updates are generally infrequent. In the cloud/API world, responsibility for integration falls on the user; each application is updated whenever a new version is released, and no single vendor is responsible for maintaining consistency and compatibility across the various modules/applications. Zoho steps in to help midmarket firms with connected applications that support the pursuit of multiple important midmarket business objectives.