What do Hyatt, Hilton, and Marriott all have in common? Besides being among the world's largest hotel chains, all use Mitel's MiVoice Business solution. Hospitality is one of the many verticals that Mitel excels in. Manufacturing, retail, healthcare, media, and entertainment are some of the other verticals where Mitel has been showing considerable growth. Businesses require a broad spectrum of adaptive and agile communications solutions, and suppliers should be able to support a wide range of needs. Mitel is well-positioned to support the needs of firms of all sizes. For example, Halepuna Waikiki, an acclaimed Hawaiian boutique hotel, is an excellent example of how Mitel solutions can be tailored for global and local businesses alike.
Mitel is on a modernization mission
A recent global Techaisle Communications Adoption Trends research study (N=1361), conducted in the US, UK, France, Germany, and Australia, shows that 84% of firms say that modern communications solution is vital for business success. 73% agree that modern communication solutions help their business grow by contributing to improved decision making, driving innovation, and enabling better customer experience. As a result, 64% consider the modernization of their communications infrastructure a priority, and 47% of firms are using or implementing on-prem UCaaS solutions on multiple platforms.
Modernization is often used to indicate an amorphous state in which an organization can seamlessly deploy new capabilities that streamline current or next-step processes, thereby eliminating the inherent friction. Modernization of communications is generally seen as a proxy for communication, collaboration, and contact center efficiency. It has been a management goal for many years, embedded in the technology plans of a substantial majority of SMBs, mid-market firms, and enterprises. The pandemic brought urgency to and accelerated modernization plans. Based on Techaisle's Communications Adoption Trends research study, an impressive 28% of Mitel customers expedited their modernization plans during the pandemic.
Mitel product innovation focused on choice and flexibility
Mitel's overall philosophy for UC product innovation is enabling customers to deploy what they want and purchase solutions how they want. A key differentiator of Mitel's has been its belief that one size does not fit all. Techaisle's research backs that approach, finding that 44% of firms use multiple communication platforms. On-prem unified communications (UC) solutions dominate in 88%, but in 56% of firms, on-prem co-exist with cloud solutions. Although hybrid cloud is the preferred option for 69% of firms, many deploy private or public cloud unified communications solutions. Again, this underscores that one size does not fit all. Although cloud communications are desirable, businesses want purchase choices. Data shows that 40% prefer CAPEX purchases, and 65% are interested in OPEX purchases, but multiple purchase methods are desired.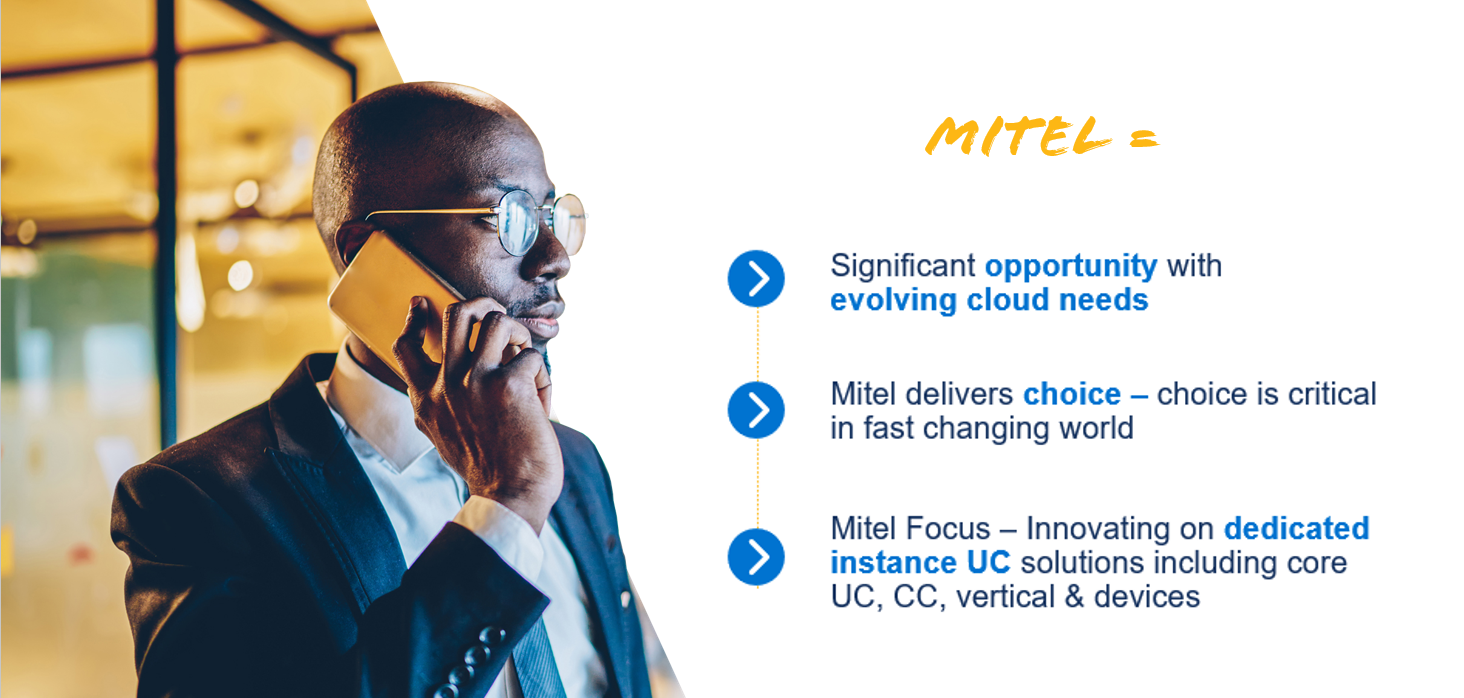 Businesses have a choice of deployment options: they can rely on existing facilities (and potentially, equipment) to create private clouds; they can purchase resources from the public cloud; they can create hybrid environments that enable the integration of private and public clouds (and potentially, other resources, including in-premises infrastructure and hosted systems); or they can operate two or more of these modes simultaneously. All these options are migration choices that Mitel supports with its Customer Lifecycle Management approach, recently bolstered by its exclusive UCaaS partnership with RingCentral.
Selection of a cloud communication deployment strategy is not a "religious issue," and buyers do not identify primarily as private, public, or hybrid users. Instead, they select the best approach for the task, with few qualms about changing directions in response to the evolving needs. We believe that ultimately, this "best approach" will be hybrid. In the meantime, there is scope – and strong demand – for approaches aligned with specific needs. In this regard, Mitel has been very astute in partnering with RingCentral to offer cloud-based UCaaS solutions. At the same time, Mitel itself focuses on the on-prem, private cloud, and hybrid communications offerings. Mitel's UCaaS offering will move to RingCentral's Message Video Phone (MVP). For the contact center, Mitel can sell RingCentral Contact Center, RingCentral Engage or can continue to sell its on-premises MiContact. Mitel's CloudLink, a hybrid solution, is a core technology that bridges on-prem Mitel solution to cloud UCaaS solution.
Final Techaisle Take
Customer requirements vary significantly by IT maturity, vertical, and geo. Data shows that cloud communications solution adoption is widespread in high growth, cloud mature, and modernization maturity segments. Regardless of the accelerating adoption of cloud-based UC/UCaaS, 40% of organizations feel that security is the most significant barrier to adopting public cloud communications, and regulatory compliance and data protection for 36% of firms. Lack of operational agility, fear of security breaches, and inability to migrate applications/systems to the cloud are critical inhibitors to cloud-based modernization. Therefore, Mitel has the right strategy: a strategy built on flexibility and choice to serve changing needs, with products that can be deployed alongside the customers' current and future portfolio of IT products and services.