Industry-specific solutions that connect digital capabilities to real-world challenges are critical factors in transitioning from digitalized to digitally transformed organizations. In the past few years, globally, a clear trend has emerged of offering cloud solutions for vertical industries. Financial services, healthcare, and industrial equipment manufacturers have witnessed high adoption of such solutions. US SMB and Midmarket cloud adoption trends research by Techaisle shows that there is likely to be 121 percent increase in the adoption of vertical Line of business cloud solutions within the next year. Top adoption growth will be for ERP solutions.
Corresponding Techaisle channel research finds quantitative, meaningful, and actionable differences between channel partners who successfully sell cloud and those that have not developed successful cloud practices. Industry expertise and the ability to offer vertical solutions is one key area that is creating a distance. Channel partners providing vertical solutions are 2.6 times more likely to be very successful than their less/not successful counterparts.
Techaisle's channel survey research data shows that 60% of successful cloud channel partners emphasize their industry expertise and industry knowledge during their interactions with their clients. Conversely, 60% of not-so-successful partners lead with their technical knowledge, and 43% lead with price. These channel partners lack the understanding of their customers' businesses needed to offer sophisticated cloud solutions. They claim that they can demonstrate an understanding of their customer's business needs, mainly at a technical level, but get constrained by a lack of vertical application availability and experience. Only 26% of very successful partners lead with price. They can demonstrate knowledge of the industry and are therefore able to create confidence within their clients. They are also the most likely to build and maintain long-term relationships with customers.
Most channel partners position themselves as "your one-stop solution provider." However, the approach is coming under pressure. More successful channel partners focus on understanding how technology can benefit business processes. Understanding the connection between vertical business processes and IT represents a kind of expertise that will support a long-term billable relationship between "trusted advisor" channel partners and clients. This kind of relationship will become more important than the capacity to deliver IT as a horizontal solution source.
Techaisle's channel research reveals that a channel partner serves an average of 8.0 verticals but lacks deep expertise in all verticals. Vertical applications stand out as the solution needed by SMBs, midmarket, and enterprise firms the most, but only a tiny percentage of channel partners offer them.
Almost all channel partners agree that manufacturing, healthcare, retail, and financial services segments are the fastest growing with high demand for cloud business applications. Customer-facing apps (50%) and apps that support internal processes/operations (48%) are the top two in-demand applications, followed by solutions that replace legacy apps (36%), apps that involve AI/ML (27%), and IoT (14%).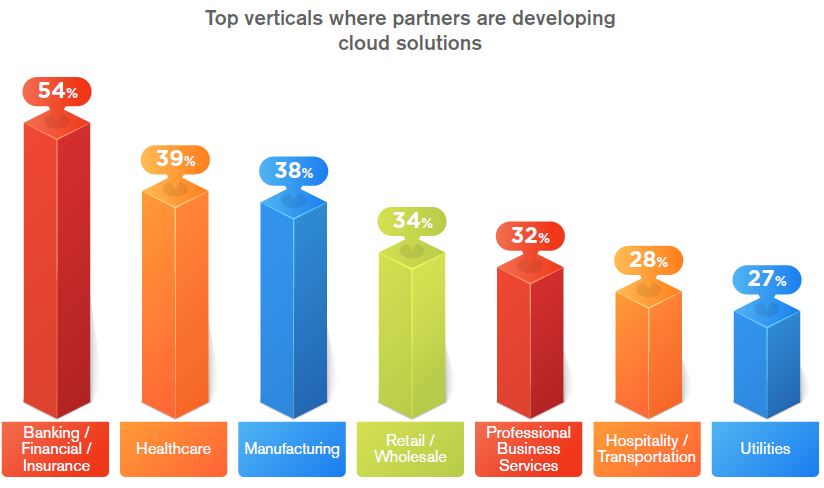 Vertical cloud business application sales are also creating a market for adjacent services. For example, application/cloud migration, application re-factoring, IoT analytics, serverless computing, automation and orchestration, NoSQL migration, AI/ML deployments, and SAP S/4HANA© deployments, to highlight a few. In addition, survey data reveals 66% of partners are using containers and microservices to speed up application delivery.
An effective strategy isn't limited to finding accounts that are willing to pay for cloud services – it also means identifying as many potential services as possible within a customer account and selling to many/most/all. Again, adjacency from vertical applications becomes the catalyst.
Data shows that the cloud solution adoption cycle begins long before a buyer commits to a specific seller, which indicates an increased need for channels to engage early in this process. Once the solution is acquired, the buyer's process continues: the organization still needs to deploy the new technology, train IT and business users on its features, and optimize the solution over time to maximize returns. A channel partner can capitalize on additional revenue during this journey.
The new normal and changing dynamics necessitate a change in the channel partner's business approach. Selling to business-oriented constituencies require expertise in technology, subject matter knowledge, high-quality product and service, and long-term association with the client.
Industry use of cloud-based solutions enables innovators to incorporate customizable options and vertical solutions that enhance business operations and optimize commercial results, allowing them to remain competitive throughout their business journeys. Further, business buyers responsible for technology budgets increasingly invest in digital transformation solutions that focus on business outcomes rather than associated features or functions.
Digital transformation provides enormous opportunities for the channel. Digital transformation demands that channel partners develop extensive new capabilities. It requires establishing a business-level customer relationship that will secure ongoing/escalating account revenue and influence, which will improve the business outlook (and enterprise value) of firms able to capitalize on customer needs.