Customer intimacy matters to SMBs. It is also a challenge. As per Techaisle's study of N=5505 SMBs in the US, Europe, Asia/Pacific, and Latin America, 77% of SMBs say that their business success depends upon a strong relationship with their customers, providing goods and services highly customized to their needs, and being responsive to their needs. Three facts stand out – customer relationship, customized delivery, and responsiveness. And neither of the three can be achieved without the use of relevant technology.
Every SMBs' survival is dependent upon customers. At the start of the year, Techaisle had predicted that 2020 would see a ground-breaking year when customer intimacy (acquisition, retention, experience & satisfaction) will drive IT adoption and business process evolution. We had said that by the end of 2020, for 45% of SMBs, the need for customer intimacy will drive digital transformation, and 76% of new SaaS adoption will be customer-focused. As a result of the investments, 15% of small businesses and 24% of midmarket firms will have a top-notch customer-facing digital presence. Pandemic has surpassed the predictions.
Recent global SMB research from Techaisle shows that within US small businesses, customer-focused SaaS business application adoption is likely to increase by 49% in 2020, rising by another 33% in 2021. Similarly, within the US midmarket firms, the adoption is expected to reach 82% in 2020, with another 74% planning to add adjacent customer-focused applications in 2021. Europe SMB research shows similar trends. 58% of European small businesses are adopting customer-focused SaaS applications in 2020, which will increase to 77% in 2021.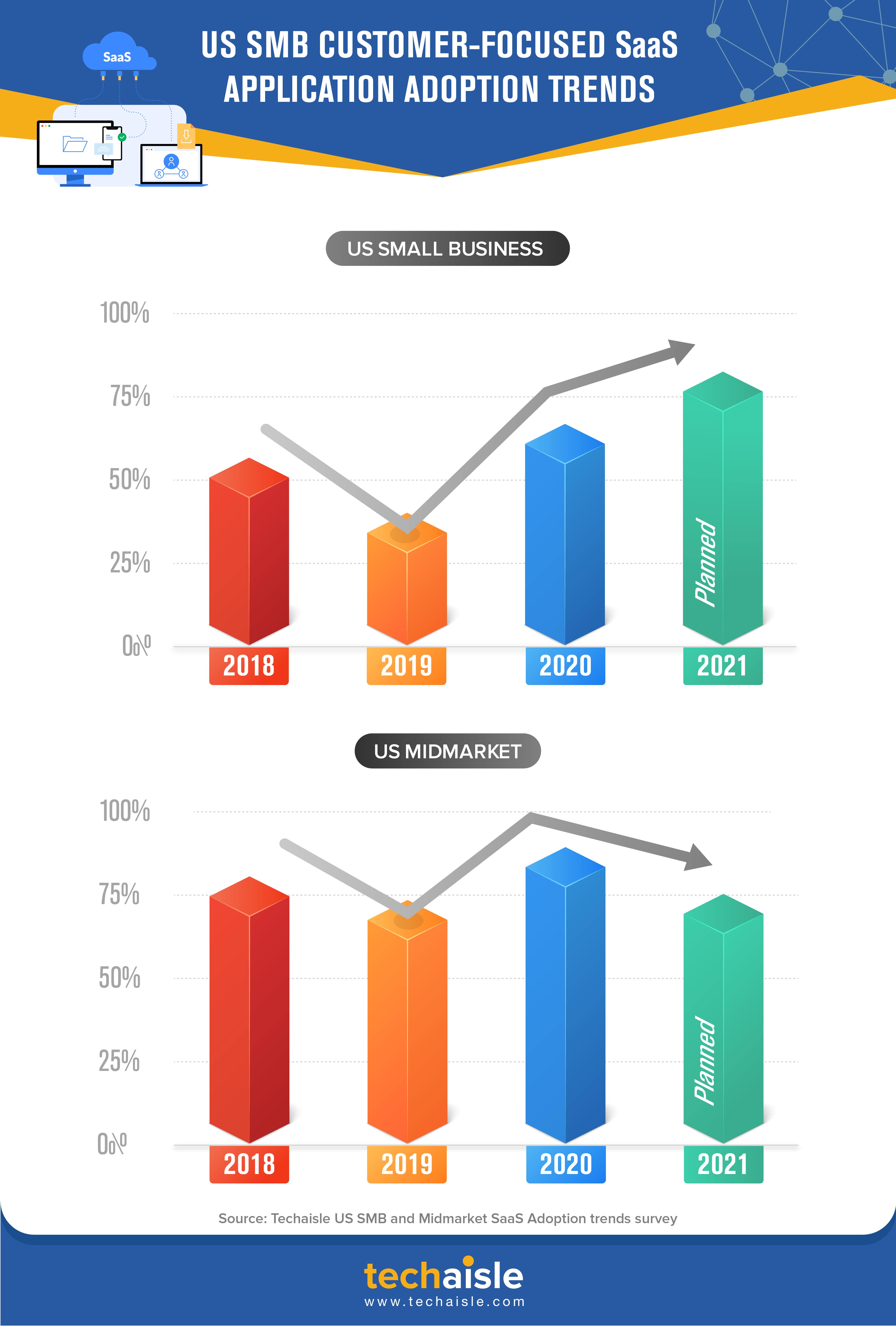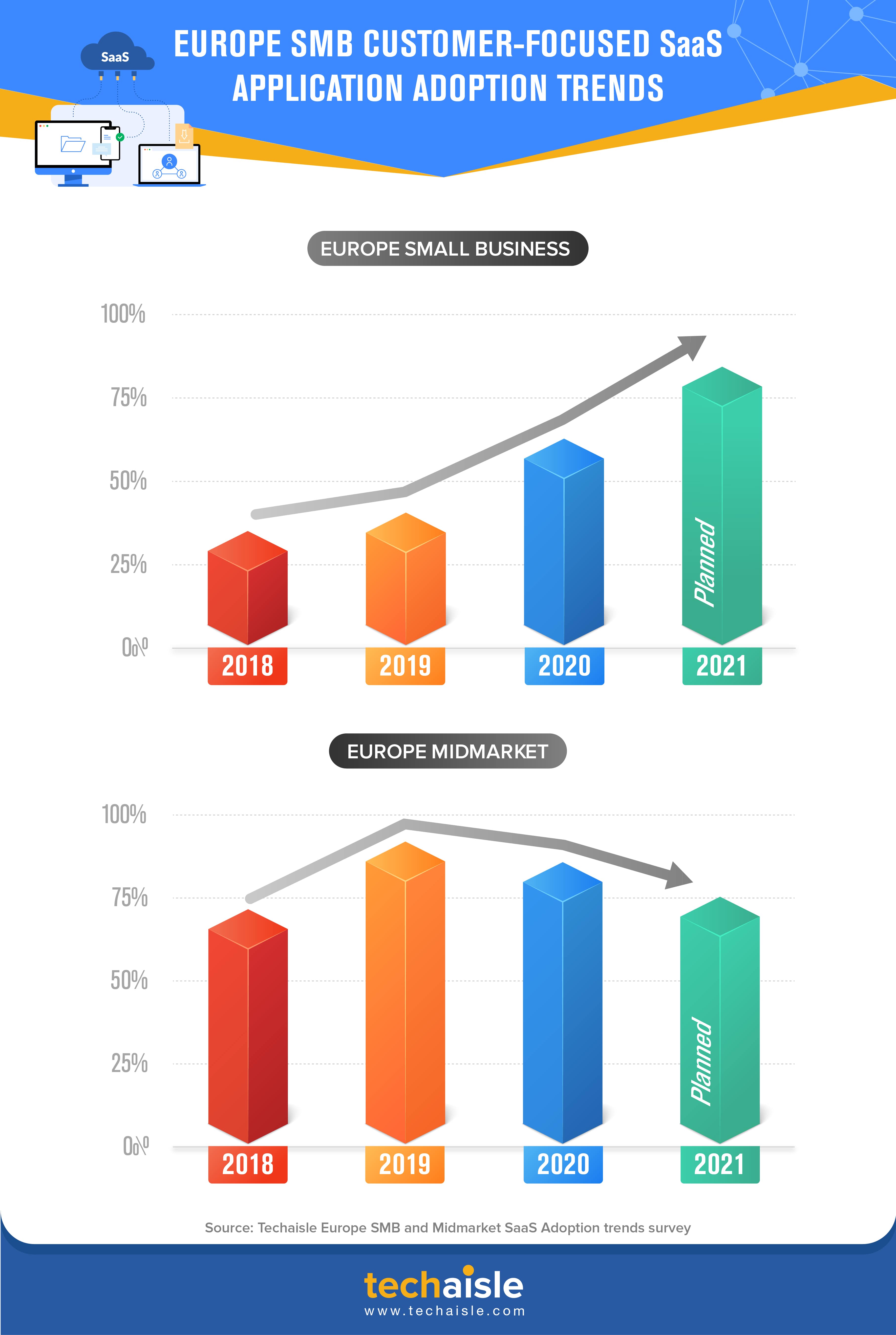 The data also shows that for very small businesses, business success is dependent upon customer delight, whereas, for higher employee size businesses, process efficiency and optimization become essential. With these foundations in place, SMBs are systematically building their businesses. Still, the rate at which they can scale and achieve their objectives truly is dependent upon the relative adoption of modern IT.
Modern IT generally delivers systems that improve sales process efficiency and visibility. The drive to develop new customers and retain existing ones has a direct impact on the desire to emphasize solutions that support business growth, including social media, mobility, and analytics. Additionally, growing business confidence affects all business-relevant solution areas, freeing up resources for new solution exploration, adoption, and optimizing or redesigning business processes.
Besides pure SaaS business applications, including cloud solutions, analytics, marketing automation, customer service, CRM, and other adjacent solutions, data shows that SMBs are planning to increase investments in AI, Chatbots, voice assistants, UCaaS, and mobility solutions.
In general, SMBs have experienced improved customer acquisition and retention after using customer-facing SaaS applications. Typically, small businesses are more hard-pressed to acquire customers, a top business issue for them. With recent adoption, 32% of small businesses say that they have seen improvement.
SMB executives are surrounded by examples of organizations that are using data – drawn from integrated internal systems, or social media, or from far-flung sensors, or third-party services, or a mix of all of these sources – improving the critical operating parameters of their businesses.
As a small business grows to 20 employees or more, it begins to redesign and optimize its business processes to become more efficient. 27% of small businesses are focusing on business processes, which usually necessitates refresh of IT solutions, including collaboration, customer-facing, and back-end applications. Another 13% of 50-99 employee size small businesses are implementing cost-effective IT solutions for improvements in productivity, efficiency, and profitability.
34% of midmarket firms believe that digital transformation is key to customer intimacy. Digital transformation-enabled firms are seeing a 21% improvement in cross-sell/upsell and 19% improvement in customer loyalty; they can open new markets and introduce new products and services faster and with better payback periods. And they do this through customer intimacy – by better understanding what their clients want and need, and by being agile in responding to these wants and needs.
Quoted research
Techaisle 2020 US SMB & Midmarket SaaS Adoption trends survey report
Techaisle 2020 Europe SMB & Midmarket SaaS Adoption trends survey report
Techaisle 2020 Asia/Pacific SMB & Midmarket SaaS Adoption trends survey report