If devices define an office, the location of the user of the device determines the workplace. I wrote this entire review from my temporary workplace, Bryant Park, New York City, using M365 on a Lenovo Flex 5G notebook with Verizon Wireless 5G. The big deal is Windows 10 Pro running on Qualcomm® Snapdragon™ 8cx processor and Qualcomm X55 modem, which delivers 5G - mmWave/Sub6 - connectivity from Verizon Wireless.
It was fortuitous that I was in New York City, where 5G is more widely available as opposed to being in San Jose, where Verizon 5G is almost non-existent. Lenovo Flex 5G provided me the flexibility and versatility to continue with my work, participate in video-conferences, and deliver webinars. The Qualcomm Snapdragon processor did not create any app compatibility issues for me. I use very few applications outside of productivity, collaboration, and communications – all of which worked without any hitch. Although startup was slower than Intel-based PCs, I was okay with sacrificing a few seconds for connectedness. Verizon 5G is spotty at best in New York. I downloaded the Verizon 5G coverage map and had to make efforts to look for 5G at street corners or some public spaces such as parks. The maximum download speed I ever got was 570 Mbps and the upload speed of 54 Mbps. I do like larger storage capacity and memory. With only 256GB SSD availability and 8GB RAM on Lenovo Flex 5G, I was always nervous about crashing massive data spreadsheets or running out of space.
Lenovo Flex 5G 2 in 1 notebook has an Iron Grey aluminum and magnesium chassis with an understated design. Yet, I found it imposing and business-like, weighs light at 2.9 lbs although slightly heavier than X1 Carbon, is thin enough to tuck under the arm comfortably, and has insane battery life. The interior is uncluttered with a hint of Lenovo and the Verizon 5G logo. The 360-degree hinge allows the Lenovo Flex 5G to be used in tent mode or fold it completely flat like a tablet. One evening, I used it to play some videos (in the tent mode) at the center of a table during a socially-distanced family get-together in Central Park. Even the Dolby Atmos sound through two speakers, on either side of the keyboard, was enough for us to enjoy. The Lenovo Flex 5G is a quiet PC as there is no requirement for a cooling fan since all processing happens silently as compared to Intel and AMD-powered notebooks.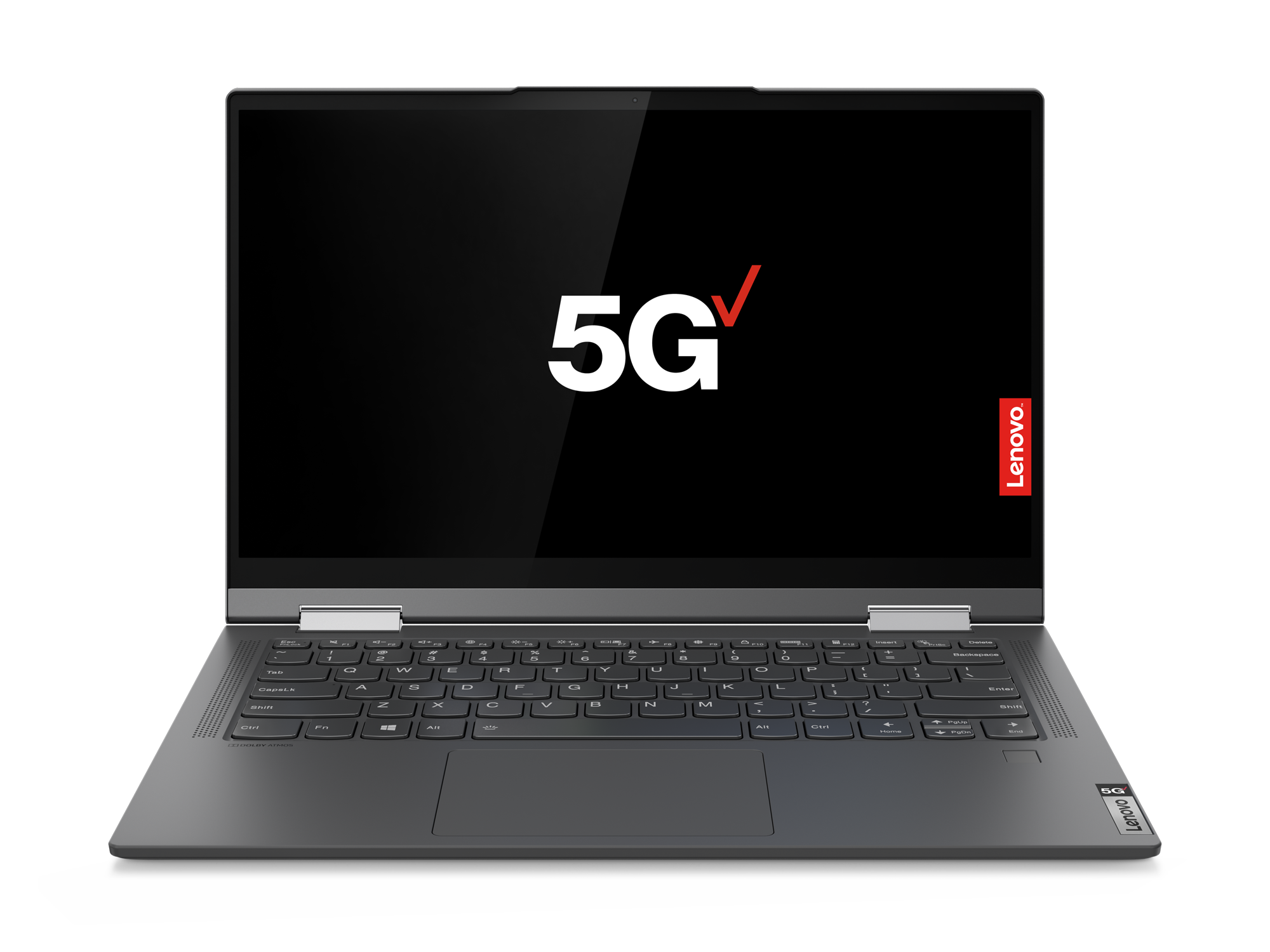 The Lenovo Flex 5G has a 14-inch 1080p display, with 1,920 by 1,080 pixels, IPS wide-view angle touchscreen, and 400 nits of brightness level. It was great for indoor and outdoor uses and somewhat suitable for cloudy days in New York. There is a 720p camera above the display. Fearing noisy video, I never used it. Instead, I always carried a C920S Logitech camera and Lenovo USB-C Travel Hub. Lenovo Flex 5G's IR sensors and a fingerprint reader power Windows Hello.
The backlit keyboard is nice but flat keycaps (as opposed to scalloped) with less travel than X1 Carbon slowed my typing speed. The touchpad was comfortable and accurate, but I missed dedicated left-and-right-click buttons. In addition to the two USB-C ports, I would have liked an additional USB 3.0 port. A connectivity switch on the side panel to disconnect from 5G/LTE is a nice touch but missing is WiFi 6.
It is, no doubt, an expensive PC. The path to 5G PCs will be somewhat rocky. Most SMBs are not looking to refresh their existing PC portfolios with higher-cost units that integrate with their environments in new ways. The PCs will need to compete with other edge devices, edge infrastructure, and other connected platform options for scarce capital funds. 5G PCs will have an impact on OPEX as well, creating new cost (bandwidth usage) and security challenges, which will likely require updates to the mobile device management (MDM) solutions and policies within SMB firms adopting the technology.
Importantly, SMB business management believes in the power of such PCs to enhance productivity. In a survey fielded by Techaisle, 30% of SMBs reported that the impact of mobility is most significant in accelerating employee workflow. PCs that couple the same kind of mobile access as smartphones with a superior application and user support align directly with this management objective.
5G PCs won't be at the top of every business's shopping list – but they will find a home as an enabling layer of the mobile workforce. These PCs are just a small component of the edge as a whole. Connected edge will work with the cloud to deliver the 'yin and yang' of the new work platform's infrastructure.
Alternative devices eclipsed PCs for a brief period. Tablets carved a niche out of the traditional laptop market because they offered a lightweight alternative and because they supported a new pen interface. Smartphones gained share for multiple reasons, including always-on connectivity and support for a new voice interface. Both smartphones and tablets also tend to offer superior mobility because they operate for extended periods without recharging their batteries.
From a pure productivity utility point of view, Lenovo Flex 5G is a fantastic notebook. Benchmarks, in other words, speeds and feeds, are not very essential for SMB customers. Battery life, storage capacity, connectivity, security, and compatibility are the top decision drivers. Lenovo Flex 5G delivers on many of them. Connectivity flexibility was essential for me, and the always-connected Lenovo Flex 5G with greatly enhance battery life has been very productive, better than a small-screened smartphone or keyboarded tablet.