Holistic, Inclusive, Siloed and In-the-Shadows are the four midmarket segments by digital transformation strategy as revealed in Techaisle's US midmarket digital transformation trends survey & segmentation data. The segmentation reveals that overall, 41% of the US midmarket firms (100-999 employee size) are firm believers in digital transformation. They are leading digital transformation initiatives. These firms belong to the "Holistic" segment of the four different digital transformation segments. They believe that digital technologies impact every aspect of the business and are a core part of organizational strategy. Interestingly though, within the firms belonging to the holistic segment, digitization of process automation is far from complete. They still have a huge runway in front of them.
For 59% of the midmarket firms, digital transformation initiatives are sporadic and ad hoc or not critical across the entire business. These are the firms that belong to the Inclusive, Siloed and In-the-Shadows segments. They are the laggards in digital transformation journey.
Clearly there is vast untapped potential for firms offering digital transformation services to the midmarket businesses.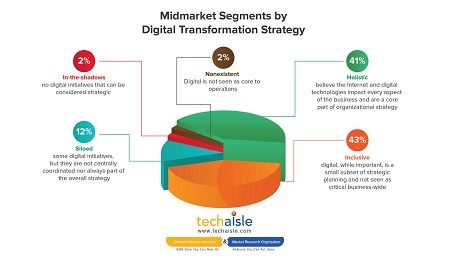 When comparing across segments, it is clear that midmarket businesses at all levels of digital transformation maturity have common business issues and drivers for adoption of digitalization strategies. What separates the groups is their varying focus on key innovation goals. The most advanced (from a digitalization perspective) midmarket firms are looking to improve IT sustainability – their ability to effectively manage IT delivery into the future – customer service, and IT's speed and agility (which in context, translates directly into the speed and agility of business operations).
The 'Inclusive digital strategy' segment is also primarily concerned with IT sustainability, but also with the cost of IT; this group, too, sees digitalization as a means of improving customer service. This is a problematic group. For this group the risk of not embarking on a digital transformation journey is greater and ultimately more disruptive than adopting digitalization at a measured pace and through a well-defined framework.
Midmarket organizations with Siloed digital strategies care primarily about lowering IT costs. These firms appear to have a broader understanding of how digitalization can impact customer relationships - highlighting an ability to 'engage customers in new ways' rather than the more measured 'improve customer service', and are, like their more advanced peers, aware of the need to improve IT sustainability. Data shows that this group of midmarket firms are falling way behind the holistic group.
The final group (in the shadows) sees digitalization as a key to reducing not just IT but also business costs. The observation is likely correct – the process benefits of digitalization should lead to reduced business cost – but this group is too small and too far from investing in digitalization to make a good target for suppliers.