Although much of the public debate around mobility involves hardware brands and feature sets and overall penetration rates, the real business benefit of mobility is delivered via applications that address specific task requirements within the business, and mobility solutions that overlay the management and security structures needed to integrate these apps with corporate IT systems.
Data drawn from the Techaisle 2017 SMB & Midmarket Mobility adoption survey shows that 2017 will see an explosion in the number of mobility application types used by US SMBs. The data presented in figure below shows that small businesses will go from a current average of seven mobility application categories in use to 14 in 2017, and midmarket firms will increase from an average of about six mobility app categories to 13. This 100%-ish growth pattern is demonstrated across most employee-size segments, with all but the 250-499 group anticipating a 2017 net increase in mobile app categories used of 86% or more.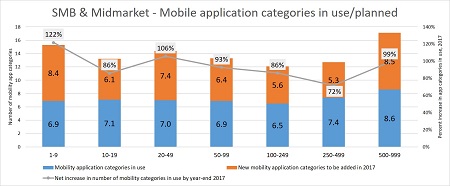 The intense growth anticipated in mobile app use begs additional questions: what is driving the growth in use, which applications/types of applications will experience the highest degree of growth, and what IT activity changes will result from the new mobile app demands?
The impact of attitudes towards IT on mobile app adoption
Looking at the above figure, it is clear that size is not the key determinant of current and planned use of mobile apps; there is a consistent pattern across most of the employee-size categories. What drives differences in the pace of app adoption?
When we overlay business size with the attitudinally-defined segments of "Pre-IT," "Basic IT," "Advanced IT" and "Enterprise IT," some differences in app adoption emerge. As figure below illustrates, businesses in the "Pre-IT" segment (found only in the small business segment) are currently using only 3 mobile apps, versus 7 apps in use in each of the "Basic IT: Small Business" and "Advanced IT: Small Business" segments. This same trend is visible across the three attitudinally-defined midmarket segments. "Basic IT" firms in the midmarket segment are using only four mobile app categories today, and planning to add five more; both figures are below the adoption rates seen in Basic IT in the small business community. The more sophisticated segments, though, are adopting mobile applications much more rapidly. The Advanced IT: Midmarket group uses an average of 8 mobile applications today, and is planning to add six more in 2017, figures that tie very closely to Advanced IT users in the small business community. And the Enterprise IT segment found only within midmarket firms is even more aggressive in mobile app deployment. As figure shows, these firms already use mobile applications in an average of 11 categories, and are planning to deploy nine more in 2017.