The security vendor landscape is one of the most diffused in the IT industry. Within the past 6 months Techaisle has received press releases and briefing requests from more than 60 different suppliers. Despite the incredible diversity of prospective suppliers, though, small businesses and midmarket firms are largely focused on the same handful of security technology suppliers. Symantec, Trend Micro and McAfee rank among the top three security solution vendors in SMB segment. It appears that with security, brand leadership extends throughout the SMB market, with suppliers who are well-positioned in the small business or midmarket community tending to be strong in the other segment as well. This statement does not necessarily mean that overall leadership will extend into the myriad niches that are apparent in the market. What it does mean, though, is that suppliers addressing specific niches will need to develop convincing positioning statements explaining how their niche solutions extend and integrate with products available from the overall market leaders.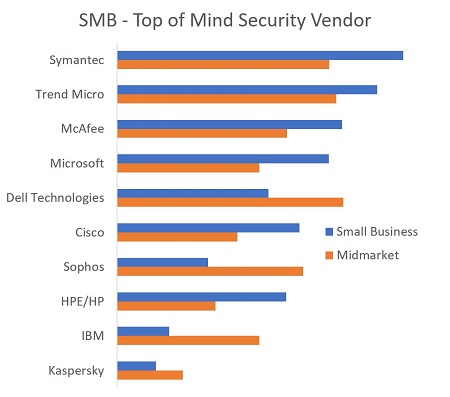 What is remarkable in the data is the leap-frogging by Dell Technologies from 10th ranking in 2016 to 5th in 2017 and a leader in midmarket security vendor awareness. Midmarket security solution buyers are saying that they are getting disillusioned by the patchwork solutions that combine products from multiple vendors which is neither efficient nor secure. Therefore, they are increasingly turning to Dell Technologies to understand the security frameworks that Dell can offer within each layer of IT stack – protection of end-point devices including the mobile environment, protection of data entering into the corporate environment, protection of information in use and traffic inspection.
Selling security solutions to an SMB is not an easy task. Survey data finds that reliability trumps most other KDFs for security buyers, support is the 2nd most important solution selection criteria and that the security buyers use a variety of sources including reviews, meetings, seminars and rely heavily on recommendations from peers and colleagues. Dell must have done something right to at least get within the radar of the midmarket segment. However, it does face headwinds from cloud-security focused security suppliers like Webroot which is channeling its solutions aggressively through MSPs. Even suppliers like Fortinet with their UTM solutions are increasing their marketing to SMBs.
Techaisle survey data also shows that integration across potential points of exposure – endpoint devices and data, physical/virtual/cloud, and/or on-premise and virtual security solutions – is viewed as an important security attribute by both small and midmarket buyers. Vendors targeting niche opportunities will need to build and promote integration with core solutions from industry-leading vendors to address these requirements.
Techaisle data also illustrates a potential problem area for security management and the challenges that security suppliers face in targeting the SMB security buyer. Responses to a question asking who – business management, IT, or cloud suppliers – has responsibility for the various steps required to safeguard cloud-based applications and data yield a fascinating insight: there is a significant disconnect between responsibility for security policy, which is largely in the hands of business management, and security practice, which is the domain of IT professionals. It is not impossible for this type of relationship to work – but it does require constant and efficient collaboration between the two groups.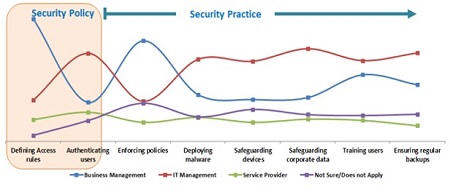 It is imperative that managers responsible for IT security within SMBs deploy technologies that are getting better all of the time – and with the deployment and integration methodologies that suppliers like Dell Technologies are introducing, they can get expert guidance on how to arrange "the shields" to obtain maximum benefit/protection. An effective framework-level approach to IT security is not just a way to simplify security management – it is a means of enabling a business's ability to respond quickly to competitors and to new market opportunities.