The Cloud channel partners are operating between the raindrops. Techaisle's channel survey trend data clearly shows that the sources of competition and channel conflicts for cloud business is increasing thereby creating untenable conditions for many channel partners. From 2013 to 2017, the percent of channel partners experiencing competition from vendors has gone up by 15 percent whereas from distributors it has increased by 55 percent.
At a high level there are three types of channel conflict:
Competition between the vendor and its channel partners,
Competition between distributors and channel partners, and
Competition between similar types of channel partners (e.g., VAR/VAR).
Figure below shows the trend data from 2013 to 2017.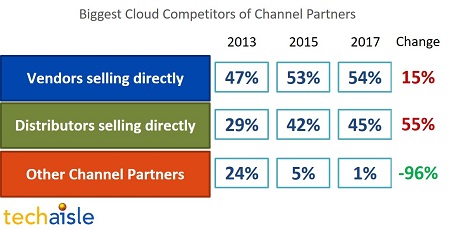 In the traditional product world, vendors have managed over time to reduce the most pernicious forms of channel conflict, mitigating vendor/channel conflict through "double bubble" compensation models and by creating clear guidelines around where the vendor will sell direct and reducing competition between dissimilar channels by enforcing product/territory definitions. Conflict between "like" channels is managed to some extent through deal registration, but in limited quantities is a healthy condition for both vendors and buyers.
However, when comparing across a detailed list of important vendor partnership criteria, detailed channel survey data shows that only 16 percent of partners are seeking simplified deal registration and even lower, 12 percent find swift account resolution to be an important criterion. There are more pressing and other important issues and criteria that channel partners are prioritizing.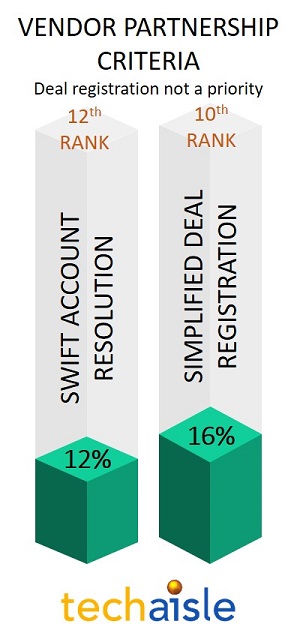 The results shown in the figure above indicate that there is much work to be done to achieve a state of equilibrium with cloud. To be fair, cloud by its very nature resists territory-based conflict management strategies, but the current results demonstrate a need for a better approach to cloud channel conflict management. Vendor/channel conflict, reported by the channel as the primary source of cloud competition in over half of cases, clearly requires better strategies than are currently in use.
Similarly, distributor sales to end-customers is also well beyond a level that encourages the channel to invest in cloud solutions and enables channel firms to compete on traditional price/value/capability differentiation. Vendors will need to be more crisp in their policies and consistent in execution – and channel members will need to seek out vendors whose approaches allow for long-term channel practice viability.
Drilling down into channel requirements for vendor support in cloud sales situations provides a very different view of requirements. Survey data describes, in painful detail, a real dilemma for vendors looking to build cloud traction through channels. No one issue is cited as an important vendor contribution to channel cloud success by more than half of channel members, but over 10 different activities are seen as important by at least one-quarter of channel members. This places tremendous strain on the program resources of vendors. The data portrays channel members as being very needy, requiring a wide range of support, but not focused enough to allow the vendor to concentrate resources into 2-3 key areas.
Vendors "pushing the channel" is a double-edged sword. Vendors are actively pursuing channel members who are well positioned to advance the vendor's cloud agenda; so much of this activity reflects a powerful business position established by the channel firm. However, there are also vendors who are migrating to a "cloud first" (or "cloud-only") product delivery strategy. In these cases, vendor pressure may be prompting firms to take actions that they aren't fully prepared to embrace.