Techaisle's upcoming detailed survey report on US SMB & Midmarket SaaS Adoption Trends shows evidence that connected cloud applications really matter for SMBs. 16% of SMBs have already connected SaaS applications across the enterprise and another 10% are on their enterprise-wide connected SaaS journey. These SMBs are getting the benefits of business growth, enterprise agility, corporate efficiency, collaboration and alignment.
Cloud is the agility platform and SaaS offers a zero-friction option for automating processes. The first entry point to cloud in many SMBs is the purchase of a specific business application by a business user. A typical example is of SMB marketing acquiring a SaaS application to help with social presence management, or sales, as is often the case, acquiring a cloud based CRM to track opportunities. Each of these disconnected siloed SaaS applications do provide real & immediate benefits in terms of enhancing individual productivity and enhancing morale and helping with recruitment of tech savvy new workers. However, where cloud starts to differentiate itself and create meaningful impact for SMBs is in connected automation across related activities and applications categories.
Data shows that 51% SMBs began their cloud journey with a SaaS application and 5 is the average number of different SaaS application categories they are using – for example, CRM, ERP, Accounting, Logistics, Office365, Collaboration, field services, etc. Each of these disconnected applications provide real & immediate benefits in terms of enhancing individual productivity and enhancing morale and helping with recruitment of tech savvy new workers. Along with deeper use of SaaS comes connected cloud applications.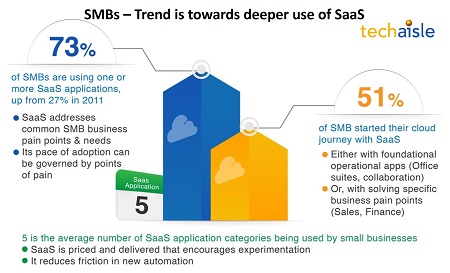 The breadth of task automation available via the cloud today is such that SaaS applications can now be applied to tasks in every department and to nearly all tasks. These systems improve productivity, can be configured into existing or new processes, and deliver new types and levels of insights into business activities.
Survey data also shows that the pace of cloud (SaaS) automation is governed by points of pain that are internal to the business and that in the future, external competitive pressure will be a 'pain point' prompting SMB executives to encourage cloud-based solutions. Additionally, SaaS is priced and delivered in a way that encourages experimentation.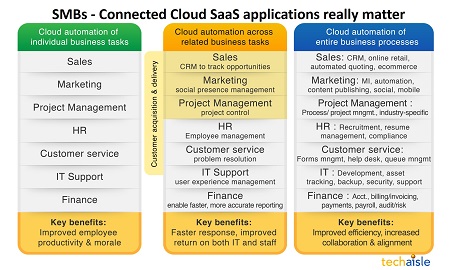 SMBs are increasingly wanting to integrate applications and connect them across related tasks such as customer acquisition and delivery. They want to be able to pass actions from one function to the next as required, retain the data that is important to the business and to enable single sign on and security to protect the data and allow users to move seamlessly from one point application to the next. Recent SMB adoption trend is in customer service which obtains the benefit of improved visibility into customers from initial engagement through social presence, through sales, through to production so that they are better able to resolve customer issues.
Another important SMB trend is the requirement for data and information that moves through an orchestrated process so that the ERP system used by finance can process information on commissions, on revenue, on billing and account for work in progress.
There is a definite move towards SMB EPM – enterprise performance management. SMBs are seriously interested in measuring elusive objectives like Return on Marketing Investment, Optimal Pricing, Cost of Acquisition, Lifetime Customer Value. They want integrated applications that can not only measure these objectives but also be able to optimize effectively. For EPM applications to be really effective, they should be able to collect data from all applications and break into several areas. This is where connected cloud SaaS applications step in.
Techaisle's SMB segmentation research shows that Cloud-Rich SMBs have taken the next step in automating and connecting across the entire enterprise to deliver business infrastructure via the cloud.