The subject of "IT/business alignment" has been a hot topic of debate for many years. Yet despite this interest, business and IT interests and objectives frequently diverge. To some extent, this is inevitable: the business is concerned with issues that extend beyond IT, and IT needs to manage issues that are (at least, as long as they are working) beneath the notice of most business professionals. However, today's business environment is increasingly dependent on IT support, and IT products and services that improve productivity and efficiency or which expand market reach and potential. IT initiatives that can be linked meaningfully to broader business objectives are best positioned to attract corporate support – meaning that products and services that address key business priorities have the greatest potential for growth.
The Techaisle SMB survey, which captured the perspectives of both business decision makers (BDMs) and IT decision makers (ITDMs) in US SMBs ranging from 1-999 employees, looked at key business issues and in particular IT challenges. The list of the most important IT challenges faced by SMBs such as budget constraints and the need to control IT costs and improve justification for new IT investments are both tied to the goal of reducing operational cost, and effective maintenance of current IT infrastructure contributes to reduction in operational uncertainty, and thereby get linked to managed services.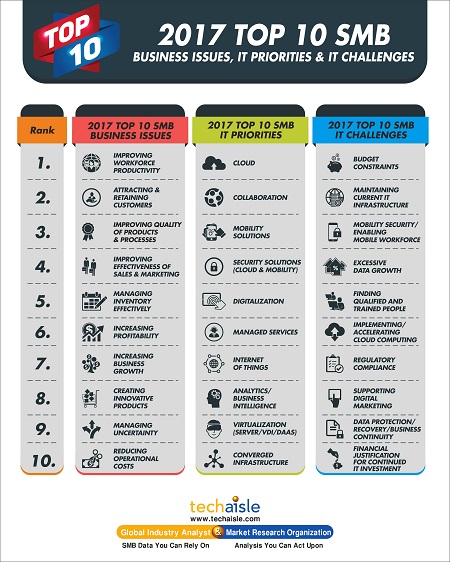 Other IT challenges are specific to technology. The high ranking for mobility security speaks to how important mobility is to IT/business infrastructure, and data protection, data recovery and business continuity reflects the mounting operational exposure associated with IT-dependent business processes. Other issues, such as the difficulty of finding qualified staff, illustrate the increased diversity of the platforms that combine to deliver a (hopefully seamless, at least from a user perspective) IT infrastructure.
Managed services is therefore becoming an increasingly important force within the SMB IT portfolio because its key attributes tie directly to business and/or IT challenges. Managed services is viewed as a way to "keep IT costs under control", to "obtain greater accountability and flexibility" and to "maintain a lean business environment"; all of these motivations for managed services use relate directly to helping IT management with budget constraints and IT cost control, and can in turn be tied to reducing operational costs at a business level. Managed services' ability to help users to "achieve greater control of the IT environment" supports IT's need to maintain current IT infrastructure and executives' objective of managing uncertainty.
Managed services SMB users report that "provide better IT response time," delivering "predictable performance, user experience and cost" and optimizing availability and performance while minimizing downtime are important reasons to embrace managed services.