Data from Techaisle's study channel partners (research analysis documented in Techaisle's series of reports either delivered individually or as Channel Partner Research Annual subscription service) tell fascinating stories. Excerpt from the specific study of 650 US channel partners selling managed services, based on Techaisle's database of over 250,000 partners, shows that the sales cycle length varies not only by line of business, but also by expertise levels:
Cloud provider channel, on average takes 2 weeks longer in its sales cycle as a cloud provider channel
Systems Integrators' average sales cycle is ~1.5X of VARs because of complexity of SI's engagement with an SMB. VARs, are often selling products into existing accounts, have relatively short sales cycles, while SIs, who are positioning complex solutions, have longer sales cycles than other channel businesses
Even a consultant who is usually familiar to an SMB organization has to prove that they are the right partner and it involves building a plan and showcasing why their advice and solution would be ideal for SMBs
More fascinating are the four charts below.
Firms that are "very comfortable and successful" with selling mobility have average sales cycles of 6.25 weeks, vs. an average of 15.33 weeks for firms that are not comfortable with selling mobility solutions. Findings for managed services, show differences of more than 2.6 weeks across the same categories.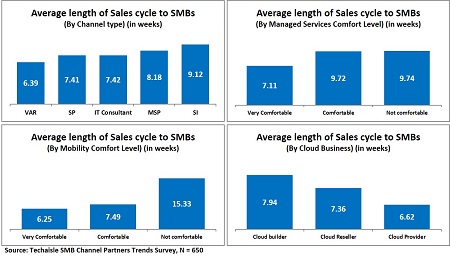 Clearly, channel partners who are uncomfortable and have not become successful take much longer in closing an engagement with an SMB, more than twice as long as very comfortable partners selling mobility and nearly 1.5X as very comfortable selling managed services.
Channel partners that invest in building competencies in advanced solutions are able to navigate the opportunity-to-deal process more rapidly than those who lack equivalent depth. This is a factor in the channel fragmentation identified by Techaisle and written many times.
Channel firms that close business quickly will get better sales productivity than those that are slower in moving from interaction to revenue; this will hasten the migration from the 'one stop solution shops' to specialists in one of the four main areas highlighted in Techaisle's research and reports.
US channel organizations serving the SMB market will become increasingly defined by pursuit of one (or two) of four primary product/delivery areas: managed services, cloud, mobility and converged infrastructure and virtualization. Today, these capabilities are largely commingled, but within the next three years, Techaisle believes that successful firms will focus on no more than two of the four areas: in the near term, channel businesses may adopt strategies that encompass several of these options to meet a specific set of needs, but over the 2015-2018 period, the depth requirements associated with these four areas will force them to concentrate on some areas and de-emphasize others.
There is pervasiveness of managed services across all of three primary business options (cloud, mobility, and the combination of virtualization and converged infrastructure). VDI is a good example. Already offered by roughly half of the channel firms included in the Techaisle US SMB Channel Survey, VDI can be positioned as a logical extension of any of the four core business options. Similarly, collaboration can be delivered as a managed service, as a cloud-based platform or as a core component of a mobility strategy, or hosted on converged infrastructure. There will come points in the progression, though, where the connection between the starting point (for example, mobility) and the next application (for example, Big Data) becomes tenuous. These cases will call for partner-to-partner collaboration structured around meeting evolving customer needs. There is already evidence that channel partners adept in partner-to-partner collaboration are better positioned to build successful businesses in some areas (such as cloud) than those that cling to a 'go it alone' approach in all situations. Techaisle believes that the benefits of partner-to-partner relationships will become even clearer through the 2016-2020 transition periods – meaning that partners who build expertise in this area, and vendors who are effective in inculcating these relationships within their ecosystems, will both achieve above-market growth rates and compressed sales cycles.
Related referenced research:
Success Metrics
• SMB Channel & Managed Services: Success Metrics
• SMB Channel & Mobility: Success Metrics
• SMB Channel & Cloud: Success Metrics
State of Channel
• State of US SMB Managed Services Channel
• State of US SMB Mobility Channel
• State of US SMB Cloud Channel
• State of US SMB Virtualization Channel
Channel Trends
• US SMB Channel Partner Trends
• Asia/Pacific Channel Partner Trends
• Europe Channel Partner Trends