The rise in virtualization has been driving an accompanying demand for converged infrastructure or hyperconvergence: products that combine processing, storage and networking into a robust and scalable unit that can support and respond to the options inherent in virtualization. While the migration from separate server, storage and networking products to converged infrastructure is still in its early stages, the Techaisle SMB virtualization & converged infrastructure survey shows that it is beginning to gain traction, especially within more sophisticated SMB accounts.
Scale computing, launched in 2008, based out of Indianapolis with development in San Francisco bay area and offices in London, Paris, Toronto and Dubai made its SMB focused hyperconvergence launch at VMworld in 2012. Since then Scale Computing has implemented over 6,000 systems in a little over 1,600 customers.
As per Techaisle's SMB virtualization and converged infrastructure survey, the key barriers to adopting hyperconvergence within SMBs are high cost of implementation, infrastructure disruption during roll-out, greater-than-anticipated time and resource investment, and the complexity of integrating new infrastructure units with existing infrastructure. For example, a pet peeve of SMBs when using VMware on HP Proliant DL380 G8 is their inability to use cloud migration to upgrade or add G8 or G9. These are the issues that Scale Computing is trying to address. In defense of VMware, although the initial code base of ESX was never built to be self-aware, VMware is working on it.
Its intense SMB focus comes from the IT admin background of the founders. They set out to create a platform architecture that was simple to scale and easy to manage. Its most recent product, HC3, replaces the entire traditional stack of servers, switches, SAN and hypervisor without the need for any separate licensing. As per Scale Computing, the administration of the cluster is simple enough for a Windows admin or a Windows generalist within an SMB organization to become comfortable within 15 minutes with no additional training fee. Using a clean sheet approach to virtualization, HC3 allows SMBs & midmarket firms to mix and match hardware from different generations non-disruptively without compatibility nodes. The out-of-the-box self-aware cluster capability is enabled by its operating system called HyperCore which is installed onto a small partition on every drive on every node in the cluster. The OS along with a bridging appliance always knows which hardware and its associated version is running on every subcomponent, thereby tracking about 1500 data points per second in real time. This eliminates the need for a virtual center management layer making the virtual cluster self-aware, self-healing & self-load balanced without needing the administrators to get involved at all.
To further simplify and eliminate the need for SANs, Scale Computing wrote its own data management platform called Scribe, which is a block-level data management solution rather than a file system. It is aimed at making hyperconvergence deployment and management more efficient for the SMBs. Unlike VMware's ESX or Microsoft's Hyper-V or Red Hat's RHEV or Citrix's Xen which create a complex nesting of object files on file systems, Scale Computing's Scribe aggregates blocks together from different nodes without the need to use storage protocols and the requirement for reserialization of IO, using a distributed DAS coordinated orchestrated model thereby minimizing or even eliminating the need to hire certified storage engineers.
Scale Computing is 100% channel driven and its primary go-to market strategy is through local VARs and the large DMRs. The typical price point starts at US$19,000 which includes servers, hypervisor, storage stack, HA (high availability) and live migration. For example, a three node cluster, all inclusive, the usual installation price for a small business doctor's clinic may run at US$61,000 before any sales discounts. There are two categories of products, the 1000 series for the small businesses, the price point of which varies between US$19,000 to US$25,000. For the midmarket businesses there is the 2100 series and the price point varies between US$33,000 to $70,000.
Hyperconvergence is on a high-growth trajectory. It is displacing pedestal/rack technologies rather than opening net-new opportunities, meaning that current incumbents are at risk from a core technology change. In addition to using converged infrastructure as a physical platform for virtualization, SMB buyers are adopting converged infrastructure to support data center consolidation and data migration, and as a platform for Big Data, unified communications or SharePoint projects.
As per Techaisle study, SMBs are expected to spend US$5 billion on converged infrastructure and related technologies. The penetration within US midmarket firms is expected to double from 33% to over 70% within the next two years. Techaisle's SMB segmentation by IT sophistication maturity shows that the adoption rises steadily with increased buyer sophistication in both the small and midmarket segments.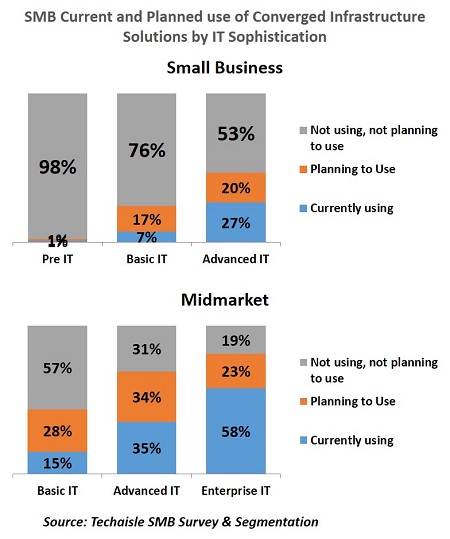 There are two different SMB segments that would benefit from Scale Computing's offerings. One that are just beginning their journey into specialized projects that require virtualized infrastructure. For this segment, it would be an easy decision to decide in favor of Scale Computing. And the other are the early adopters, who started their journey early and are reaching hardware refresh levels. Regardless, most requirements within SMBs is driven by one or more initiatives: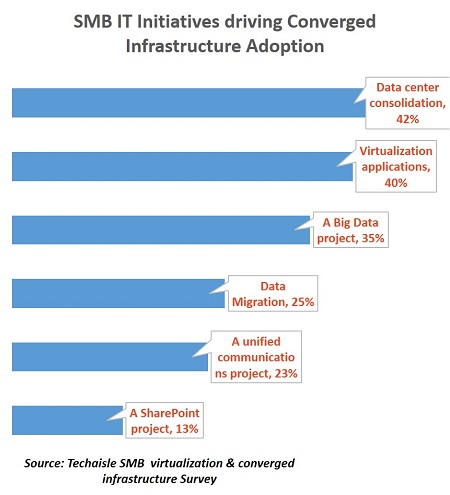 For Scale Computing, the problem is not in the technology but its awareness. The SMB search for hyperconvergence starts with established companies including Cisco, HP, Dell, VMware, VCE and now Nutanix, Simplivity. 45% of SMBs select a supplier based on reputation, 38% prefer speed of implementation, 35% evaluate a solution on its ability to integrate with existing systems and only 30% use cost as a selection criterion. Scale Computing is addressing the lower of the eight different criteria but it is making inroads into the SMB market segment for which very few IT companies build targeted solutions. Scale Computing is built by engineers so it is adept at highlighting the technology benefits of its solutions. But today, in only 15% of SMBs, the IT department is the leader and the sole authority in purchase decision making process. Scale Computing should continue to have a strong IT-focused positioning with detailed information on product attributes but supplement it with a second layer of collateral containing information on the business case for its solutions.