What is the current state of managed services in the channel?
Techaisle's SMB global channel partner research shows that in the US 71% are currently offering one or more managed services solutions and another 18% are planning to offer managed services within one year. Techaisle believes that the channel is at the beginning of a migration from generalist to specialist firms that will play out over the next few years. With that in mind, it is fair to ask, how widespread is managed services delivery today?
Figure below, taken from Techaisle's US SMB Managed Services Channel Study illustrates the proportion of channel partners that currently offer managed services to SMBs. Unsurprisingly, 100% of MSPs report that they do so. What might be more surprising is the extent to which channel members with other core business models provide managed services to their SMB clients. Roughly two-thirds of VARs and SPs, and 80% of SIs, offer managed services to SMB customers. IT consultants are less likely to do so, but here, too, one-third of firms are already using managed services delivery to support SMB clients.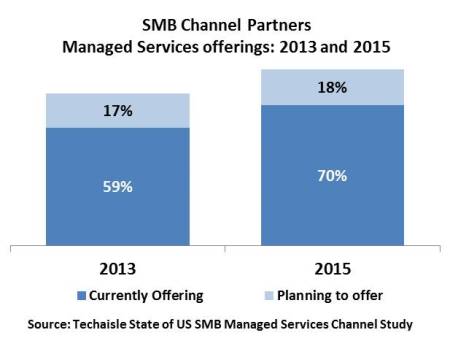 Above data demonstrates that there has been and continues to be substantial take-up in managed services as a business delivery model outside of MSPs. This will help to build SMB customer awareness of the benefits of the approach and comfort with managed services as a delivery model. It will also have a positive impact on the channel generally, as experience with managed services helps build channel familiarity with recurring revenue models which will be important in other important channel business areas, such as cloud.
Comfort level with – and profitability of – managed services
Clearly, SMB channel members of many types are investing in developing managed services capabilities. This trend begs the question, to what extent are these firms benefitting from these investments?
Figure below divides channel firms offering managed services into three categories: those that are very comfortable and profitable with managed services, those that are developing comfort and profitability, and those that are not yet comfortable with or profiting from the approach.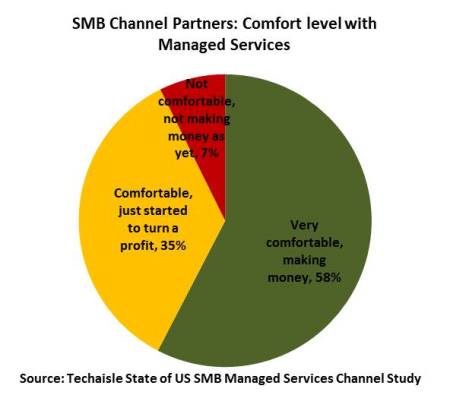 Drilling down into type of SMB channel partner, the data indicates that VARs, SPs and SIs are rapidly gaining comfort with managed services as a delivery approach (IT consultants appear to be further advanced, but as per earlier figure, relatively few consultants are currently engaged in managed services). Techaisle believes that this may indicate that a recurring revenue, shared resource model will be used across (or within, at least) the developing cloud, mobility and virtualization/converged infrastructure channel segments – and that specialization in different services will distinguish "real" MSPs from firms that view managed services as a billing/delivery model.
Key current and planned MSP service offerings
The service specialization referenced above is evident in a review of the managed services that channel members currently deliver and are planning to deliver. Some of the services such as managed PCs or managed servers could legitimately be offered by either MSPs or by specialists in other areas (mobility or virtualization/converged infrastructure, respectively).
Indeed, based on the study findings, we expect to see firms in the other emerging channel segments use managed services as a billing and delivery vehicle. However, the breadth and depth of services illustrated by Techaisle's research, combined with SMB buyer preference for consolidated supply sources, indicates that over the next few years, specialists will come to dominate managed services as a focus area.
Whither the VARs?
One of the key questions that will be answered over the next three years is where VARs will choose to focus: which 1-2 of managed services, cloud, mobility or virtualization/converged infrastructure will they look to support?
Research shows that today, the managed services portfolios of MSPs and VARs are relatively similar. VARs are more likely to be working with mobile devices and PCs than are MSPs, indicating that at least some portion of the channel may opt for a mobility-centric business model. The strength of some of the other areas, though, such as application hosting, security services and network administration, some portion of the VAR channel appears poised to dedicate more focus to managed services as a primary line of business.
Ultimately, Techaisle expects that some portion of the VAR community will land in each of the four primary categories of managed services, cloud, mobility and virtualization/converged infrastructure. What we do not expect to see is continued viability for the 'one stop solution shop' approach to the VAR business, except in very remote areas. Some VARs will move away from product sales into MSP models, while others will use an "MSP-light" type approach to deliver services associated with products. Few VARs will succeed, though, at being credible, full-service providers of both turnkey product-based solutions and a broad portfolio of managed services.