Techaisle worldwide survey research data from over 3600 SMBs and interactions with hundreds of businesses shows that 51% of SMBs have stepped up their digital transformation investments and is prominent in the plans of 22% of SMBs who report that current crisis has amplified their "belief in organization-wide digital transformation". SMB firms that were already committed to organization-wide digital transformation are experiencing 2.1x cost reduction, have 1.9x better levels of customer intimacy and 1.4x higher productivity levels than firms that have been 'selective adopters' of digital transformation. Data also reveals that nearly one-fourth of SMBs are not expecting to change (accelerate or decelerate) their plans and will continue with their pre-pandemic planned digital transformation journey and expect significant benefits and upsides in the near future. On the downside, 27% of SMBs are delaying their planned technology spend on digital transformation to reallocate funds to other essential immediate capital and operational expenditures.
Techaisle's SMB research has found that the need to be more cost efficient is the single-most compelling reason for SMBs to embrace digital transformation. Other key drivers include initiating product innovation, enabling operational excellence, driving business growth and empowering organization productivity.
There are differences across geos (US, Europe, Asia/Pacific, Latin America) as well as variations between small and midsized businesses.
For 46% of SMBs achieving cost efficiencies is a natural 'first step' in exerting control over their businesses and ensuring viability in an uncertain market which is besieged with cash flow constraints, limited access to capital, competitive landscape, erratic revenue, and many more. While productivity is always top of mind, cost-efficiency is a more compelling need. In fact, 1.6X as many SMBs are investing in digital transformation to reduce costs as those investing to improve productivity. Most SMBs have already adopted one or more technologies that contribute to employee productivity improvements; however, these SMBs are moving past individual to organizational-level productivity goals.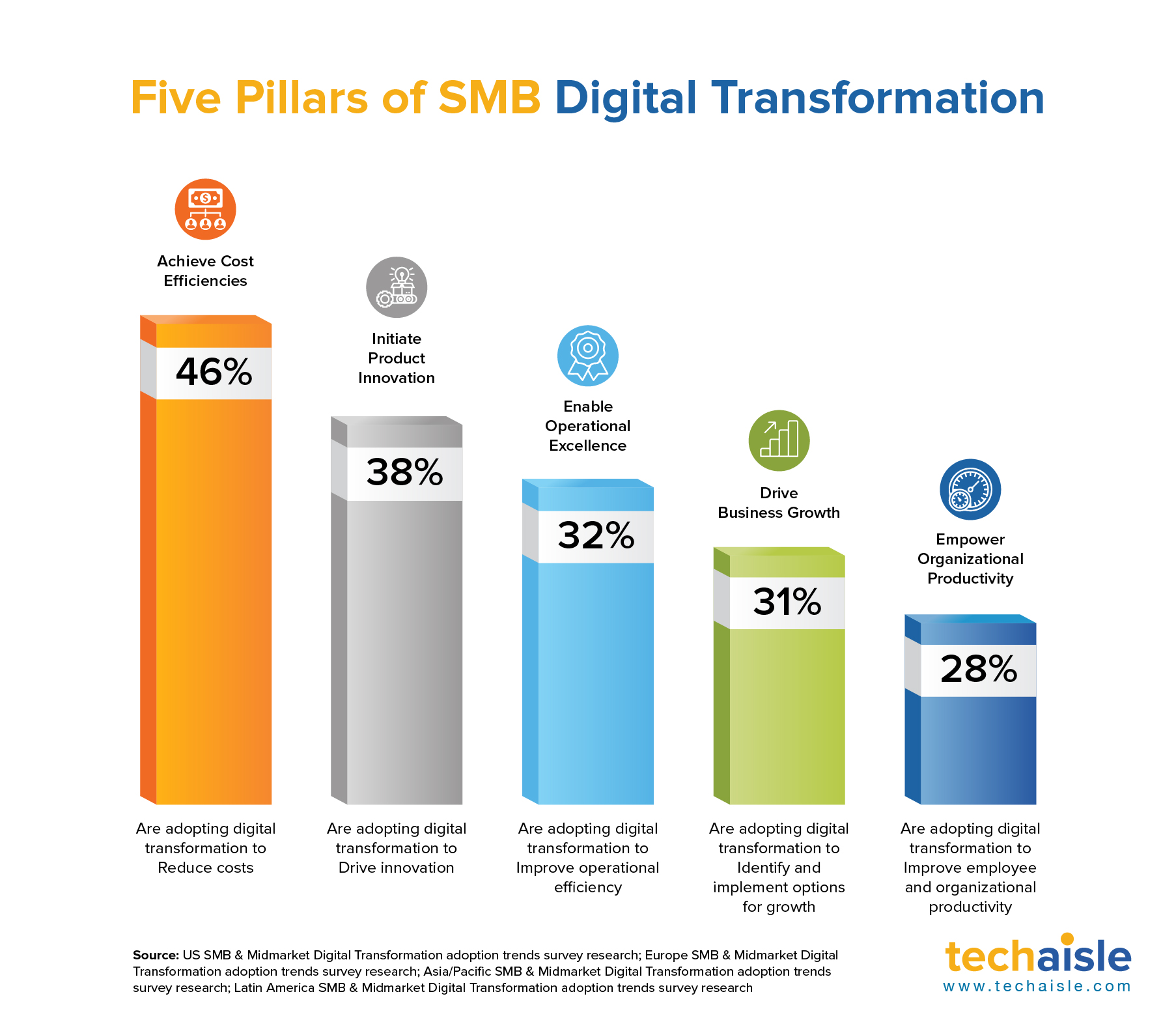 Looking at five pillars of SMB digital transformation, it is clear that digital transformation is cast primarily as a means of addressing business objectives. This observation holds an important message for vendor suppliers: when defining a digital transformation path, look first at the business outcomes, and work backwards to the need for core technology and Interwork© solutions that support these outcomes.
Data reveals that there is a difference in approach to investing in core infrastructure solutions between SMB firms adopting organization-wide digital transformation strategy vs. those with a siloed and sporadic approach. The roadmap to successful digital transformation begins with the creation of a sound infrastructure - the 'building blocks' or 'foundations' of business infrastructure. Core infrastructure devices need to be kept in sync with the requirements of digital transformation initiatives; servers and storage and networking and security need to advance with the needs of the organization.
Clearly, core infrastructure has evolved to meet future digital transformation demands. But SMBs are also increasingly making moves to adopt forward-facing solutions (2nd order technologies after foundational technologies). There is a general sense that these solutions will increase insight into and control over key aspects of the operation, and deliver benefits in different ways, and to different ends. Once a scalable, secure and cost-effective infrastructure platform is in place, it is expected to support a range of digital transformation objectives through deployment of different, complex solutions.
Today's economy demands that technology support business activities. The future will be defined by business capitalizing on IT-enabled business options. But the question in front of most SMBs is, "what is the path forward, from today's foundation to tomorrow's opportunity?"
A lack of well-articulated answer has resulted in a growing 'digital divide' in the SMB business ranks which has become starkly visible throughout the crisis created by pandemic. SMB firms that are embracing an agile IT/business infrastructure and capitalizing on the advantages of digital transformation are developing sustainable competitive advantages that will define a path towards success in both the near and longer term.
Detailed survey research reports are available for individual purchase or are delivered as part of annua; retainership contract.
US SMB and Midmarket Digital Adoption trends research
Europe SMB and Midmarket Digital Adoption trends research
Asia/Pacific SMB and Midmarket Digital Adoption trends research
Latin America SMB and Midmarket Digital Adoption trends research