I first saw and fiddled with Thinkbook Plus in November 2019. The notebook gripped my attention because of its "Think" pedigree, focus on the SMB segment and unexpected E-Ink screen on the lid. It was an intriguing pre-production prototype. Fast forward six months to June 2020. Since the last one week I have been using a fully-configured (512 GB SSD, Intel Comet Lake i5-10210U processor, 16GB memory, 13.3-inch FHD 1920 x 1080 internal screen, 10.8-inch E-Ink monochrome display on the chassis cover, finger print scanner on power button) production model. It is whimsical yet practical notebook that exudes quiet confidence of imaginative applied design. When I powered-on the notebook my synapses fired on all cylinders, E-Ink came to life which I quickly personalized. I was thrilled to see the Techaisle wallpaper and icons to browse folders, clone desktop, view emails, calendar and weather.
IT markets tend to be complex and fast-moving – but even by IT industry standards, the endpoint device market is extremely complex, and subject to significant and abrupt changes. The 'Swiss Army Knife' appeal of the notebook – which doubled as both a mobility device and as a content creation platform – waned, for a while and then rebounded. Tablets, not notebooks, were seen as the key productivity tool. The proliferation of operating systems and underlying architectures created opportunity for a wide range of suppliers – and confusion for a large number of IT managers who needed to integrate, support and secure these devices. The acceptance of multiple screens, coupled with the availability of new platform technologies, created a market where "endpoint devices" spanned a wide range of categories: desktops, notebooks, tablets and smartphones, thin clients, All-in-Ones, 2-in-1s and other device types. These form factors are differentiated by more than size and input technology; they move through different channels at different price points; they appeal to different kinds of buyers who use different means to learn about and source them. Buyer openness to new screen types emboldened suppliers to redefine categories, or to create entirely new device classes. ThinkBook Plus is one such example which delivers new experiences for the "worklife" SMB employee. The DNA of ThinkBook is described as "Worklife device for the modern workforce" fashioning a balance of work and life PC for small businesses.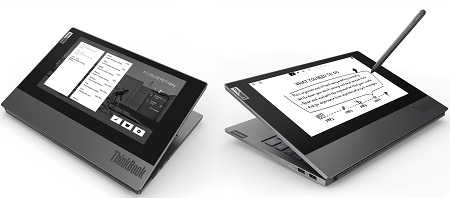 ThinkBook Plus spans the needs of both small businesses which expect affordability in an appealing design and midsized firms which are demanding distinctive devices that enhance security, provide superior support but at a reasonable price.
At 17.9mm, with front edge at 12mm, ThinkBook Plus is thin and slim enough to not feel bulky despite the presence of E-Ink and weighs 3.1 lbs. It is thicker and heavier than ThinkPad X1 Carbon but then the ThinkPad is a higher premium product. ThinkPad X1 Carbon is 14.95mm thick and weighs 2.4 lbs. In comparison, Dell XPS 13 weighs 2.7 lbs. and is 12.7mm thick whereas a 13-inch MacBook Pro weighs 3 lbs. and is 15.2 mm thick. But, a ThinkBook, with most of the business specifications, is more affordable than other brands. ThinkBook is clearly positioned between Lenovo or its competitors' consumer devices and Lenovo ThinkPad X1/X/T/L/E devices.
Lenovo has not cut any corners on battery life nor compromised on performance to incorporate an E-Ink display. The keyboard is solid and the trackpad is smooth and responsive. The signature red TrackPoint of ThinkPad is missing but a new distinctive stamped logo on the top lid implies a modern, unfussy statement. Blurring the line between business and consumer notebooks, it has its fingerprint reader in the power button and dTPM 2.0 for additional security.
While the E-Ink panel is matte glass, ThinkBook Plus is made from Iron Grey anodized aluminum. The rounded barrel 180-degree hinges allow the notebook to lay completely flat. Unlike many modern consumer laptops, ThinkBook Plus has several ports - one USB 3.1 Type-C, two USB 3.0 Type-A Gen ports and one HDMI 1.4b port. I would have liked to see two USB-C ports – one each on either side. Battery life is rated at 10 hours and I was able to get up to 8 hours with continuous pounding on the keyboard and using Lenovo Active Pen (stylus) for E-Ink. The pen is shipped with ThinkBook. Since there is no place to holster the pen, I wish Lenovo also shipped a pen holder along with the notebook. However, the Pen magnetically attaches to either side of the notebook screen.
Straddling the line between consumer and business, work and life, ThinkBook boasts Dolby Vision for lifelike images, Harman Kardon audio for superior sound and skype hot keys for communication and collaboration. Borderless slim bezels provide great screen real estate for users like me to work on couple of documents side-by-side. The display, set at 300 nits, could have been brighter for my liking. Unfortunately, I could not connect my ThinkVision M14 as a second display due to only one USB-C port on ThinkBook Plus.
Work from home does not give too many opportunities to try and experiment with mobility-on-the-go features. Hence, during the day I worked on the ThinkBook connected to an external display through ThinkPad USB-C Dock. In the evening, I took it for spin in various rooms in my house including the backyard. I used E-Ink to jot down new ideas, musings on future technology trends as well as create and manage task lists including grocery shopping to-do-list in OneNote. The fact that ThinkBook Plus integrates with Microsoft OneNote is awesome. All my notes on the exterior E-Ink display syncs with OneNote. I became confident in my rapid note taking abilities once I got used to the amount of pressure to use on the stylus. I sometimes use the E-ink during my conference calls. The E-Ink display can be used even when the notebook is in sleep mode. Unlike the Kindle Paperwhite, the E-Ink screen is not frontlit. I hope that a future iteration of E-Ink display will also have this feature to allow for work in darker environments. Regardless, one of the best functional features is the ability to clone the desktop on E-Ink display (without opening the notebook lid). With the touch of an icon I could launch browser, open PowerPoint files, annotate, read Word documents, scroll through file folders and many other tasks. This is currently available as a trial version (which I have been using) and users can look forward to this functionality in future software updates.
There is arguably more opportunity to define net-new PC offerings today (foldables is a much-anticipated trend) than there has been for decades. There is an additional requirement on PC OEMs to segment accurately, to be in tune with the needs and preferences of target segments, and to move quickly to address new demand drivers – but there is also new opportunity to translate this acumen and agility into substantial marketing-driven success. As PCs become more capable, SMB buyers – especially the business decision makers (BDMs) who wield increasing power in IT decisions – are moving past the device itself, to a need for solutions that capitalize on the capabilities of the new units. To date, PC OEMs have focused on building and selling screens, not the solutions that connect the screens. OEMs who understand how to connect their products to business-relevant solutions have an opportunity to differentiate those products, attracting new SMB customers and channel partners. And this is what Lenovo has set out to achieve.
In recent years, emphasis across many different PC functions have changed. Communications and information access increased in importance, and eventually became the dominant use mode for personal technology. As a result, both user requirements for devices and the market for these devices became more fragmented. Many users opt for a multi-screen approach to personal technology: they use smartphones to communicate and to consume content, PCs to collaborate and to create content, and tablets for all of these activities in varying degrees. Lenovo ThinkBook is not an attempt to replace either the smartphone or the tablet. On the contrary, BYOD (once a euphoric trend which Techaisle had rightly predicted would vanish quickly against all pundits' prognosis) has been replaced by CYOD. Lenovo is on a path to ensure that SMB employees have access to the productivity tools that suit them best. By giving a choice to SMB IT buyers, Lenovo is simply narrowing the usage continuum: desktop PCs primarily for creation, smartphones primarily for consumption, tablets as both consumption and light content creation, notebooks for creating content and as a mobile consumption port.
ThinkBook is not an ordinary notebook. Presence of E-Ink is debatable. It is built for the SMB customer. In its first iteration it splendidly succeeds in making a superlative statement and reimagining a new modern way to multitask on notebooks.