Techaisle worldwide survey of 2427 SMBs shows that collaboration, cloud, security, mobility and PCs are the top five areas where small businesses are increasing technology investments. Each of these address current business challenges and lay the foundation for the five pillars of small business digital transformation: 1/ achieve cost efficiencies, 2/ initiative innovation, 3/ enable operational efficiency, 4/ drive business growth, and 5/ empower organizational productivity.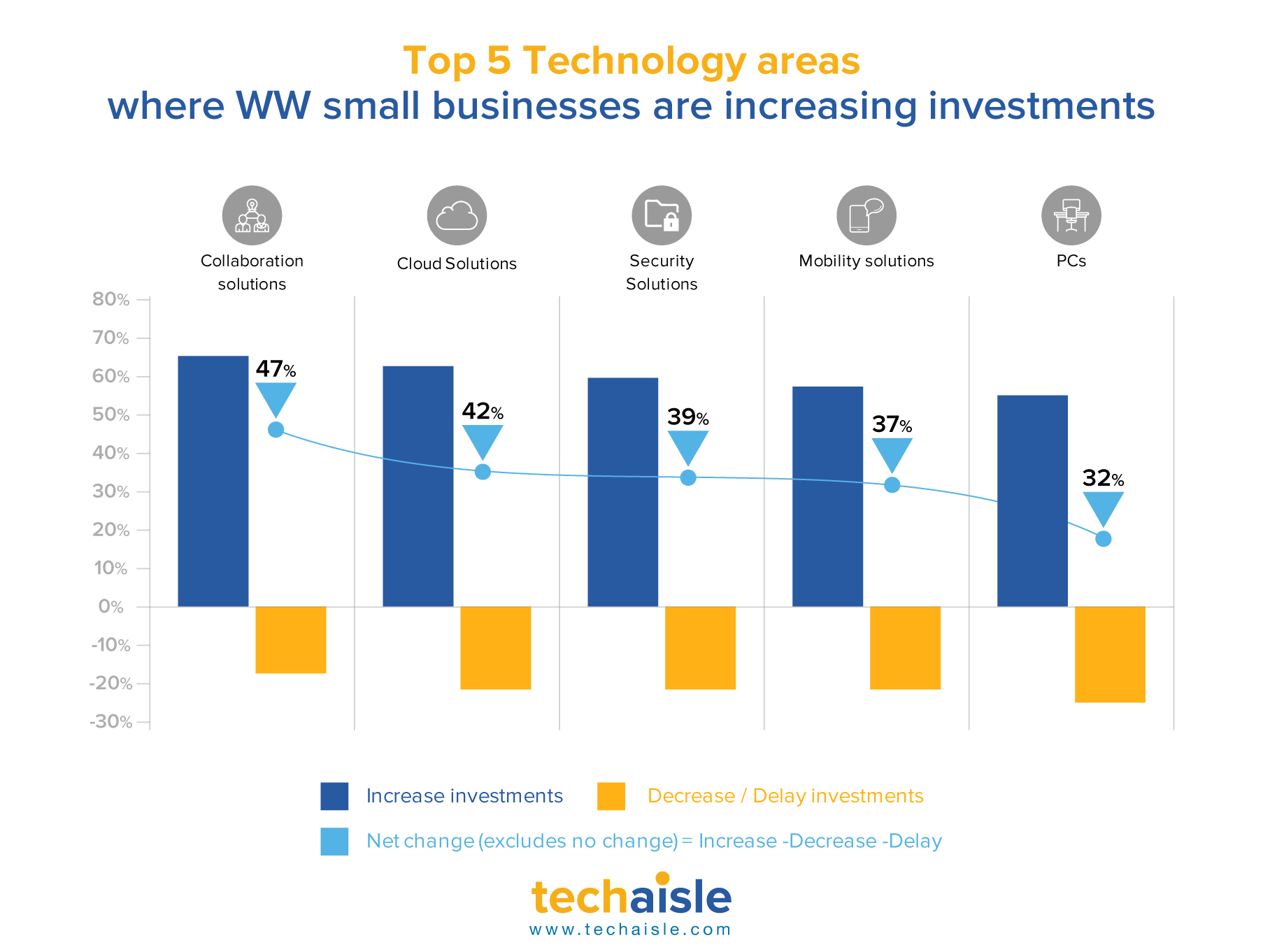 Collaboration: 66% of small businesses are increasing investments in collaboration solution as compared to 19% who are either decreasing or delaying investments. Collaboration is a critical solution priority. The enormous reliance on mobility, the trend towards flexible work within small businesses and the general trend of including customers within the framework of collaboration solutions have all contributed to much broader demand for collaboration solutions. Use of collaboration solutions within small businesses started as file-first but has quickly transitioned to person-first. The central requirement for a collaboration solution is the ability to share files from desktop or mobile devices, the second is to enable online interaction, and the third is to provide richer media and media escalation for person-to-person communications.
Cloud: 64% of small businesses are increasing investments in cloud. Cloud is no longer a trend that is discrete from mainstream IT. This shift in cloud's positioning has brought with it a shift in the kinds of insights needed to help connect suppliers and buyers to address common interests in deployment, integration and expansion strategies. Small business buyers are needing help in moving past initial cloud pilots and applications to integrated cloud systems that provide support for mission-critical processes. Vendor suppliers need to adjust their messaging to address the needs of early mass market rather than early adopter customers.
Security: 61% of small businesses are increasing investments in security solutions. Although data shows that small businesses are more optimistic than they ought to be about their current security profiles, security is an important constraint on mobility within the small business segment. Vendor suppliers need to help small businesses to establish frameworks that protect against both external and employee threats to information security.
Mobility: 59% of small businesses are increasing investments in mobility solutions. If the "office" is defined by devices, so too is "workplace" defined by the ability to work from wherever those devices (and their users) are located. Small businesses are investing in mobility because it contributes to both cost savings and increased market reach, with "improved productivity" and related answers connected to establishing "better ways of working" viewed as the greatest benefit of mobility within SMBs. Techaisle's data shows that there are inherent challenges in supporting the mobile workforce: struggle with the "on ramps" to mobility (such as finding appropriate suppliers and solutions) and concerned with security/data protection and mobile management.
PCs: 56% of small businesses are increasing investments in PCs. PC is where work gets done. PC is still the centerpiece of business productivity and buying a new PC is likely to have a more significant impact on productivity than any other technology. Modern PCs deliver more than an incremental improvement in performance, manageability and security features and even price conscious small businesses benefit significantly from replacing older PCs with modern PCs.
There is a strong connection between cloud, mobility, collaboration. Mobility, cloud and collaboration are all important trends in today's IT market, and Techaisle data indicates that they are tightly interconnected. Mobility is a key driver of collaboration demand, with worldwide total of 292 million small business mobile workers looking for framework technologies enabling them to connect with suppliers, customers and each other. At the same time, collaboration is seen as a key attribute of successful cloud solutions, with more than one-third of small businesses citing "the ability to provide or support collaboration" as a key success factor in cloud solutions.