The first entry point to cloud for 51% of SMBs has been SaaS (cloud business applications). However, most businesses often obtain only fragments of cloud's potential benefits because applications deployed usually lack the integration needed to enable a seamless enterprise-wide business process that supports agility, efficiency and growth. Discrete cloud solutions offer immediate relief from problems in many areas but disconnected cloud applications introduce friction. SMBs and midmarket firms are increasingly taking an integrated approach for a zero-friction future. The "rule of 5" refers to sources of complexity in an SMB and midmarket firm's business related to:
1. Information timeliness/accuracy problems
2. The problem of incomplete information
3. Business process problems
4. Customer service and experience problems
5. Cost and consistency problems
This is where Zoho steps in. Zoho One - Zoho's flagship cloud-solution, marketed as the operating system for the business, runs on a unified database with a unified data model with data pillars that enable seamless integration to deliver single truth for the business empowering users with a unified experience. A collection of 45+ apps running on a single database architecture and purpose-built on Zoho technology stack - services, software, hardware and network infrastructure - deployed on Zoho's own global datacenters ensures performance, availability, security and privacy. Clearly, a visionary design architecture, which is being replicated by other CRM and ERP-focused vendors. But Zoho is ahead.
Why Zoho has the right solution to address the "Rule of 5"
Zoho's secret sauce lies in its interconnected set of data pillars that feed all relevant apps. Each data pillar contains very specific metadata of employees, communications, customer information and opportunities, finance, assets, and inventory. Consistency has a lot to do with vertically integrated systems, a design paradigm that Zoho follows religiously. Although Zoho One is the holy grail for digitalizing business processes, most Zoho customers use a set of nine apps: CRM, Analytics, Books, SalesIQ, Expense, Invoice, People, Social, Inventory.
Zoho has the right solution to address the "rule of 5".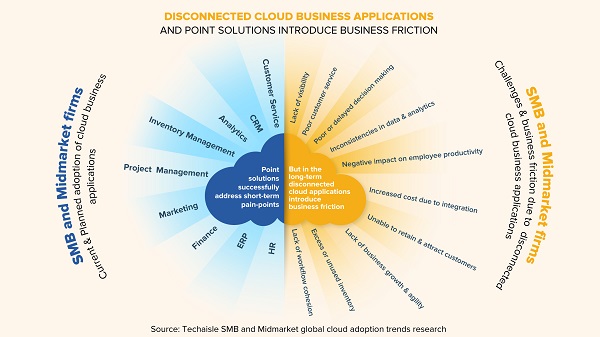 The data consistency and customer problem issues can be managed by Zoho CRM, a single app which seamlessly integrates with document management tools, marketing suite, inventory management and services. Customer retention and intimacy can be managed not only by Zoho CRM but also by Zoho Desk that handles customer ticketing for improved customer service and support. By default, Zoho CRM is integrated with 10 other apps which provides businesses a 360-degree customer profile leading to stronger customer experience and satisfaction. The problem facing many sales and support agents is a lack of context. When that context is built into the system SMBs can resolve customer issues can be easily prioritized for support by experienced support reps. Even Zoho Books and SalesIQ are inter-connected and are able to extract data from the same architecture to deliver timely, accurate and actionable insights. Similarly, to address business process issues, Zoho flow and Orchestly contextually push information to the user.
Already gaining popularity within the small business segment, Zoho has positioned itself to meet the needs of upmarket customers. Upmarket firms need help in data migration, business process re-engineering, security and deployment. Higher adoption of multiple cloud applications than smaller businesses adds complexity in integrating and securing multiple data streams. Selling to midmarket requires deep information on not only business benefits but also how to assemble, deploy, integrate and optimize solutions. Zoho has rapidly built a team to provide end-to-end consulting, software implementation and project management services to deploy best-fit Zoho apps.
The complexity problems, especially the problems of consistency and incomplete information, become critical in light of an enterprise-wide focus on using data analytics to support management decisions. If input to the analytics system isn't consistent and complete, the output is usually unreliable. Businesses need a single and comprehensive version of 'the truth' in their operations, to make decisions that will drive growth in their organizations. And that is Zoho's strength.
There is no reason for businesses, both small and large, to not consider Zoho.