Techaisle's detailed survey on Hybrid Cloud Adoption trends covering small, midmarket and enterprise firms shows that although Amazon AWS has established its initial presence within the US businesses, Microsoft Azure is quickly becoming the cloud platform of choice.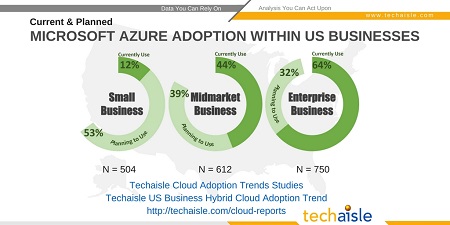 Microsoft Azure, a public cloud computing platform, is a growing collection of integrated cloud services that includes analytics, computing, database, mobile, networking, storage and web. Microsoft Azure initially focused strictly on PaaS but has now entered into IaaS market and launched a technical preview of Azure Stack, a platform designed to allow business to deploy an on-premise private cloud and manage a hybrid cloud environment. Microsoft Azure offers Hyper­-V-­virtualized multi-tenant compute with multi-tenant storage along with many additional IaaS and PaaS capabilities, including object storage and a CDN, Azure Marketplace which offers various third party software and services and Azure ExpressRoute that meets the colocation needs of various small and medium businesses.
The respondents for the survey were CIOs, CSOs, CTOs, VP of IT, Director of IT, Senior manager of IT as well as key business decision makers responsible or influential in adopting cloud platforms within their organizations.
Businesses cited many different reasons as to why Microsoft Azure is becoming a platform of choice.
Chief among them are its capabilities including PaaS, .Net, product portfolio, integration and strong customer relationship:
Strategic cloud IaaS provider: Microsoft's brand, existing customer relationships, history of running global-class consumer Internet properties, deep investments in engineering, and aggressive roadmap
Integrated IaaS and PaaS components: Microsoft Azure encompasses integrated IaaS and PaaS components that operate and feel like a unified whole
Focus on innovation: Microsoft has been rapidly rolling out new features and services, including differentiated capabilities. It has a vision of infrastructure and platform services that are not only leading stand-alone offerings, but also seamlessly extend and interoperate with on-premises Microsoft infrastructure
PaaS Capabilities: Azure provides stronger PaaS capabilities which provides application developers with the environment, tools, and building blocks that they need to rapidly build and deploy new cloud services. With Azure PaaS, much of the infrastructure management is taken care of behind the scenes
Integration with existing software: Azure's other areas of strength integrating its platform with its existing products, which are widely used in the enterprise. Examples often cited are Office 365 or Microsoft's Hyper-V platform's integration with Azure allowing businesses to create a hybrid cloud
Strong Customer relationship: Microsoft has been selling into the enterprise market for decades, so it has great link with many customers. Azure sales teams leverage that advantage by offering discounts in long-term Enterprise Agreements
Enterprise Agreement: If an organization already uses Microsoft software, then it likely has the 'Enterprise Agreement' with Microsoft. The Microsoft Enterprise Agreement offers the best value to organizations with 250 or more users or devices that want a manageable volume licensing program that gives them the flexibility to buy cloud services and software licenses under one agreement
.NET Compatibility: Azure's compatibility with the .NET programming language gives Microsoft a clear upper hand over AWS and the rest of the competitors. For several businesses that use .NET based enterprise apps, Azure is the obvious choice
Ease of use: Microsoft's services are integrated, easy to use, and offer an array of industry standard solutions in its Azure Marketplace
Advantage to Start-ups: Enrolling in Azure allows users to take benefits of Microsoft BizSpark program. It provides startups to use tons of useful, free software and learning resources to help their business
Security Offerings: Azure has been designed based on Security Development Lifecycle (SDL) which is an industry leading assurance process. Microsoft was the first Cloud vendor to be approved by the European Union's data protection authorities. It was also the first to embrace the new international standard for Cloud privacy, ISO 27018
SLAs: Microsoft guarantees that any change to its service-level agreement (SLA) will be announced 90 days in advance. Its service health dashboard has a 60-day review; AWS's is about half that
More details for the report coverage & deliverable (priced at only US$1500 for a limited time) can be found here