Most SMB channel partners are positioned as "your one-stop solution provider." The approach – which one might refer to as "we sell IT stuff, and you need IT stuff, and we understand it better than you do, so buy it from us" – is likely to come under pressure in 2015. More successful SMB VARs would focus on understanding how technology is used within business processes. Processes in turn can be horizontal (e.g., content management) or vertical, specific to the needs of a particular type of business (e.g., construction project management). Understanding the connection between vertical processes and IT – the stuff a VAR might sell, the (cloud) stuff a VAR might broker, and the stuff the SMB client is already using – represents a kind of expertise that will support a long-term billable relationship between "trusted advisor" VAR and client, and that this kind of relationship will become more important than the capacity to deliver IT as a horizontal solution source.
From our global channel profiling studies we find that an SMB channel partner serves an average of 8.0 verticals.

Any channel partner that caters to 8 verticals cannot have deep expertise in all areas. Techaisle's global SMB and Channel Partner data shows that there is a gap between what SMBs want and what channel partners are offering.
There do exist disconnects between channel offerings and SMB requirements. Red bars indicate that more SMBs are asking for these solutions than channel partners offering them. If one looks at 2012 and 2014 comparisons in the chart below it tells us a fascinating story. Vertical applications still stand out as the solution needed by SMBs the most but is least offered by channels.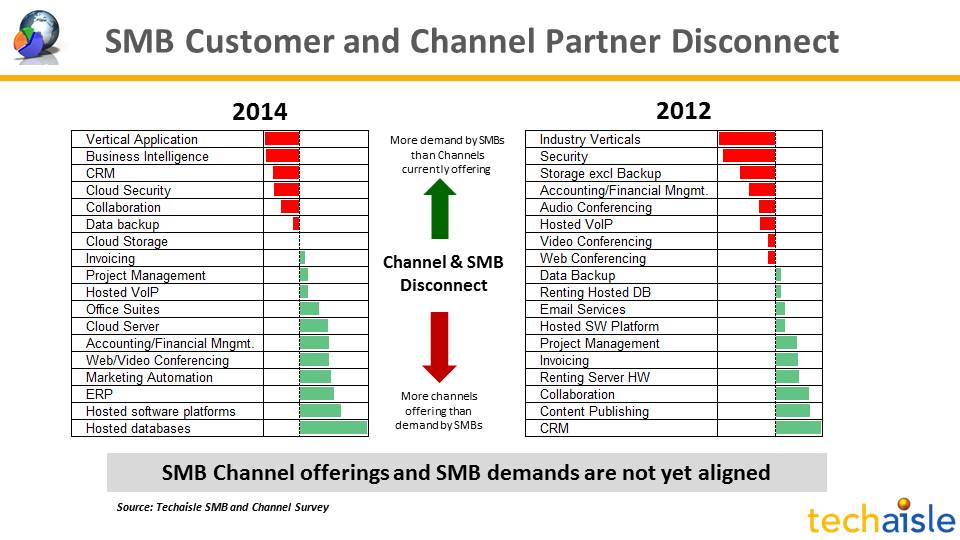 Almost channel partners agree based on recent trends and their experience that manufacturing, healthcare, retail and financial services segments are the fastest growing with high demand for productivity, communication and collaboration applications.
Survey data shows that for SMB channel partners, industry expertise is a more important differentiator than technical prowess. Successful channel partners are emphasizing industry knowledge and giving importance to technical expertise & quality of service.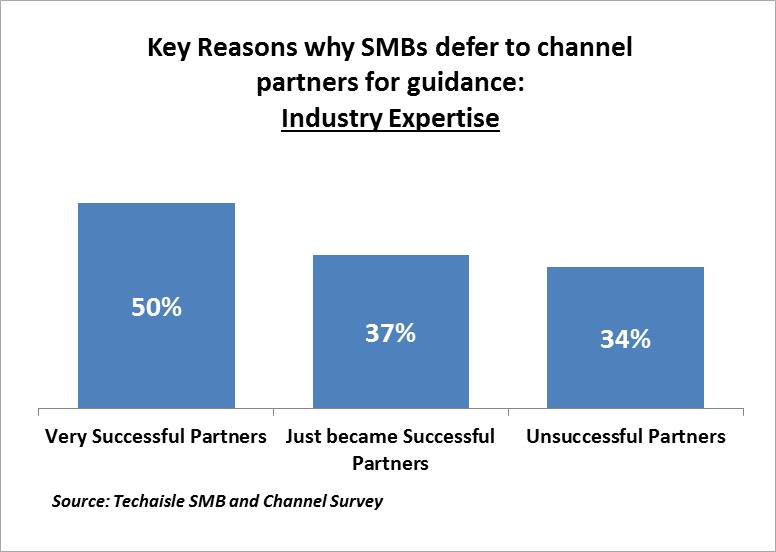 In the above data, 50 percent of successful channel partners emphasize their industry expertise and industry knowledge during their interactions with SMBs. On the other hand, only 34 percent of unsuccessful partners do so. Not shown in the chart, 70 percent of these unsuccessful partners lead with their technical expertise and 43 percent lead with price. These channel partners lack the understanding of their customers' businesses needed to offer sophisticated cloud solutions. They emphasize service quality without necessarily understanding what this means in a cloud context. They claim that they are able to demonstrate understanding of their SMB customers' business needs, mostly at a technical level and are constrained by a lack of vertical understanding. Only 26 percent of very successful partners lead with price. They are able to demonstrate knowledge of the SMBs industry, and are therefore able to create confidence within their SMB clients. They are also the most likely to build and maintain long-term relationships with customers.
In areas with low business density, there will not be enough customers within any one industry to support vertical specialization but in most cases vertical specialization will provide proof of added value, and across an entire industry that is moving from resale to rental, "added value" will be important to "business viability".