How does one take an existing exceptional PC brand and improve it? I have no idea, but the engineers at Dell Technologies achieved an incredible feat with the Latitude 9330 13-inch form factor. A hardware advancement enhanced by software innovation. For a month, I have been using the latest ultra-premium 2-in-1 with the world's first distinctive Collaboration Touchpad. Weighing 2.8 lbs., the Latitude 9330 has empowered my mobile, nomadic work style in planes, trains, cafes, lounges, conferences, parks, hotels, and the home.
Mobility magic
The mobility magic is easily felt in its thoughtful design. Wi-Fi 6E and 5G ensure that one is never out of reach of Internet connectivity. I activated Verizon 5G (which is not always the best in the places one needs most), but it works. The 13.3-inch QHD+ (2560 x 1600) WVA touch display with 500 nits of brightness is plenty vivid and crisp to scroll through volumes of data and PowerPoint presentations in bright lights and dark surroundings. Dell has continued with its InfinityEdge display design, which is very neat, and the ComfortView Plus display reduces blue light. Those using Windows 11 know that its snap layouts and snap groups work great on large external monitors. Therefore, I was initially skeptical because of Latitude's 13-inch screen size, but I found the use of snap layout and snap group features on the Latitude effective. If I require additional screen space, I connect the Dell ultrathin 14" FHD portable monitor (C1422H). It gives me dual-screen productivity with 330 nits brightness and 2 x USB-C (one on each side). Working from home, my Latitude laptop is connected to a Dell UltraSharp 34-inch Curved video conferencing monitor (C3422WE) through a Dell dock, a Dell Bluetooth silent keyboard, and a mouse.
The battery life can last through coast-to-coast flights but not a cross-Atlantic trip. However, the specifications claim that the laptop can charge up to 80% within 40 minutes, which in my experience, comes very close to it. The Adaptive Battery Performance tends to optimize and extend battery life. The backlit keyboard is excellent for working in dark environments such as planes when the lights are dimmed or during my late-night work habits.
Sustainability is quickly becoming an essential purchase decision-making process. The Latitude 9330 does not disappoint. The packaging is made from 100% recycled materials, and the keyboard and the keycaps are also made from recycled materials.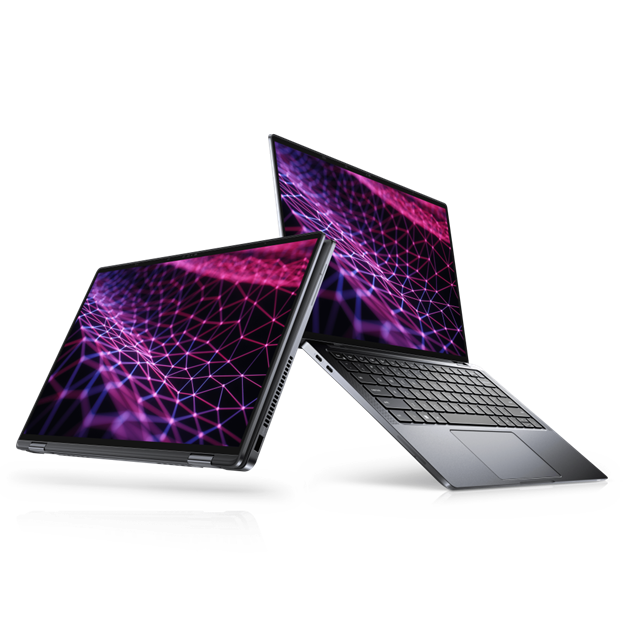 Collaboration center
Video-enabled collaboration is necessary for business agility – decision agility, innovation agility. The nature of the collaboration discussion has permanently changed. Advanced collaboration technologies answer real business issues – issues that have become more pressing in today's competitive world for productivity, innovation, and customer interaction. The Latitude 9330 is built for collaboration, enhancing video, and calling. It has top and bottom firing speakers and four microphones to pick up one's voice clearly. The glass collaboration touchpad automatically lights up with Zoom icons for mute/unmute, video on/off, and screen share when in a Zoom call. The settings can be modified in the collaboration section of the Dell Optimizer. The icons have saved me a ton of time from fumbling for mouse-click buttons on the Zoom screen. The 1920x1080 webcam with a safety shutter automatically opens and closes during video calls. The camera shutter can be opened/locked with the F9 key for extra cautious users. Included in the laptop is AI-based noise cancellation for background noise reduction. It is unclear if the noise cancellation is additive to or overrides the feature of video-conferencing applications.