How does one take an existing exceptional PC brand and improve it? I have no idea, but the engineers at Dell Technologies achieved an incredible feat with the Latitude 9330 13-inch form factor. A hardware advancement enhanced by software innovation. For a month, I have been using the latest ultra-premium 2-in-1 with the world's first distinctive Collaboration Touchpad. Weighing 2.8 lbs., the Latitude 9330 has empowered my mobile, nomadic work style in planes, trains, cafes, lounges, conferences, parks, hotels, and the home.
Mobility magic
The mobility magic is easily felt in its thoughtful design. Wi-Fi 6E and 5G ensure that one is never out of reach of Internet connectivity. I activated Verizon 5G (which is not always the best in the places one needs most), but it works. The 13.3-inch QHD+ (2560 x 1600) WVA touch display with 500 nits of brightness is plenty vivid and crisp to scroll through volumes of data and PowerPoint presentations in bright lights and dark surroundings. Dell has continued with its InfinityEdge display design, which is very neat, and the ComfortView Plus display reduces blue light. Those using Windows 11 know that its snap layouts and snap groups work great on large external monitors. Therefore, I was initially skeptical because of Latitude's 13-inch screen size, but I found the use of snap layout and snap group features on the Latitude effective. If I require additional screen space, I connect the Dell ultrathin 14" FHD portable monitor (C1422H). It gives me dual-screen productivity with 330 nits brightness and 2 x USB-C (one on each side). Working from home, my Latitude laptop is connected to a Dell UltraSharp 34-inch Curved video conferencing monitor (C3422WE) through a Dell dock, a Dell Bluetooth silent keyboard, and a mouse.
The battery life can last through coast-to-coast flights but not a cross-Atlantic trip. However, the specifications claim that the laptop can charge up to 80% within 40 minutes, which in my experience, comes very close to it. The Adaptive Battery Performance tends to optimize and extend battery life. The backlit keyboard is excellent for working in dark environments such as planes when the lights are dimmed or during my late-night work habits.
Sustainability is quickly becoming an essential purchase decision-making process. The Latitude 9330 does not disappoint. The packaging is made from 100% recycled materials, and the keyboard and the keycaps are also made from recycled materials.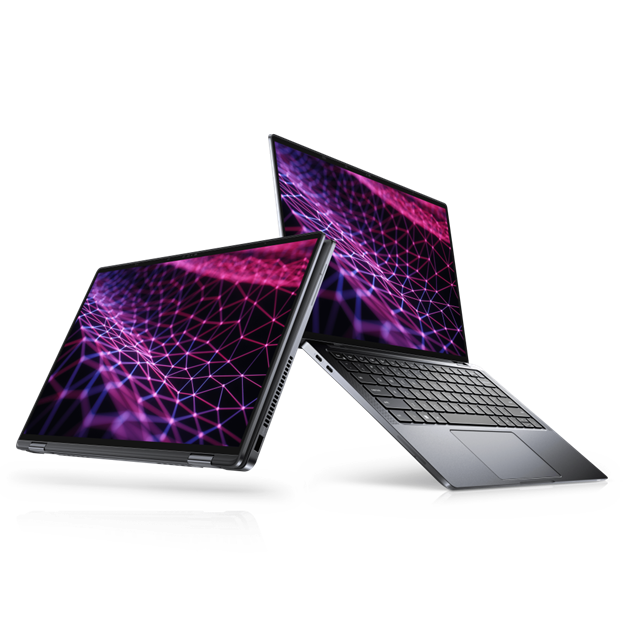 Collaboration center
Video-enabled collaboration is necessary for business agility – decision agility, innovation agility. The nature of the collaboration discussion has permanently changed. Advanced collaboration technologies answer real business issues – issues that have become more pressing in today's competitive world for productivity, innovation, and customer interaction. The Latitude 9330 is built for collaboration, enhancing video, and calling. It has top and bottom firing speakers and four microphones to pick up one's voice clearly. The glass collaboration touchpad automatically lights up with Zoom icons for mute/unmute, video on/off, and screen share when in a Zoom call. The settings can be modified in the collaboration section of the Dell Optimizer. The icons have saved me a ton of time from fumbling for mouse-click buttons on the Zoom screen. The 1920x1080 webcam with a safety shutter automatically opens and closes during video calls. The camera shutter can be opened/locked with the F9 key for extra cautious users. Included in the laptop is AI-based noise cancellation for background noise reduction. It is unclear if the noise cancellation is additive to or overrides the feature of video-conferencing applications.
Dell Optimizer
The camera has an IR sensor for Windows Hello facial recognition. I prefer to use the fingerprint sensor built into the power button. The webcam also enables Dell's Intelligent Privacy features, dimming the screen when I look away or blurring it if it detects someone looking over my shoulder. It is not easy to find the application to change the settings. I accidentally discovered them in the Dell Optimizer, a brilliant application. Introduced in 2020 as Dell Precision Optimizer, the latest version (v3.0) takes it several steps further and is centered on leveraging artificial intelligence to provide optimal personalized performance experiences. It comprises six PC experiences – Applications, Collaboration, Power, Audio, Network, and Presence detection. I have selected Excel, PowerPoint, Outlook, and Edge as the applications to be optimized for Express response. Presence detection is where one can configure Onlooker Detection, Look Away Detect, Walk Away Lock and Wake on Approach, all of which work brilliantly. I wish there were a function key to enable/disable the Onlooker Detection quickly. Within the Audio experience of the Dell Optimizer, one can allow incoming audio background noise removal. Dell still must combine three different applications – Dell SupportAssist, Dell Command Update, and Dell Optimizer – into one. However, Dell Optimizer is the application to use.
Dell Pro 2K Webcam and Peripheral Manager
Although the built-in webcam is good, I have abandoned its use for video conferencing. Instead, I use Dell Pro 2K Webcam (WB5023), one of the best available webcams at the price point. With a 2K QHD resolution, its auto-exposure and HDR settings work great in low lighting and bright backlighting, which I often experience in hotel rooms. This version is more versatile than Dell Pro 4K Webcam, announced last year, primarily because it has a built-in noise-canceling microphone. The 2K Webcam comes with a USB-A cable, forcing me to bring a USB-C to USB-A adapter since there is no USB-A port on the Latitude. This is because the thin design of the laptop only allows for two Thunderbolt 4 ports and one standard USB Type-C port.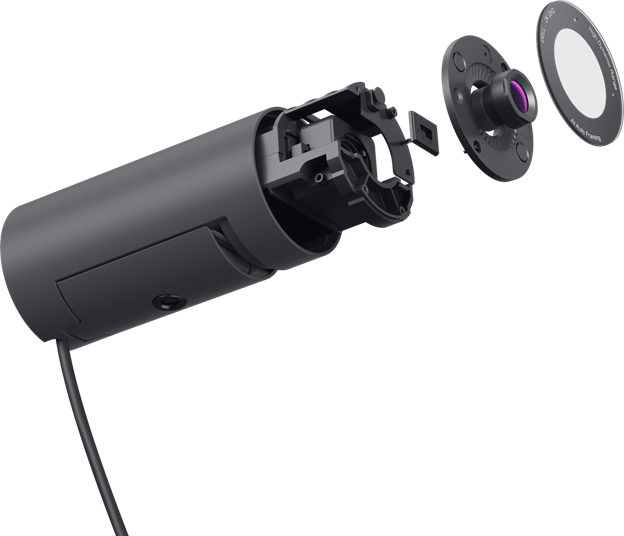 I use a Bluetooth-enabled headset, Voyager Focus Series 2 from Poly, instead of the built-in Webcam microphones. The 2K webcam's barrel shape is plastic instead of metal for the 4K, but there is no discernable design quality difference between the two. Although the webcam comfortably snaps into place on the Latitude display lip, I prefer to use it with a mini desktop tripod. The best part of the Dell 2K Pro Webcam is the ability to change settings, such as FOV and auto-framing, using the Dell Peripheral Manager. One can toggle on and off the AI Auto Framing feature and set a preferred field of view (two options as opposed to three options in the 4K version), frame rate, resolution, and color gamut. I have left the default settings except for the resolution, which I have set to 2K QHD.
Final Techaisle Take
I am often asked about the differences between Lenovo ThinkPad X1 Carbon and Dell Latitude. Each is great, and the choice depends on the brand preference. The Latitude brand is not the brand catching up to the ThinkPad anymore. The Dell Latitude 9330 is second to none. I have also been a fan of the Dell XPS 13, a laptop for the corner offices, traveling sales personnel, frontline workers, and home users. The Dell Latitude 9330 is in the same league for the commercial segment. Dell Latitude 9330 - a great laptop becomes even better and proves a collaboration powerhouse. The bezels on the chassis are classy. Get the latest Dell Latitude 9330 2-in-1. You will not regret it.