Top 10 SMB Channel Partner Business Issues
Figure below from Techaisle's SMB Channel Partner Trends coverage lists top 10 business issues being addressed by SMB channel partners in the next one year - a question that parallels the one that Techaisle uses to develop perspective on SMB buy-side business issues.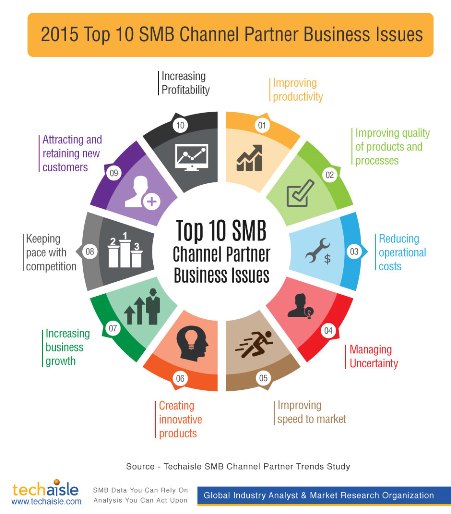 There are many ways that SMB channel partners can attack these business issues; in some areas, cloud is part of the problem, while in others, it helps form some of the solution. For example, cloud creates a requirement for new products and processes, which opens opportunity for firms that are effective in rolling out new offerings, but cloud itself is a major source of channel business uncertainty.
Improving productivity as well as improving quality of products and services are the top 2 business issues - they are ranked way higher than business growth and customer acquisition. It makes for a compelling attention that channel partners have realized the shift in technology and its acquisition and SMB channels are struggling to address these issues. Improved productivity is also often seen within the channel as a core attribution of managed services delivery – but growth in managed services portfolios will very likely encompass cloud-based systems. Cloud allows for new offerings to be brought to market quickly. And given the growth of cloud within the SMB market it could be fairly stated that cloud is central to both increasing business growth and keeping pace with competition. The impact of cloud on business activities expands beyond the SMB buy-side community into the channel itself. Cloud's virtues are therefore apparent in several of the business issues that are of most concern to SMB channel businesses.
It is interesting to point out that "improving sales and marketing" is also among the business issues being addressed by SMB channel partners, but it not within the top 10 business issues.
Top 10 Current & Planned IT Offerings
Figure below lists the top 10 current and planned technology offerings, which can be treated as the starting point and the "next steps" in SMB channel migration. The findings illustrate the breadth of business opportunities available to the SMB channel – and also, the essential pervasiveness of the cloud as well as managed services.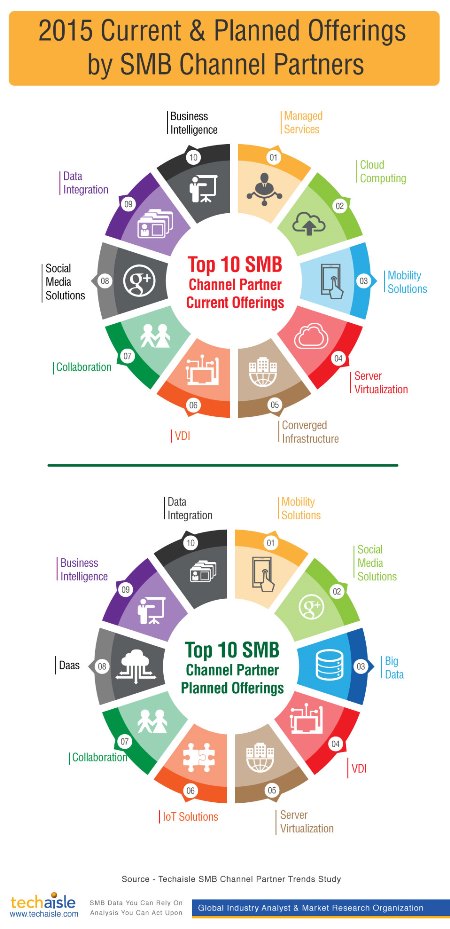 Cloud is at the core of many of the IT solution offerings enumerated in both the "current" and "planned" lists, for example, managed services and of mobility management. It is intrinsic to social media, VDI, desktop as a service and IoT. It is the best, most cost-effective and most scalable approach to supporting collaboration and BI/Big Data. And cloud enablement and management is the key objective of deployments of server virtualization and converged infrastructure, and the key requirement for on premise/off-premise data integration.
Today, many of these IT solution offerings and their associated channel capabilities are largely commingled but within the next three years the depth requirements associated with these will force them to concentrate on some areas and de-emphasize others. Techaisle believes that channel organizations serving the SMB market will become increasingly defined by pursuit of one or two of four primary product/delivery areas.
There will also come points in the SMB Channel Partner migration where the connection between the starting point (for example, mobility) and the next application (for example, Big Data) will become tenuous. These cases will call for partner-to-partner collaboration structured around meeting evolving SMB customer needs. There is already evidence that firms adept in partner-to-partner collaboration are better positioned to build successful businesses in areas such as cloud than those that cling to a "go it alone" approach in all situations (Source: Techaisle's Winning Strategies of Successful SMB Cloud Channel Partners). Partners and vendors who are effective in inculcating these relationships within their ecosystems will both achieve above-market growth rates. In the meanwhile IT vendors and distributors should really pay attention to the top business issues being faced by SMB channel partners.