Data gathered through the Techaisle SMB Channel surveys in US, Europe and Asia/Pacific shows that half of channel firms that have launched cloud businesses are primarily focused on "cloud builder" activity, which in many cases is an extension of existing resale business, and which is leading the channel partners down the path of specializing in virtualization and converged infrastructure. This naturally bodes well for channel partners of Dell, VMware and even Cisco although it must be said that VMware SMB channel strategy is yet to take center stage and Cisco is most famously focused on midmarket customers.
The three approaches to establishing a channel cloud business covered in Techaisle study include:
"Cloud builders" who are typically engaged in creating private clouds for customers,
"Cloud resellers" who resell third party cloud capabilities (often, SaaS applications), and who may also integrate multiple third party offerings, and
"Cloud providers" who have built their own infrastructure and are selling access/capacity to SMB customers
Cloud builder, cloud reseller and cloud provider approaches to building cloud practices within SMB channel businesses all address common SMB customer needs, but have unique challenges. Survey data also reveals that cloud optimism and success is highest among cloud builders.
"Cloud resellers" is the second largest cloud business approach. About one-third of US & Europe SMB channel partners with cloud businesses are primarily focused on reselling cloud capabilities but the proportion of "cloud resellers" increases to 39 percent in Asia/Pacific. However, many cloud resellers are still not very successful (see figure below) in their cloud endeavors, again proving the fact that simply reselling cloud solutions is not a viable long-term business.
The third approach, "cloud provider", chosen by less than 1/5th of SMB cloud channel partners, offers a high degree of control but requires reserves of investment capital and operational expertise that are beyond many channel firms.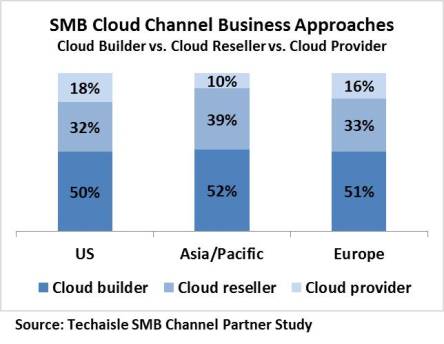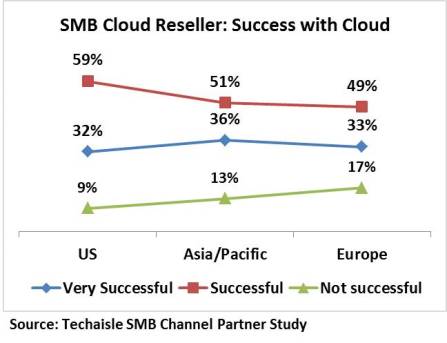 Among the three types of cloud channel partners, cloud builders are the most optimistic and have the highest percent of partners that have been successful in their cloud business. The same cannot be said for cloud resellers. As the figure above shows, cloud resellers have had the most success in the US.
The survey data also shows that different approaches to cloud business have an impact on average length of sales cycle:
Partners that act as "cloud builders" average eight weeks from opportunity to close;
Those who resell third party cloud capabilities have average time-to-contract cycles of 7.36 weeks, and
Those that sell capacity or capabilities that they host themselves move more quickly from pursuit to revenue, averaging 6.62 weeks in their SMB sales cycles
These figures should not be used as benchmarks for the three cloud delivery approaches, but they do offer an important insight: different approaches to cloud not only have different investment and return expectations, but also, can result in varying cycle times that should be factored into strategic decisions about where and how channel businesses should focus in the cloud.
There is opportunity within the SMB market for channel firms pursuing any of these models – but each has investment and execution requirements that will be important to determining the success of the channel firm's cloud business.
Techaisle research also shows that SMB channel partners are most likely to succeed if they build robust, integrated portfolios and engage SMB customers through detailed, long-term roadmaps – and that these partners will likely fail if they sell one-off cloud applications with little or no integration.
Techaisle has the most comprehensive SMB channel partner research.